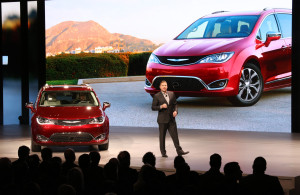 Chrysler has completely redesigned the Town & Country, cutting 250 pounds out of the minivan, creating a hybrid version which can reach up to 80 mpg, and renaming the whole thing the Pacifica.
Considering that the Town & Country sold nearly 94,000 units last year, auto body shops ignoring the 2017 Pacifica and the correct procedures to repair or replace its ultra-high-strength steel, aluminum and magnesium do so at their own peril. And perhaps at the peril of the up to 8 passengers who can fit inside.
The Pacifica, unveiled Monday at the North American International Auto Show, could someday be the only minivan game in town from FCA.
FCA originally intended to ditch the Dodge Grand Caravan this year and solely push the Town & Country's successor Pacifica, but changed its mind. the Detroit News reported Monday. FCA will keep the Grand Caravan on the market until market demand wanes, the newspaper wrote.
---
More FCA coverage on Repairer Driven News
---
The 2017 Pacifica will be 250 pounds lighter than the 2016 Town & Country, according to FCA, which in a press kit described a "light yet stiff unibody structure based on the all-new FCA vehicle architecture developed specifically for the minivan global front-drive E-segment."
FCA credits the weight reduction and stiffness of the ride to the "extensive use of advanced, hot-stamped/high-strength steels, application of structural adhesives where necessary and an intense focus on mass optimization."
The 2017 Pacifica has 22 percent more high-strength steel than the 2016 Town & Country, defining 48 percent of the Pacifica's steel as advanced high-strength steel.
Specific OEMs have their own definitions,  but advanced high-strength steel is generally anything above 500-550 megapascals. The reference to hot-stamped steels implies a fair share of this AHSS is probably really ultra-high-strength steel, which can achieve even higher strengths at lower thicknesses.
Such lighter, stronger steels weaken with heat, making it even more vital that repairers follow FCA's extensive "no heat" recommendations, in place since 2010, and all the other repair procedures for the minivan.
Chrysler also uses a great deal of aluminum — and even magnesium — to lighten the load.
Magnesium can be even stronger, stiffer and lighter than steel and aluminum, and Chrysler, like other OEMs, built the instrument panel out of it for safety and handling purposes.
The metal also found a home on the inner structure of the Pacifica's liftgate, the rest of which is aluminum. FCA in a press kit called the mixed-materials liftgate "the first high-volume application of its kind in the industry, and is an exclusive in the Pacifica's competitive set."
"The overall result is a combination of solidity, stiffness, and mass efficiency, which minimizes noise and vibration; enables refined chassis tuning; and provides occupants a sense of security and stability," Chrysler wrote.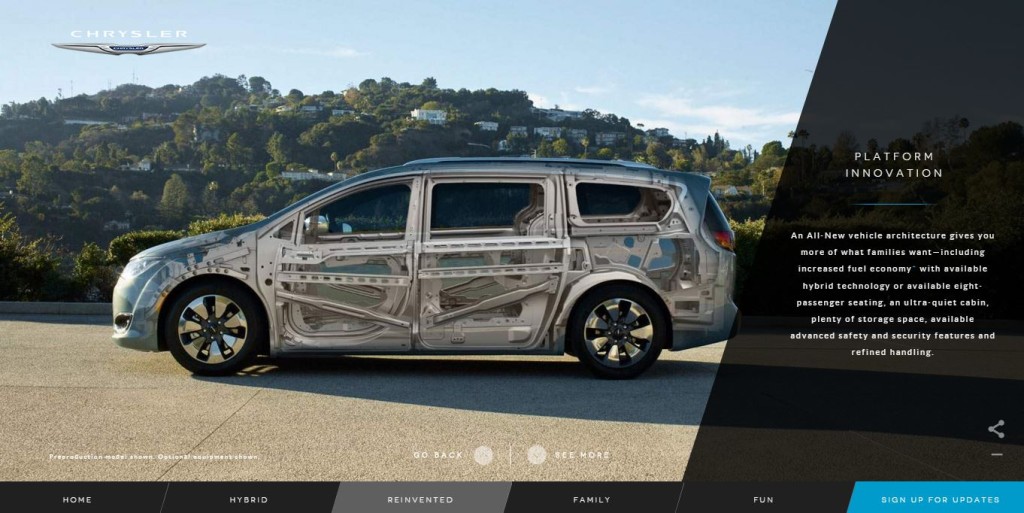 As for aluminum, Chrysler describes "Extensive use of aluminum components combined with weight-optimized, thin-gauged, high-strength materials."
Among them, according to Chrysler:
Thin-gauged front suspension cradle constructed of high-strength steel with "lightening holes" (e.g. "non-contributing" material was removed) on all models, as well as hydroformed front cradle side rails that enable a weight savings
Hollow front strut rods
Front forged aluminum lower control arms and bracket
Front and rear cast aluminum knuckles
Aluminum engine brackets
A front tubular stabilizer bar
An aluminum extruded steering gear cross member that mounts on the front cradle to hold the electric power steering unit
Absence of a rear stabilizer bar, enabled by "rebound springs" inside the rear shocks that ensure side-to-side ability
Thin-gauged steel trailing arms in the rear suspension enabled by a "blade-style" design that ensures strength and durability without mass
Aluminum rear upper shock mounts
Chrysler also described a few energy management systems — items a repairer should take care to preserve. They include three front load paths, a steering column with "two hydroformed coaxial tubes that can move relative to each other to allow the column to move forward for enhanced energy absorption during a crash," a "Safety cage body structure" and "Side guard door beams."
With Chrysler's leadership in the minivan segment — it invented the things, after all, and continues to have high marks from critics and customers, as an executive noted Monday — it's possible that competitors will copy its innovations with future generations. Particularly as "hybrid minivan" is quite an impressive accomplishment.
More information:
"All-new 2017 Chrysler Pacifica Reinvents Minivan Segment With Unprecedented Level of Functionality, Versatility and Technology"
FCA, Jan. 11, 2016
"All-new 2017 Chrysler Pacifica Engineered for Unparalleled Ride and Handling, Functionality and Versatility"
FCA, Jan. 11, 2016
"All-new 2017 Chrysler Pacifica Offers More than 100 Safety and Security Features"
FCA, Jan. 11, 2016
Images:
FCA passenger car brands head Tim Kuniskis introduces the 2017 Chrysler Pacifica at the North American International Auto Show on Jan. 11, 2016. (Provided by FCA)
This screenshot shows what FCA indicates is some of the skeleton of the 2017 Chrysler Pacifica. (Screenshot of www.chrysler.com)
Share This: