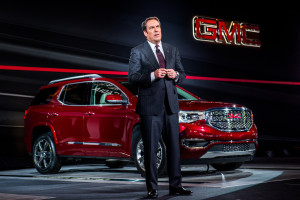 The 2017 GMC Acadia took a note from the 2015 Ford F-150 and 2017 Audi Q7 and dropped 700 pounds, though GM singled out ultra-high-strength steels instead of aluminum for the weight loss.
The body of the crossover unveiled Tuesday at the North American International Auto Show "incorporates press-hardened, high-strength steels, which allowed thinner components in some areas offering comparable or better crash performance than conventional materials," General Motors wrote in a news release.
Steel
Steel definitions vary depending on who produce the metal, but press-hardened steels seem to be in the 1,500-megapascal range. (Mild steel is 200-300 MPa.) General Motors' collision repair notes only define it as an ultra-high-strength steel above 700 MPa, but 1,500 MPa is probably what we're talking about here.
---
 Steel on Repairer Driven News
---
In any case, it's moot, because anything in GM's ultra-high-strength steel family carries the same rules for collision repairers now, and likely will when 2017 Acadia sales begin this spring:
MIG plug-welding only, "NO STITCH WELDING." — and the capital letters are GM's, not ours. Do not use them as a stitch welder backer.
GM does allow resistance spot welding and MIG brazing (with 8 mm by 16 mm slotted holes only).
No cold repair, and no heat in the repair.
GM also doesn't want you to repair door impact beams, either, though that rule stands regardless of steel tensile strength.
By the way, we pulled all of these details, including GM's convenient chart about what a body shop can and can't do with various steel tensile strengths, off of the excellent collision repair section of the GM Genuine Parts website.
Of course, overview documents like our links and comments above are no substitute for OEM recommended repair procedures, which you should follow prior to any work on a vehicle. (And not just print them out once for a model year — check them on every specific repair. OEMs can update an online version any time as they refine best practices, after all.)
"GMC is a strong, growing premium brand and the Acadia is a cornerstone of our success story," GMC sales and marketing Vice President Duncan Aldred said in a statement. "The all-new Acadia leverages GMC's proven SUV experience to take on and shake up one of the largest vehicle segments, with a strong blend of design, technology and capability."
Also on the Acadia
This technology and capability includes other items of interest to collision repairers, including:
Frame rails: "New splayed front frame rails also contribute to crashworthiness," GM wrote in a news release. "They flare outward to provide effective folding and crushing performance during small overlap frontal crash situations."
Fewer crashes: The Acadia offers optional safety features, including pedestrian autobraking, a 360-degree camera and low-speed forward auto-braking (standard on the Acadia SLT-2 and Acadia Denali.) which could reduce crashes and therefore business.
Seat alert: And as though you didn't have enough things to calibrate, GM wrote that a new standard rear-seat alert will tell a driver when "an item" has been left in the second or third rows.
As this "item" presumably references a kid strapped to a car seat, it raises an interesting legal and ethical question. Is a collision repairer or mechanic partially responsible if they fail to properly calibrate/repair the alert system, and the driver isn't warned when they forget their child in a hot car?
Popularity: It sold 96,393 units in 2015, which GM called its "strongest sales year ever." So it's popular, it's not going anywhere, and you'll probably see it in your shop.
"Typically, a vehicle's sales can be illustrated on a bell curve during its lifecycle, but the Acadia's success has defied convention with impressive sustainability," Aldred said in a statement. "It's a shining example of GMC's momentum and we're confident it will grow with the new Acadia."
More information:
"GMC Introduces All-New 2017 Acadia"
GMC, Jan. 12, 2016
Featured image: General Motors product development Executive Vice President Mark Reuss speaks at the unveiling of the 2017 GMC Acadia Denali on Jan. 12, 2016, at the North American International Auto Show. (Steve Fecht for GMC/Copyright General Motors)
Share This: