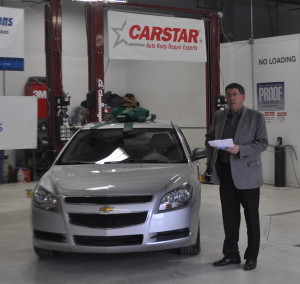 CARSTAR president Dan Young hinted Thursday that the Canadian CARSTAR Express model held promise for the chain's American franchises.
Young's predecessor, CARSTAR CEO David Byers this summer said the chain was testing markets divided into shops equipped to handle either light, medium or heavy damage. Asked Thursday if CARSTAR would continue to consider segmenting franchisee shops based on capability, Young seemed to indicate that a two-tier Express format would be used instead.
"They (CARSTAR Canada) are further down the road of the Express model," Young said at a CARSTAR media breakfast also attended by Driven Brands Paint & Collision brand President Jose Costa. "… We have strong suggestions that we need to follow that path."
CARSTAR Express branches are stripped-down body shops handling auto glass work , cosmetic damage and paintless dent repair, according to the program's website.
Insured customers can still bring a more heavily damaged vehicle there and get squared away with a rental vehicle, according to the website. The Express will ship the car to a CARSTAR collision center for the actual repair work and return it to the Express for the customer, according to the website.
It's unclear where the actual appraisal and estimate occurs; the CARSTAR Canada Express homepage says its Express locations offer damage appraisals and collision estimates," but a more extensive description of the CARSTAR Express Auto Care Appraisal Services states a CARSTAR collision shop is "where we can assess and repair the damage."
Expresses can also do minor preventative maintenance work (oil changes, tires, etc.), and three locations can do more extensive mechanical work, according to CARSTAR Canada.
"I think there's a role for that (segmentation)," Young said Thursday, noting that customer satistfaction has never been more important.
This model could be very lucrative for owner-owned operations like CARSTAR's franchisees as well as independent or other chain MSOs. Some businesses here and abroad have already begun to divide work in this fashion. (See this advice and column in FenderBender for more on the topic.)
The cosmetic shop will lose high-dollar repair orders, but it and its parent receive more volume and minimize personnel cost — you don't need to get in a bidding war for the few technicians qualified to handle advanced materials. The structural shop can focus its energies purely on the trickiest and highest-revenue repairs. Both shops save cycle time as they're able to specialize on one set of procedures and hand off the other jobs to their sister repairer.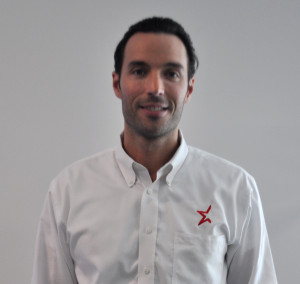 "CARSTAR Express is part of our multi-tiered approach," CARSTAR Canada President Michael Macaluso told Collision Repair Magazine in December. "It came about to better serve customers through convenience and our insurance partners through giving better retail coverage. We really want to help our existing franchise partners grown, and CARSTAR Express is part of that."
CARSTAR has already subsidized certain shops' aluminum F-150 certification to divide markets into a hub-spoke aluminum repair format, Byers said this summer.
A few shops in an area do all the major CARSTAR aluminum repairs. The rest of the shops receive a finder's fee of sorts for the referral and presumably take some steel vehicles from the aluminum shop if the latter is booked up with F-150s or other vehicles lightweighted with the element.
Byers said then that hadn't been any disputes over who gets to be the aluminum shops in a market, and that decision has been made by the CARSTAR repairers themselves during one of the regular area meetings.
The issue of shop segmentation also indirectly arose Thursday with the Collision Industry Conference debate over whether to update training, equipment and best practices requirements for "Class A" repairers.
One school of thought held that separate "Class A" criteria should exist for cosmetic, structural and advanced-materials repairers. Another argued that such division diluted the brand of the true "Class A" shops — the advanced-materials repairers who can legitimately perform all three of these roles. (A third school of thought argued that the entire idea of CIC defining minimum or "Class A" shops should be dropped in favor of market solutions like OEM or third-party certification.)
Images:
Dan Young, CARSTAR's new brand president, participates in a CARSTAR Recyled Rides event at the Kansas City-area CARSTAR Metcalf R&D Center in this undated photo. (Provided by CARSTAR)
CARSTAR Canada President Michael Macaluso. (Provided by CARSTAR)
Share This: