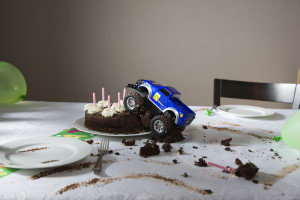 A year ago, the Society of Collision Repair Specialists held the "grand opening" of Repairer Driven News, revealing its existence to the Palm Springs CIC on Jan. 15, 2015.
Repairer Driven News actually started producing content as far back as 2014, with a serious "soft opening" content push Jan. 5, 2015. But Jan. 15 is what we around here consider our birthday.
Anyway, we were trying to come up with something to commemorate completing Volume I. Then, a fellow networker at this year's Palm Springs CIC out of the blue suggested we offer an at-a-glance collection of some the disruptive technologies and trends facing the collision repair industry.
It sounded like good one-year-look-back fodder to us — particularly after Chris Brandl of the marketing committee tried to shake up the crowd with a report on the Consumer Electronics Show technological offerings. So here we go:
Telematics
Telematics technology in existence today (Progressive's Snapshot is perhaps the best example.) allows insurers and OEMs to collect a tremendous amount of data about one's driving performance and where and when that driving is occurring.
The main issue remains privacy: What does the insurer or OEM know about a driver, and with whom are they sharing that information?
For collision repairers specifically, the impact could be more indirect: Good drivers using an insurer's telematics get deeper discounts and become so secure in their driving that they drop collision and comprehensive. Then, when an accident does occur, they aren't covered and don't send work your way.
Further reading:
Connected cars/sensors
As some of the articles above indicate, greater insurance accessibility to one's vehicle via telematics can combine with the even more disruptive concepts of "connected cars" and the sensors within them.
Sensors are growing in sophistication and number, allowing a greater "black box" record of the car's mechanical issues. This is useful if the car can alert a driver to a low battery or emergency services about an airbag deployment.
But it gets more interesting when they detect a crash and alert an OEM — or insurer — call center through the vehicle's connectivity. The shops that call center recommends — direct repair shops or OEM-certified shops — will be an interesting new front in the "steering" controversy. General Motors has already pledged to recommend its certified network to Cadillac CT6 owners through OnStar.
Accelerometers in one's cellphone also can be used to detect crashes, which makes things even more interesting and competitive. It's not that difficult to envision a day where an insurer-affiliated app, an MSO-affiliated app and an OnStar-like system built into the car are all simultaneously trying to call the poor driver to hawk their own repairer networks. Cyber-ambulance chasing.
The growing number of sensors and cameras also means repairers must conduct more calibration and pre- and post-repair scans to ensure you've truly restored the vehicle to pre-accident condition. And we haven't even fully entered the next generation of safety assistance features, which you'd better have working correctly or else the car might fail to protect the drivers.
Further reading:
Advanced materials
We write a lot about higher-strength steels and aluminum, so we're not going to do as much here. But here it is in a nutshell.
They are lighter and stronger, aiding OEMs both in tougher fuel economy and crash-test targets.
Follow the OEM procedures. (Check the I-CAR RTS and OEM One Stop portals for help finding them.) Check them on every specific vehicle repair, not just once per model year. OEMs change them.
In many cases, heat is bad. Welding and sectioning some structural elements will be prohibited.
You'll repair fewer parts and replace more.
You'll weld fewer parts and rivet and glue more.
Separate steel and aluminum, and have a dedicated set of tools for aluminum.
You'll probably MIG-braze something, so learn how to do it.
Seriously, follow the OEM procedures.
As for the other light, strong options being considered:
Carbon fiber could be a major game changer if it scales cheaper – particularly because of its potential for 3-D printing. One company already plans to 3-D-print entire cars, and one could see a future where replacement structural and cosmetic parts parts are printed by vendors.
Magnesium has made some inroads, though it doesn't seem to commanding the interest of the other three materials — yet.
Further reading:
Auto-braking and other driver assistance features
Headlights able to curve around corners and brighten or dim based on oncoming traffic. Vehicles which maintain the lane to prevent drifting. Blind spot detection and intervention to prevent hitting a vehicle in the blind spots. Cameras instead of rear-view mirrors, eliminating blind spots altogether. Intelligent cruise control, which adjusts the vehicle's speed to maintain a safe distance from the car in front.
And the big one for collision repair: Automatic braking, forecast to eliminate the leading source of collision business — rear-ending at city speeds.
IIHS now requires some of these to come at least as options to claim a Top Safety Pick or Top Safety Pick+. The NHTSA probably will start requiring the same, and is looking favorably upon many of these.
Unlike fully autonomous driving, few of these will require regulatory action — to our knowledge, only replacing mirrors with cameras and "smart" headlamps aren't allowed.
This technology will increase repair severity both because of parts costs and the scan and calibration work likely necessary after a collision. But frequency will fall — and potentially fall hard. Businesses should be ready for a loss of volume within the next 10-20 years.
Further reading:
Autonomous vehicles
And then we come to what some pundits are speculating could cut out virtually all collisions: Self-driving cars, which unlike humans never get tired, road rage, break traffic laws, drink and drive, or back into someone in a Black Friday parking lot.
There are many technological, legal and regulatory factors to overcome to deliver a 99.9 percent error-free car. Even if a Google, Volvo or Tesla magically solved them all to deliver a flawless self-driving car tomorrow, there'd still be plenty of non-autonomous cars crashing into each other and into these futuristic Herbies for a long time to come.
But quite frankly, with 90 percent of collisions caused by human error, one has to wonder if even the "beta" self-driving cars would do better now.
Self-driving cars work extremely well already on freeways and city gridlock, two prime sources of collision businesses. If regulators allow self-driving cars in those situations with the driver still required to keep an eye on the road (and we're sure no one would dream of screwing around on a smartphone instead of keeping an eye on a computer driver), collision repair could start to feel the pinch from the technology. Tesla didn't even bother to wait for regulators, offering it in a recent software update to some drivers.
Further reading:
One year in
All of the technology described will radically change collision repair and auto insurance. Some of it already has begun to do so, and OEMs, materials producers, and programmers seem to be intensifying the pace of innovation with each new trade show.
The automotive aftermarket is on the cusp of an exhilarating and challenging time. We'll try to keep you as informed and prepared as possible for it in our second year.
Featured image: Always check for frame damage after a collision with a birthday cake. (moodboard/moodboard/Thinkstock)
Share This: