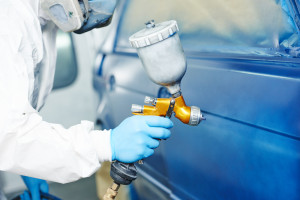 The heavy consolidation trend in the collision repair industry continues to be mirrored in the 4,000-outlet, $4 billion paint refinish distribution segment, a new FOCUS Investment Banking report notes.
"There are multiple buyers, many willing sellers, cheap capital and attractive prices," FOCUS Managing Director David Roberts wrote in a recent study.
Observing that "(T)he big conslidators are getting bigger," Roberts estimated the top jobber consolidators ended 2015 at:
FinishMaster: More than 170 locations, more than $500 million in revenues
LKQ: At least 117
Single Source: 90
NCS: 68
WESCO: 64
"Many are questioning the strategy of continuing to make large investments to help their MSO customers finance growth only to see them be acquired by a Big Four Consolidator who then switches paint lines," Roberts wrote. (Ouch.)
Jobbers are facing the same future business decline as repairers, as crash-avoiding cars get in fewer wrecks and use less paint, according to Roberts. They also face an issue a shop might not: A rural repairer might have higher margins, while a jobber who has to deliver to the sticks sees lower margins from the additional expense, he wrote.
Smaller or midsized jobbers might still have a few survival strategies besides selling out or growing bigger even as the next two to three years yields "increasing acceleration" of consolidation, according to Roberts.
Focus on "rapid communication and response as much as other value added expertise," as the latter isn't as important to larger customers, he wrote.
Have a lot of single-shop locations. "With available purchase discounts and incentives from paint companies, jobbers can still realize healthy margins from that side of their businesses," he wrote.
Fewer suppliers competing for business — compounded if fewer of the jobbers left want to mess with rural locations — could make life more difficult for repairers from a logistical and support perspective.
Though Roberts pointed to a continued role for jobbers providing value-added services (helping shops go "lean," for example) to smaller shops, an overall decline in demand for those services could cause jobbers to drop that expertise and concentrate purely on logistics. That would put a greater impetus on shops to conduct their own research and seek out other sources of support.
Analyst Bradley Mewes of "Supplement!" had a similar take to Roberts' in a June Aftermarket Business World column. He also observed that refinish manufacturers cutting service and support — as price-conscious users commoditize paint — could place that role upon jobbers.
"Whereas only a few years ago many jobbers and collision repair facilities leaned on manufacturers to provide such support, now the onus of responsibility rests on the jobber to provide such support," Mewes wrote then.
More information:
FOCUS Investment Banking, January 2016
Featured image: The heavy consolidation trend in the collision repair industry continues to be mirrored in the 4,000-outlet, $4 billion paint refinish distribution segment, a new FOCUS Investment Banking report notes. (kadmy/iStock/Thinkstock)
Share This: