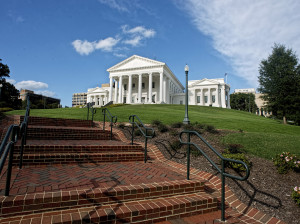 Virginia bills allowing photo-driven appraisals cleared House and Senate committees this week without any changes to compromise language approved by auto body shop and insurer representatives.
Senate Bill 193 and the identical House Bill 870 will now go to the Senate and House floors following unanimous 15-0 and 21-0 approvals in each chamber's respective Commerce and Labor committees Monday and Tuesday.
Compromise Senate language was hashed out at the end of January by the two interests, and sponsor Sen. Richard Stuart appears to have sold House sponsor Timothy Hugo, a fellow Republican, on the text.
The revised bills still allow insurers to use photos to appraise vehicle damage should the customer approve it. However, under the compromise, the insurer must visit a collision repair facility in person if there's a dispute about the amount of work needed on the vehicle.
A similar bill recently cleared the Pennsylvania House and was heard by a Pennsylvania Senate committee last week. However, that bill didn't include the demand that an insurer must personally inspect disputed damage.
Both hearings were remarkably speedy, according to Washington Metropolitan Auto Body Association Executive Director Jordan Hendler.
The Senate forum essentially consisted of checking to make sure both special interests were happy, followed by a vote, according to Hendler, who along with representatives from AudaExplore, AIG, and the Property Casualty Insurers Association of America was present.
The House proceedings followed the same lines, she said Tuesday.
The bill changes Virginia Code to state:
Notwithstanding the requirement that an appraisal be based upon a personal inspection, the repair facility or the insurer making the appraisal may prepare an initial, which may be the final, repair appraisal on a motor vehicle that has been damaged as a result of a covered loss either from the representative's personal inspection of the motor vehicle or from photographs, videos, or electronically transmitted digital imagery of the motor vehicle; however, no insurer may require an owner of a motor vehicle to submit photographs, videos, or electronically transmitted digital imagery as a condition of an appraisal. Supplemental repair estimates that become necessary after the repair work has been initiated due to discovery of additional damage to the motor vehicle may also be made from photographs, videos, or electronically transmitted digital imagery of the motor vehicle, provided that in the case of disputed repairs a personal inspection is required.
Unfortunately, the bill does nothing to address the concern of lowball settlement offers. Opponents of photo appraisals argue that deskbound insurance adjustors wouldn't be able to see the kind of damage in submitted photos that would be obvious in a physical appraisal. Consequently, they'll offer customers too little money because "it doesn't look that bad," with neither party aware of the true damage deserving attention or renumeration.
That concern arose during the Pennsylvania Senate Banking and Insurance Committee hearing last week. However, committee Chairman Sen. Don White, a Republican, argued that it was the consumer's own fault if they were foolish enough to take an insurer's settlement offer without getting the car examined by a body shop.
"You can't fix stupid," he said.
That bill, HB 1683, still awaits a Senate committee vote.
Featured image: The Virginia Capitol is shown. (mj0007/iStock/Thinkstock)
Share This: