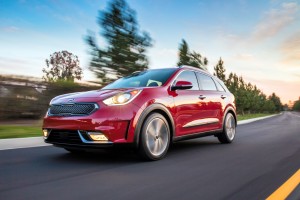 Kia built 53 percent of the 2017 Niro out of advanced high-strength steel and used a couple other competing lightweight materials to pull off what it calls a 50 mpg hybrid crossover.
The OEM, which debuted the CUV Thursday at the Chicago Auto Show, didn't specify how much of the advanced high-strength steel (590 megapascals-plus) reached the ultra-high-strength steel level of 780 megapascals or surpassed it.
But  you can figure there's a fair amount of UHSS, considering Kia in a news release Thursday described "reinforcement in the A- and B-pillars as well as the roof rails" and "(e)xtensive use of hot-stamped components" — all typically OEM and metallurgical code for the super-strong, super-stiff, unsectionable and unheatable steels.
Nissan also boasted of using extensive structural adhesive for even more integrity and rigidity. There's probably some weight savings as well — glue typically is lighter than welding.
The OEM called lightweighting "critical" for the part-electric Niro (Seriously? Nobody heard of the notorious Roman emperor?), and it didn't stop at the body.
Designers built "novel lightweight seat frames" out of advanced high-strength steel.
The hood, tailgate, brake calipers and several parts of the suspension are aluminum.
The parking brake pedal is carbon-fiber.
"The Niro hits the sweet spot by offering the best combination of outstanding mpg, an engaging driving experience, utility, and most importantly, a stunning design that doesn't shout 'hybrid,'" Kia product planning Vice President Orth Hedrick said in a statement. "The subcompact CUV market continues to be one of the fastest-growing segments in the world, and the Niro offers a uniquely alluring yet practical package that consumers haven't seen before."
You'll also need to take extra care when replacing foam and fitting seals. Nissan boasts about how quiet A- and B-pillar foam, "(c)opius insulation, "careful body sealing," acoustic glass and "carefully shaped side mirrors" make the crossover.
And of course, there's the usual bevvy of electronics available as options, including collision frequency-cutting items like autobraking, blind spot detection, lane departure warnings and adaptive cruise control. Besides being prepared for what these features could mean for your bottom line by reducing crashes, you'd better know how to fix them on the Niros which still get into collisions.
Other notable sensory features include Smart Air Intake, which controls how much air gets into the HVAC system, and Auto Defog, which checks cabin air and controls the air conditioning compressor accordingly to halt condensation.
And finally, though it's not auto body per se, luxury repairers might find this powertrain tidbit interesting:
"Predictive Energy Control, meanwhile, uses the navigation system and cruise control to anticipate topographical changes on the road ahead and actively manage energy flow, seamlessly determining when its best to recharge the battery and when its best to expend stored energy to optimize overall efficiency.  Similar systems have been seen on German luxury makes, but Kia's system is the first in the industry to monitor and adjust for both ascending and descending scenarios."
More information:
"ALL-NEW 2017 NIRO HYBRID UTILITY VEHICLE ARRIVES IN THE WINDY CITY FOR GLOBAL DEBUT AT CHICAGO AUTO SHOW"
Kia, Feb. 11, 2016
Featured image: Kia built 53 percent of the 2017 Niro out of advanced high-strength steel and used a couple other competing lightweight materials to pull off what it calls a 50 mpg hybrid crossover. (Provided by Kia)
Share This: