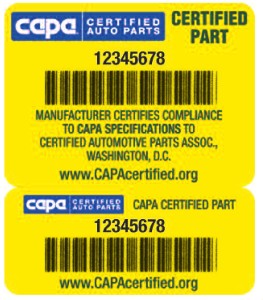 A new Maryland bill would bar insurers from requiring any aftermarket collision parts during the first two years of a car's life unless the customer signed off on them.
After that period, only certified aftermarket parts could be used on the vehicle unless the customer said otherwise.
"That's a big deal," said Washington Metropolitan Auto Body Association Executive Director Jordan Hendler.
Insurers "do not like" when a customer must acknowledge non-OEM parts in writing, she said.
Drivers might be unaware of the clauses in their policies allowing insurers to specify non-OEM parts to yield a less expensive claim. Some 2015 television news reports featured vehicle owners upset by the revelation.
House Bill 1258 employs tighter language than an admirable but seriously flawed Michigan attempt to quality-control the aftermarket.
Perhaps most importantly for collision repairers, it doesn't imply that aftermarket auto body parts could match OEM components.
"That is the thing we like about this as a compromise," said Hendler, whose organization has worked with CAPA on the bill. "… As repairers, we like that this identifies the different types of parts available."
While some phrases cry for more definition (Who delivers "national accreditation?" What is the "public forum?") the legislation does a better job than the Michigan bill of describing criteria the parts and their testing entity must meet.
The certifying entity must be a nonprofit "nationally accredited developer of standards" who develops those standards "in a consensus-based public forum that allows for public comment."
The bill limits itself to bumpers, door panels, fenders, grilles, hoods, "lamp display panels" and wheel wells. These parts must be tested by an independent third party to ensure they've met the standards. They also must carry proof of certification and a number which not only identifies the part but allows it to be traced back to the aftermarket manufacturer.
LKQ and Diamond Standard
It'll be interesting to see how this criteria would affect the for-profit LKQ and Diamond Standard parts vetting efforts.
LKQ owns its Assured Quality Replacement Parts program, but nonprofit certification entity NSF International oversees it. LKQ and NSF consider AQRP a "validation" program, unlike NSF's separate parts "certification" program,  NSF said in September.
"We don't certify parts," LKQ North America sales/industry relations Vice President Terry Fortner said Monday. The company merely distributes NSF- and CAPA-certified parts, he said.
Diamond Standard's program relies on both NSF and the nonprofit CAPA.
"95% of our parts are certified by NSF or CAPA or both," Diamond Standard President Mike O'Neal wrote in an email Monday.
Though WAMBA has worked with CAPA on the bill, NSF's parts might still count.
"Based on the requirements, I don't know if NSF would qualify," she said.
We've contacted NSF for comment. (See our Q&A with NSF and CAPA about their testing here.)
LKQ would fight the Maryland legislation, Fortner said.
"Absolutely we're concerned about it," he said. "… We'll be in full opposition as we have been in the past"
Fortner called the bill "absolutely anticompetition" and bad for consumers, shops and aftermarket distributors and manufacturers.
"The only person that wins are the car companies," he said.
Uncertified parts thrive
Despite 2010 Consumer Reports and IIHS coverage of the perils of non-certified aftermarket parts, insurers persist in writing them in estimates, according to Hendler.
"Oh absolutely," said Hendler, whose organization's members can be found in D.C., Virginia and Maryland. "Every day." Hence a need for a compromise to impose at least some sort of standard on the less-expensive components.
About 75 percent of aftermarket parts aren't even certified, CAPA Executive Director Jack Gillis told a Morning Call columnist in 2015. Hendler concurred.
"An overwhelming majority of aftermarket parts used are not certified in any way — or recallable," Hendler said.
The House Economic Matters will hold a hearing on the bill March 10, and opposition is likely, according to Hendler.
"The insurers are going to be flipping out over this," she said.
Be heard: Maryland lawmaker contact information can be found here.
Featured image: An example of the CAPA seal is shown. (Provided by CAPA)
Share This: