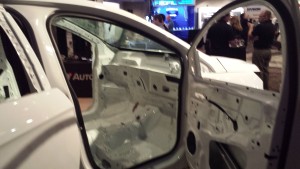 Ford announced Thursday it would launch four brand new SUV nameplates globally, citing worldwide demand and key U.S. demographic trends.
The OEM gave little details about the vehicles, other than to note that millennials and boomers seemed to want the larger models.
"As members of the 80-million-strong millennial age group enter their prime child-rearing years, a leading indicator of more SUV sales, nearly 80 million aging baby boomers continue to prefer their SUVs," Ford marketing, sales and service Vice President Mark LaNeve said in a statement. "It's a demographic double whammy and it all points to one thing – more SUVs for the foreseeable future."
According to a Thursday news release, Ford wasn't worried about the potential for gas prices to rise and swing consumer demand towards the Fiesta side of the equation.
The reason — and this is why body shops should care — is better gas mileage, caused in part by lightweighting.
"Some SUVs now rival the fuel efficiency of V6-powered midsize sedans from only a few years ago," LaNeve said in a statement, "and as baby boomers grew up with much less capable, much less efficient vehicles, they tend to appreciate the efficiency of Ford's newest SUVs."
Even if prices rise, you'll still be fueling the vehicles less than you were during the past SUV boom, leading owners to remain satisfied with their rides, according to LaNeve. This was somewhat supported by an Allstate executive's recent analysis that at a certain price point, consumers quit caring about gas prices.
Ford said the vehicles will be introduced into "SUV segments in which the company does not currently compete."
The need to manage higher consumer fuel efficiency expectations implies that Ford isn't hoping the government decides to drop its 2025 54.5 mpg target.
It also suggests the company will continue to take dramatic, aluminum F-150-type steps to drop vehicle weight — meaning that repairers had better be ready for the new materials.
That was visible with the next generation of the Ford Edge crossover, whose 2015 next-generation model uses a lot more high- and ultra-high-strength steel than the 2014 Edge. Ford also employed laser joining and more than 27 yards of adhesives in the CUV's body-in-white.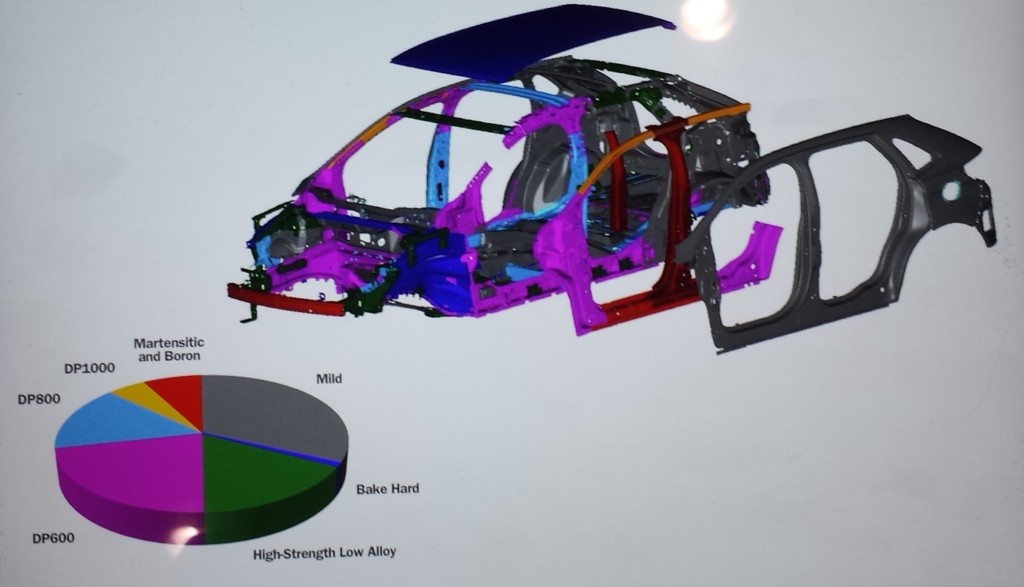 The future of lightweighting
Ford global materials and manufacturing research technical leader Matt Zaluzec recently shared with Automotive World some fascinating perspective on what other lightweighting Ford could do in the near- and distant future.
We'd encourage repairers to read the entire Feb. 8 Automotive World post, but here are some highlights.
Ford must decide that it's taken steel about as far as possible as is cost-effective before looking to aluminum, carbon-fiber — and even magnesium, Zaluzec told the magazine.
"Switching to a new product or material often requires an OEM putting new joining techniques into its plants," he said, according to Automotive World. "For example, combining steel and aluminium requires a combination of mechanical joining and adhesives. And so it comes back to the business case. Have we done the design optimisation first in steel? If we have, we're going to move forward. There are numerous steel solutions out there for lightweighting. There are some advanced high-strength steels that are just wonderful, and we have those as part of our product plan – although I can't tell you the vehicles."
The switch to one of the more expensive alternatives can be made more palatable with by creating a larger part incorporating what would have been multiple components, as  "there may be a material cost increase, but consolidating parts reduces capital expenditure and tooling costs," Zaluzec said.
But consolidating parts increases the chance of a costly replacement, as you often can't fix advanced-material parts. For example, Honda's 1,500-megapascal steel door ring is a single piece on some Acuras; damage to any part of it means you have to buy a new ring rather than swap out a smaller piece of it.
Zaluzec told Automotive News he thought OEMs would primarily switch to using aluminum for parts like doors and hoods and consider mixed-material combinations of steel, aluminum or carbon fiber for certain components. But he didn't discount the possibility for carbon fiber to capture a greater part of the market.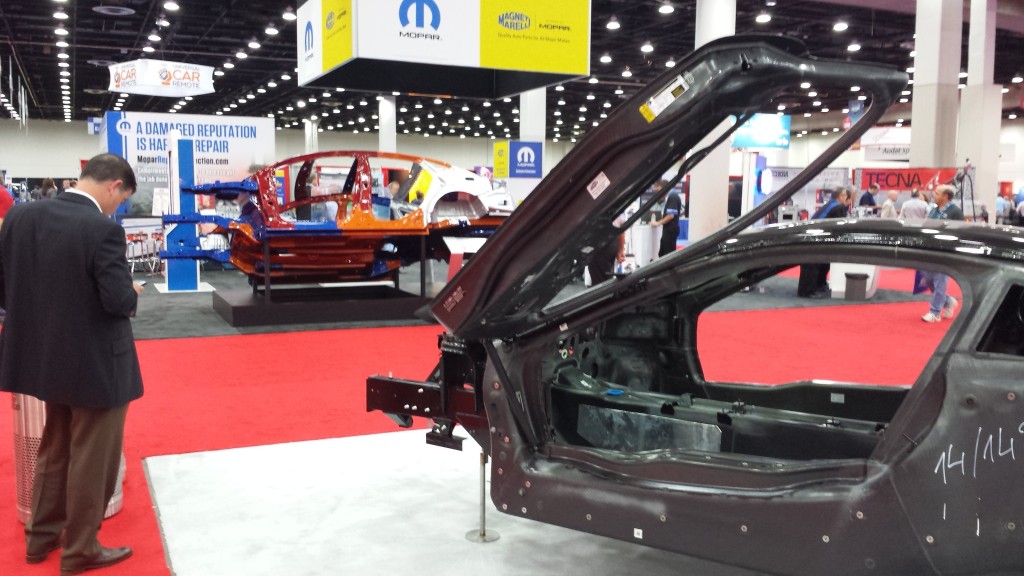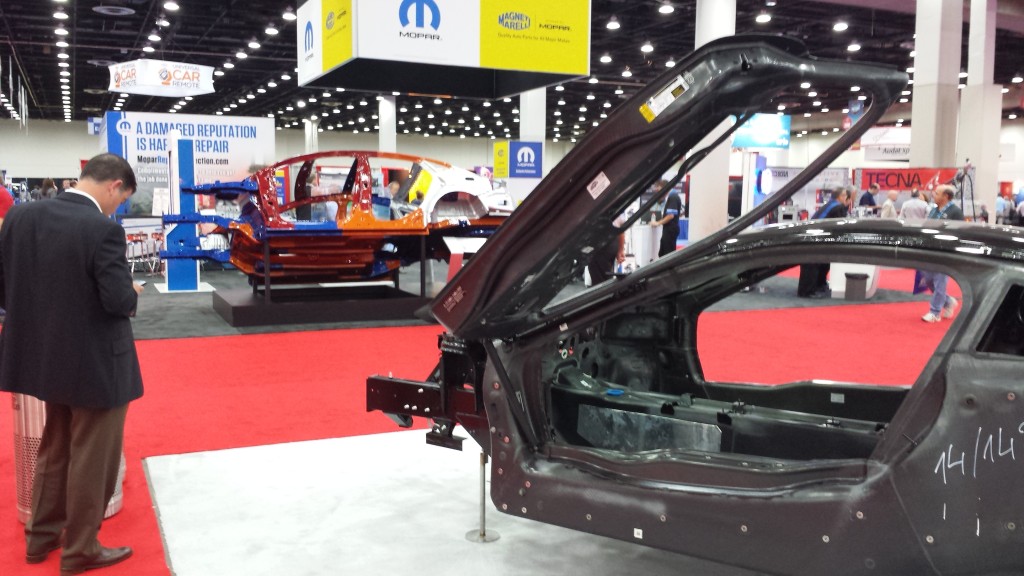 Its cost would still need to fall, he said, and the issue of supply would have to be addressed for it to go mass-market, he told the magazine.
"There is not enough carbon fibre supply in the world to do the F-150, but there is enough aluminium," Zaluzec told the magazine.
But carbon fiber still has "got our attention … Where I am today on carbon fibre and its different processes is where I was maybe 15 years ago on aluminium."
Finally, while magnesium isn't out of the question — particularly for die-cast parts — its concentration in China, cost and corrosion are problems, he told Automotive World.
More information:
"Ford's three-pronged approach to vehicle lightweighting"
Automotive World, Feb. 8, 2016
"FORD TO ADD FOUR NEW SUV NAMEPLATES AS MILLENNIALS, BOOMERS, GLOBAL DEMAND DRIVE CONTINUED SUV GROWTH"
Ford, Feb. 11, 2016
Images:
The body-in-white of the 2015 Ford Edge is shown at the Great Designs in Steel event in May 2015. (John Huetter/Repairer Driven News)
The body-in-white of the 2015 Ford Edge uses ultra-high-strength steel. (John Huetter/Repairer Driven News; image provided by Ford at 2015 Great Designs in Steel)
Future materials: Bodies-in-white of a carbon-fiber BMW i8, foreground, and ultra-high-strength steel Chrysler 200, background, are displayed at NACE|CARS in Detroit in July 2015. (John Huetter/Repairer Driven News)
Share This: