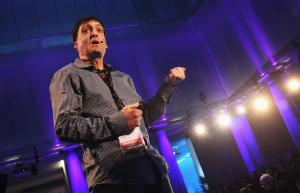 Startup co-op Lemonade, which seeks to make insurance "downright delightful," announced Wednesday it has hired prominent researcher Dan Ariely as its chief behavioral officer.
Ariely, a behavioral economist at Duke University, has the seemingly Herculean task of keeping insurance honest on both sides of the policy, according to a Lemonade news release and coverage in TechCrunch and TechInsider.
"Imagine if you wanted to create a system that would get the worst out of people," he says in a Wednesday Lemonade video. "What would you do? You would start by getting people to give you their money and then you would promise to give them things back later when bad things happen to them.
"But when something bad happened, you would start fighting with them. Plus, you would show them that you don't trust them and you will have extra-small print and you would say, 'We don't cover this' and 'We don't cover this' and 'We don't cover that.' …
"But sadly, this is where the insurance industry is at right now."
The other problem lies in the demand side — customers cheat insurers. However, Lemonade's communal peer-to-peer model addresses that as well, according to Tech Insider — technically, you're only cheating yourself.
"Lemonade is saying, this is not our money," Ariely told Tech Insider. "It's really your money. We are the custodians of this money. We will not make a penny more if we deny claims. at the end of the day, the pool belongs to everybody. And if it gets poorer, it gets poorer for everybody."
"Lemonade is the only insurer that doesn't make money by denying claims – so no one is more willing than us," CEO and co-founder Daniel Schreiber said in a statement. "With the backing of the world's foremost reinsurance names, no one is more able either."
Lemonade is reinsured by Lloyd's of London and Berkshire Hathaway's National Indemnity.
Ariely explained to Tech Crunch that humans are more inclined to cheat someone they feel is untrustworthy.
"People feel justified in trying to screw up an insurance company," he said. "Dishonesty is influenced a lot by our ability to justify it. If we are dealing with a party that we think is immoral itself than we [are immoral] and justify it. We think that everybody else cheats… it feels like a victimless crime."
It'll be an interesting experiment, and it probably can't be worse than a system which Ariely described as "antagonistic, annoying, difficult process with low trust and high dishonesty."
Besides behavioral economics, Lemonade co-founder and President Shai Wininger said in a statement the company would rely on "unique technology" to cut costs, bureaucracy and fraud.
Nowhere in this coverage or Lemonade's news release do we find mention of the third self-interested party in insurance: service providers like body shops and doctors doing the actual work to make the customer whole or well. Unless Lemonade's claims staff will be the one patching roofs, performing surgery, and replacing quarter panels, the company's really looking at a P2P + 1 business model.
How the insurer and customer — who are now the same, according to Lemonade — handle vendor bills will be crucial to making sure the company's insurance "doesn't suck," as its tagline states.
Ditto how vendors treat the insurers and customers — let's face it, there are a few bad apples out there. (Actually, according to Ariely, every human being cheats a little about something. Some just go above and beyond to criminal fraud.)
"There are things that we can control and there are things that are harder for us to control," Ariely told us in an audio message Thursday. "We have some ideas about how to deal with service providers, such as car mechanics, contractors and so on. We haven't figured out the details, so I can't tell you much about this yet. But I will say that we are trying to get everybody to think about long-term and reputation and participation in the system. … And hopefully those things create better behavior.
More information:
"Behavioral Economics Guru Dan Ariely Joins Lemonade"
Lemonade via PRNewswire, Feb. 24, 2016
"A top psychologist says insurance sucks, so he's joining a startup to fix it"
Tech Insider, Feb. 24, 2016
"Still Stealthy, New Insurance Company Lemonade Continues To Impress With New Hire, Dan Ariely"
TechCrunch, Feb. 24, 2016
Featured image: Dan Ariely attends the Digital Life Design (DLD) conference on Jan. 25, 2009 in Munich, Germany. (Sean Gallup/Getty Images News for Burda Media/Thinkstock)
Share This: