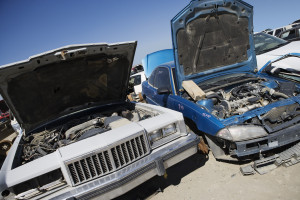 The number of parts per estimate "continues to grow" and won't stop soon, LKQ CEO Rob Wagman told investors Thursday.
In 2015, the average estimate involved 9.2 parts, according to Wagman.
"We see that (growth) trend continuing," he said.
Changes in complexity mean fewer parts can be repaired, Wagman said.
"The aluminum car is coming," he said, and even magnesium is a factor.
"These will get replaced more often than repaired," he said.
He also described body shops opting to replace rather than repair parts but didn't elaborate if this was by choice or OEM instruction.
Wagman called these factors "all positive trends," for LKQ can sell more parts.
Though data wasn't yet available, alternative parts would likely sit "flat" at about a 36 percent market share compared to new OEM parts, Wagman said. That number will probably rise in the near future given MSO consolidation, he said.
Newer vehicles
LKQ's push to buy newer vehicles also "absolutely" helps it sell more recycled parts for later models involved in wrecks, Wagman said.
Selling parts for newer models also boosts margins because of the materials and technological advances contained in those parts.
For example, a 2015 Ford F-150 rear taillamp assembly can cost $800 because of the blind spot monitoring sensor inside, Wagman said. The less advanced 2014 version was merely an $85 "piece of plastic," he said.
"These later model cars will give us some upside on pricing as well as just availability," he said.
LKQ has been getting a better deal on these vehicles too, growing margins further, according to Wagman.
The average vehicle bought by LKQ for parts in the fourth quarter came in at a full year younger but about the same price, Wagman said. In 2015, the price was also flat from 2014 at $2,020, according to LKQ
That's probably because the price of scrap is so low and other currencies and economies abroad aren't as strong, according to LKQ and Mitchell.
"The new car that we're buying is critical to our strategy," Wagman said. To date in 2016, the company has found "ample volume at auction," according to a presentation.
Since LKQ began to buy "a better quality car," salvage growth beat out all North American overall growth, according to the presentation.
LKQ's organic parts and service revenues were up 7.0 percent last year worldwide.
LKQ spent $2.94 million on aftermarket inventory, up 9.6 percent from 2014, and bought $310 billion worth of wholesale salvage cars and trucks, up 6.9 percent. It dialed back self-service and "crush only" procurement 8.4 percent to $471 billion because of low scrap prices.
More information:
"LKQ Corporation Announces Results for Fourth Quarter and Full Year 2015"
LKQ, Feb. 25, 2016
LKQ 4Q, 2015 earnings call presentation
LKQ, Feb. 25, 2016
LKQ, Feb. 25, 2016
Featured image: LKQ now targets newer-model salvage vehicles. (moodboard/moodboard/Thinkstock)
Share This: