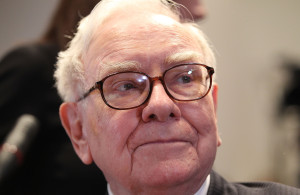 The next time a GEICO adjustor gets upset over your bill, tell him you're just helping his company.
According to Berkshire Hathaway Chairman Warren Buffett, GEICO's boss, rising claim costs are actually a good thing.
GEICO and other Berkshire insurers will just respond with higher premiums, the "Oracle of Omaha" wrote in his annual letter to stakeholders in response to a question of what climate change could do to the conglomerate's insurance businesses.
"Think back to 1951 when I first became enthused about GEICO," Buffett wrote Saturday. "The company's average loss-per-policy was then about $30 annually. Imagine your reaction if I had predicted then that in 2015 the loss costs would increase to about $1,000 per policy. Wouldn't such skyrocketing losses prove disastrous, you might ask? Well, no.
"Over the years, inflation has caused a huge increase in the cost of repairing both the cars and the humans involved in accidents. But these increased costs have been promptly matched by increased premiums. So, paradoxically, the upward march in loss costs has made insurance companies far more valuable. If costs had remained unchanged, Berkshire would now own an auto insurer doing $600 million of business annually rather than one doing $23 billion."
In fact, Berkshire Hathaway has soured on "super-cat" (catastrophe) insurance because there's not enough loss these days, according to Buffett.
"If super-cats become costlier and more frequent, the likely – though far from certain – effect on Berkshire's insurance business would be to make it larger and more profitable," Buffett wrote.
Higher premiums effectively give Berkshire Hathaway even more money, known as "float," to invest in the market or buy more companies until it must repay the cash in the form of claims and bills for expenses like overhead and Gecko ads.
Buffett praises Berkshire insurer risk evaluation and highlighted its ability to raise premiums quickly to respond to market conditions. After observing GEICO's claims loss ratio reached 82.1, up from 77.7, Berkshire Hathaway's 10-K states, "As a result, we continue to implement premium rate increases where necessary."
By that rationale, the insurance business at worst serves as a 0 percent interest line of credit. But it can be a profit center in and of itself.
"If our premiums exceed the total of our expenses and eventual losses, we register an underwriting profit that adds to the investment income our float produces," Buffett wrote. "When such a profit is earned, we enjoy the use of free money – and, better yet, get paid for holding it."
Despite 3-5 percent increases in property damage and collision coverage frequencies and 4-5 percent severity increases from 2014, GEICO posted a combined ratio of 98. That means GEICO effectively received a $22.72 billion loan that paid GEICO 2 percent interest instead of the other way around.
GEICO's $460 million in pre-tax net income — admittedly, down from $1.176 billion in 2014 — came on top of whatever it earned from investing that loan.
As Buffett notes, similar math applies to other insurers. So try running his logic past competitors' adjustors, too.
As frequency and severity trends appear likely to continue, GEICO might crack down on losses themselves. (If it hasn't started already; the letter doesn't provide the kind of detail Allstate did about claims cost control steps.)
But considering how happy Buffett seems at the prospect of more premiums providing free money to stake future deals, it sees like premium increases should be Plan A, and GEICO should lighten up on shops.
How can a GEICO adjustor argue with the logic of the man who is not only his boss but one of American's most high-profile financial gurus? In fact, according to Buffett, the adjustor should thank your shop.
One other interesting Buffett observation for shops: GEICO is "almost certain to grow at a good clip" and will replace State Farm as the nation's No. 1 auto insurer by his 100th birthday in 2030. Mark your calendars.
More information:
Berkshire Hathaway 2015 annual report
Berkshire Hathaway, Feb. 27, 2016
Berkshire Hathaway, Feb. 27, 2016
Featured image: Warren Buffett, Chairman and CEO of Berkshire Hathaway, looks on before testifying before the Financial Crisis Inquiry Commission at the New School June 2, 2010, in New York City. (Mario Tama/Getty Images News/Thinkstock file)
Share This: