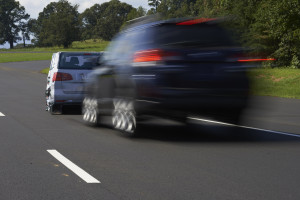 In a win for safety but a blow to collision repair volume, 20 automakers worth 99 percent of the U.S. market share vowed to make autobraking standard no later than Sep. 1, 2022.
The 2022 target date will come three years earlier than any possible government regulation could have been developed, the National Highway Traffic Safety Administration calculated. Using Insurance Institute for Highway Safety data, the feds estimated the earlier timetable would prevent 28,000 crashes (and 12,000 injuries) — 9,333 crashes a year.
Overall, the IIHS estimates autobraking cuts about 39 percent of rear-ending crashes — and that's just with the tech we have today. That 39 percent works out to about 13 percent of all the crashes in America.
Now, there were 6.1 million crashes reported to police in 2014, and the average age of a car is about 11.4 years. So there'll be business to go around. But once autobraking begins to work for other items besides simply other cars and at higher speeds, those 6.1 million crashes could start falling quickly.
"IIHS member companies strongly support the adoption of effective safety technologies," IIHS Chairman and American Family Insurance CEO Jack Salzwedel said in a statement. "Deploying AEB on a wide scale will allow us to further evaluate the technology's effectiveness and its impact on insurance losses, so that more insurers can explore offering discounts or lower premiums to consumers who choose AEB-equipped vehicles."
Audi, BMW, FCA, Ford, General Motors, Honda, Hyundai, Jaguar Land Rover, Kia, Maserati, Mazda, Mercedes, Mitsubishi, Nissan, Porsche, Subaru, Tesla, Toyota, Volkswagen and Volvo all made the "unprecedented" commitment to hit 2022 target, the NHTSA wrote in a news release.
"With roadway fatalities on the rise, the commitment made today has the potential to save more lives than almost anything else we can accomplish in the next six years," National Safety Council President and CEO Deborah A.P. Hersman said in a statement Thursday. "Including all models in the agreement ensures that safety isn't for just those who can afford it."
Any car or truck with a gross weight of 8,500 pounds or less must offer autobraking, often called AEB (automatic emergency braking), standard by Sept. 1, 2022. Anything weighing 8,501-10,000 pounds must have autobraking no later than Sept. 1, 2025.
There were no details on when the government would enact a formal rule on the matter. Consumer Reports and NHTSA will keep tabs on the OEMs' adherence to the pledge.
"We have been calling on automakers to make automatic emergency braking standard in all new vehicles, and today is an important step toward reaching that goal," Consumer Reports auto testing director Jake Fisher said in a statement. "This proven technology is among the most promising safety advances we've seen since electronic stability control almost two decades ago. We look forward to working with NHTSA and IIHS to help put this plan into action and hold automakers accountable for their commitments."
The commitment involves full-on autobraking, not just collision warnings: The car will stop itself in the event of an impending crash.
The NHTSA wrote that the equipment "requires a level of functionality that is in line with research and crash data demonstrating that such systems are substantially reducing crashes, but does not stand in the way of improved capabilities that are just beginning to emerge. The performance measures are based on real world data showing that vehicles with this level of capability are avoiding crashes."
According to the IIHS, the automakers must have not only forward collision warning meeting NHTSA 5-star driver alert timing rules but also autobraking worth an advanced rating by the IIHS.
The IIHS demands an autobraking baseline of the brakes cutting 10 mph of speed in either a 12 mph or 25 mph test or cutting speed 5 mph in both tests. While that might not fully stop a crash, it could mitigate it a great deal — saving lives/preventing injuries and keeping damage severity lower.
NHTSA itself has proposed examining the technology with its five-star ratings starting with the 2018 model year.
The agency also plans to "accelerate" research into better autobraking, including technology that can avoid smaller, more erratic targets like pedestrians. Volvo has examined autobraking for animals, too.
For more discussion into what expanding autobraking capability could mean for collision repair, see this coverage.
Featured image: The Insurance Institute for Highway Safety rates autobraking/braking assist systems based on their ability to cut crashes at 12 mph and 25 mph in tests, giving top marks to systems which can cut all but 2-3 mph out of the car's speed. (Provided by Insurance Institute of Highway Safety)
Share This: