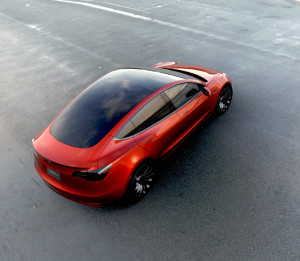 Tesla CEO Elon Musk on Thursday promised the Tesla Model 3 would get 5-star crash ratings in all NHTSA categories — though he offered few details on how the car's body would pull that off.
Auto body shops need to pay major attention to the highly-anticipated car, which was unveiled Thursday. They're going to be in your markets, and if Tesla restricts body work to certified shops as it does now, that'll be a major business decision to mull.
The Model 3 will sell for $35,000 without government incentives, and pre-orders had already reached 115,000 Thursday — nearly two years before the car even is supposed to appear.
"Thank you," Musk said. "That's a lot, yeah."
Friday afternoon, Musk tweeted the tally had reached 198,000.
Thought it would slow way down today, but Model 3 order count is now at 198k. Recommend ordering soon, as the wait time is growing rapidly.

— Elon Musk (@elonmusk) April 1, 2016
"Definitely going to need to rethink production planning…" he continued.
Prior to that, he estimated 180,000 pre-orders in 24 hours, with an average option mix yielding a sales price of $42,000 — roughly about $7.5 billion in a single day if they all buy at that level.
"Future of electric cars looking bright!" he tweeted.
The 115,000 pre-orders Musk boasted Thursday probably refer to worldwide numbers. But pretend they're all American and all those folks who gave Tesla $1,000 to reserve their spot buy the car. Using GoodCarBadCar's numbers, that would make the Model 3 the 48th best-selling car of 2015, ahead of the GMC Terrain but behind the Kia Sorrento and within 4,000 units of the Toyota Prius.
At 198,000 pre-orders, it'd be the 24th best-selling vehicle of 2015, ahead of the Jeep Grand Cherokee and catching up on the Ford Focus, based on GoodCarBadCar's data.
Musk said the Tesla Fremont, Calif., factory has produced 500,000 units in a year before and can do so again to meet demand for the Model 3. He said the car should start deliveries by the end of 2017, though automotive media have indicated they really don't expect it until 2018.
"I do feel fairly confident that it will be next year," Musk said with a laugh Thursday.
Besides the pre-orders indicating demand, there are other signs customers might take the plunge and buy a Tesla. Not only does it carry that "cool" cache — Tesla fans remind us of the cult of Apple — it should be a pretty nice car.
Tesla's partially autonomous Autopilot feature will be available standard, along with all the Autopilot safety features, though Musk confirmed to Tech Insider that some self-driving features will be part of an options package Tesla currently sells for $3,000.  The whole package actually works pretty well on a freeway (even if the driver got a speeding warning), based on this video by DragTimes.
The vehicle will go 0 to 60 mph in six seconds, and travel 215 miles on a charge. Model 3 owners can use Tesla's fast-charging Supercharger network, and Tesla plans to double the number of Supercharger and "destination chargers" worldwide to 7,200 and 15,000, respectively, by the end of 2017.
Because there's no engine, the Model 3 will have front and rear trunks and offer the most cargo space in its vehicle segment, according to Musk.
"You will not be able to buy a better car for $35,000, or even close," Musk said.
The steel and aluminum 2017 Chevrolet Bolt, the Model 3's main competitor, will drop to about $30,000 and travel 200 miles on a charge, too, according to GM — but you'll need government incentives to make the price happen.
In terms of the Tesla body, Musk showed images but didn't elaborate on substrates. In 2014, Tesla engineering Vice President Chris Porritt told Autocar, the Model 3 probably wouldn't be as aluminum as the Model S. The magazine speculated in 2015 the Model 3 would "use mostly steel in its make-up although it will probably use bonding and rivets in its construction."
"I expect there will be very little carry-over [from the Model S]. We've got to be cost-effective. We can't use aluminium for all the [small car's] components," Porritt told the magazine earlier.
We've reached out to Tesla for more details. Here's a couple of shots we took of the body-in-white: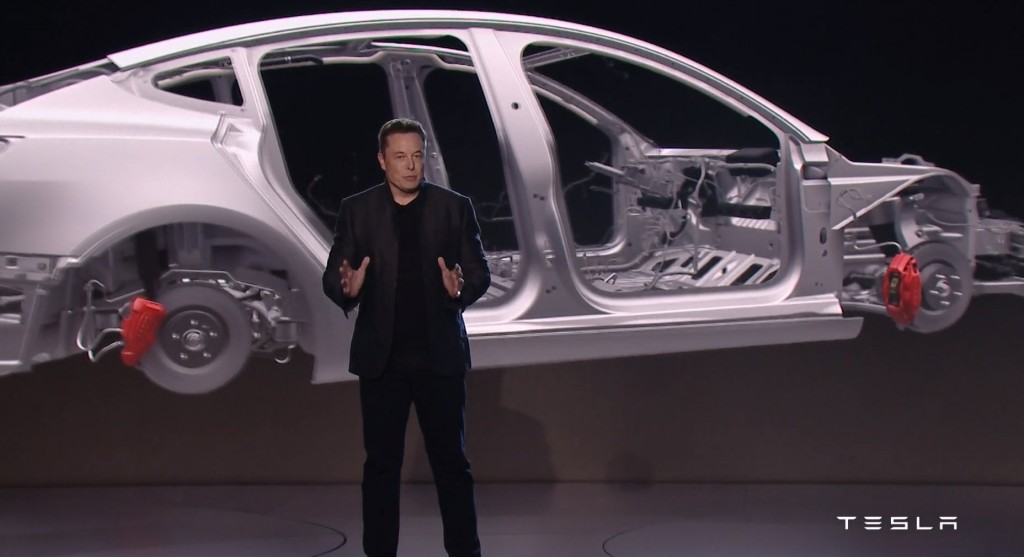 One interesting body factor — a gigantic rear window that serves as a sun roof as well. It's "one continuous pane of glass," Musk said, which gives the backseat the feeling of "openness." It'll be interesting to see how the auto body and glass community handle it — not to mention if it'll impact the 5-star rollover rating Tesla wants.
Musk didn't mention the IIHS — which seems to offer a more stringent testing criteria than the NHTSA — though the organization oddly has never rated a Tesla's crashworthiness. It does, however list the Model S as one of the most expensive cars to insure with collision coverage.
Tesla didn't provide any details on if it'd open up mechanical service and repair to a broader segment of the aftermarket, but Musk said he wanted 441 service centers/"dealerships" by the end of next year worldwide.
"If you're near any even mid-size metro area, you'll be able to buy a car, and get your car serviced," Musk said of North America, Europe and Asia.
Neither Musk nor the company discussed if the company would expand its Tesla-certified auto body network or even open repairs up to non-certified shops once Model 3s start getting struck by less exciting vehicles (and vice versa) in 2018.
Continue to check Repairer Driven News for updates.
More information:
Tesla press kit, March 31, 2016
Model 3 on Tesla customer page
Tesla, March 31, 2016
Tesla, March 31, 2016
Images:
The Tesla Model 3 is shown in an image released by Tesla March 31, 2016. (Provided by Tesla)
This screenshot from Tesla video shows a rendering of the Tesla Model 3 body-in-white behind CEO Elon Musk. (Screenshot from Tesla video)
Share This: