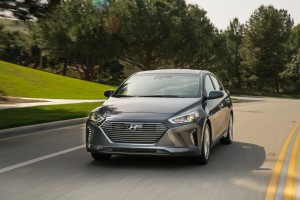 The Prius-fighting 2017 Hyundai Ioniq, which starts at a hybrid version and works its way up to fully electric, debuted last month at the New York International Auto Show.
"Ioniq will attract an entirely new group of eco- and efficiency-oriented buyers in the U.S. market," Hyundai America corporate and product planning Vice President Mike O'Brien said in a statement. "With outstanding powertrain flexibility, design, connectivity, and advanced technologies, Ioniq meets the needs of a large and growing group of buyers needing a highly efficient, low-emissions vehicle without compromise to their daily lifestyles."
But for collision repairers, the lesson isn't the powertrain — though you better know which version you're working on and the SOP for doing so — it's the body keeping the car light enough to handle a non-traditional combustion engine.
"Ioniq sought significant weight reduction targets without compromising fun-to-drive and comfort characteristics," the OEM wrote in a news release March 23.
Hyundai built the Ioniq hood, tailgate, bumper beams and parts of the suspensio out of aluminum, calling it 45 percent lighter than steel for those applications.
The rest of the car has more than 50 percent of advanced-high-strength steel, some of which is probably really ultra-high-strength steel based on where it's located in diagrams Hyundai Global provided in January and the graphic's reference to "hot-stamping."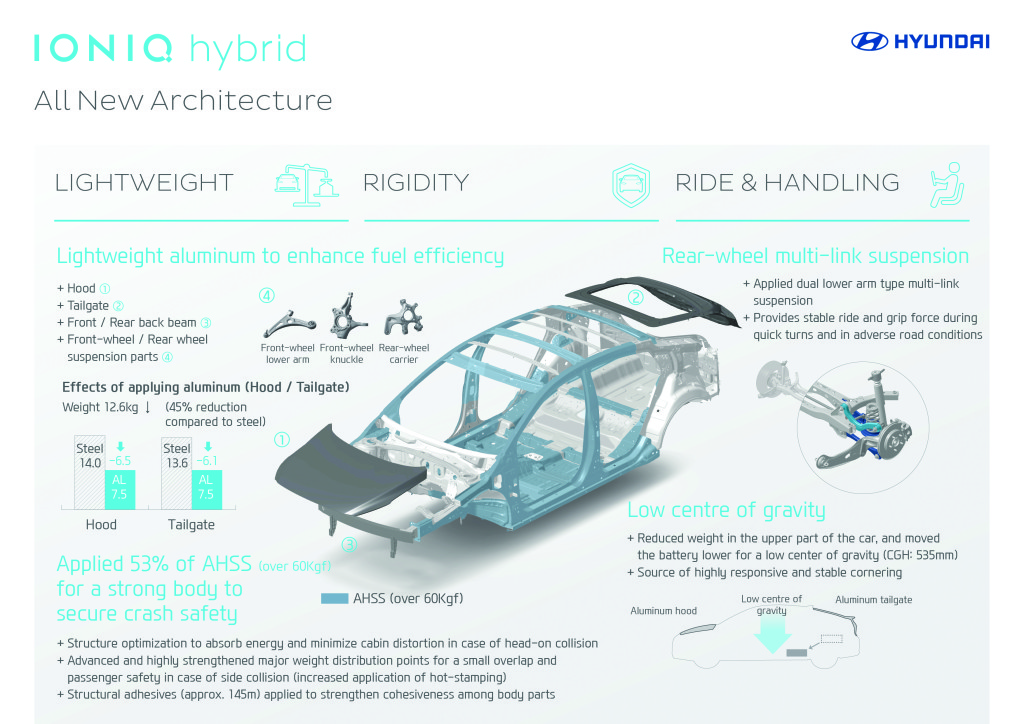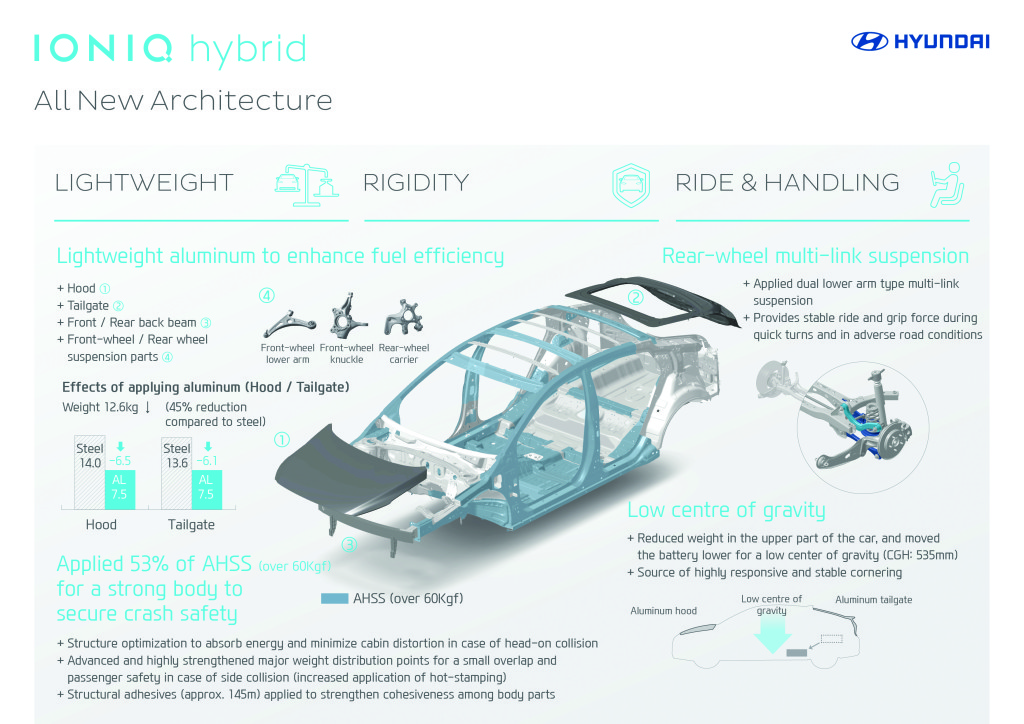 "Ioniq's light-yet-rigid body is the result of advanced design, construction methods and materials," the OEM wrote. "Featuring 53 percent Advanced High Strength Steel, the chassis benefits from superior rigidity for responsive handling and safety, with high impact-energy absorption and minimized cabin distortion to protect passengers in the event of a collision."
The OEM also used 475 feet — far more than a football field — of advanced structural adhesives, "simultaneously yielding both lightweighting and rigidity benefits."
Unfortunately, Hyundai doesn't reallly share OEM collision repair information with the U.S., though its subsidiary Kia does, according to I-CAR.
Shops working on the Ioniq might have to rely on I-CAR and its best practices for assistance — for example, if you don't know what the steel is, don't section — though perhaps Hyundai's introduction of a certification program will help spur that material to appear in America.
A few other highlights from the Ioniq family (what's the plural of Ioniq, anyway?):
If a wreck requires new tires, the Hyundai hybrid and plug-in hybrid suspension benefit from "low-rolling resistance tires," the OEM notes.
Hyundai's lightweighting extended to the cargo screen cover. "With higher usage of lightweight components and a more compact build, the cargo-screen cover is about 25 percent lighter than the types used in other Hyundai models," Hyundai wrote. (Or, if you can't stand cargo covers, save even more weight and get rid of it.)
Don't expect it to fight the all-electric Chevrolet Bolt or Tesla Model 3 without some serious incentivizing to sway a driver. The all-electric Ioniq's range is only 110 miles, about half of what its rivals are claiming.
The OEM threw out the 12-volt, lead-acid auxillary battery used in other hybrids and saved 26 pounds.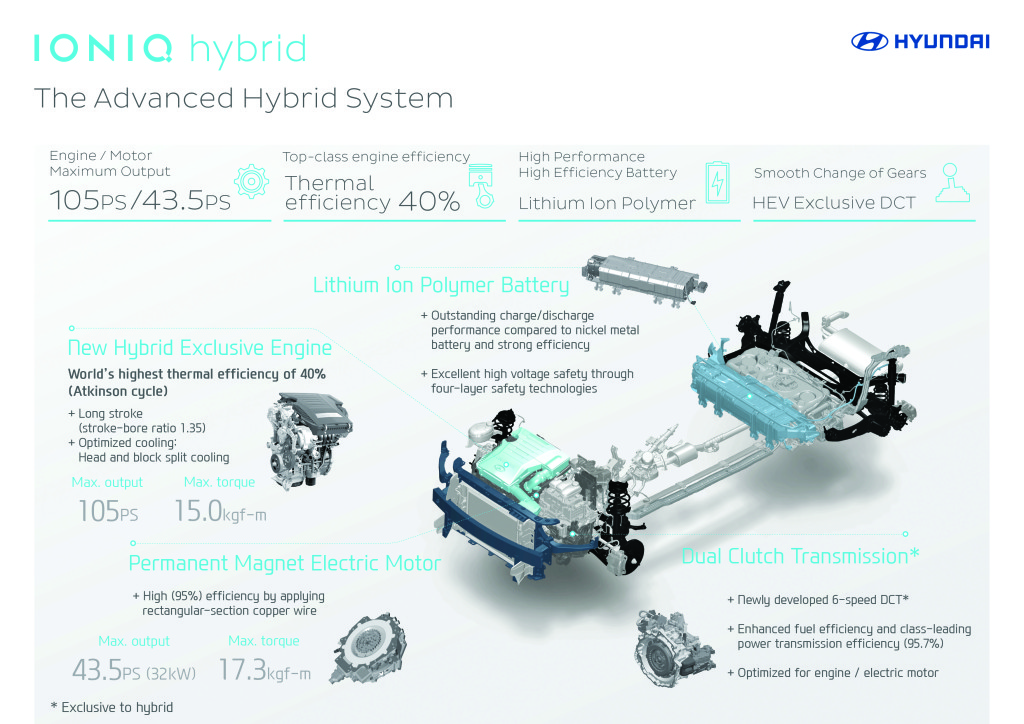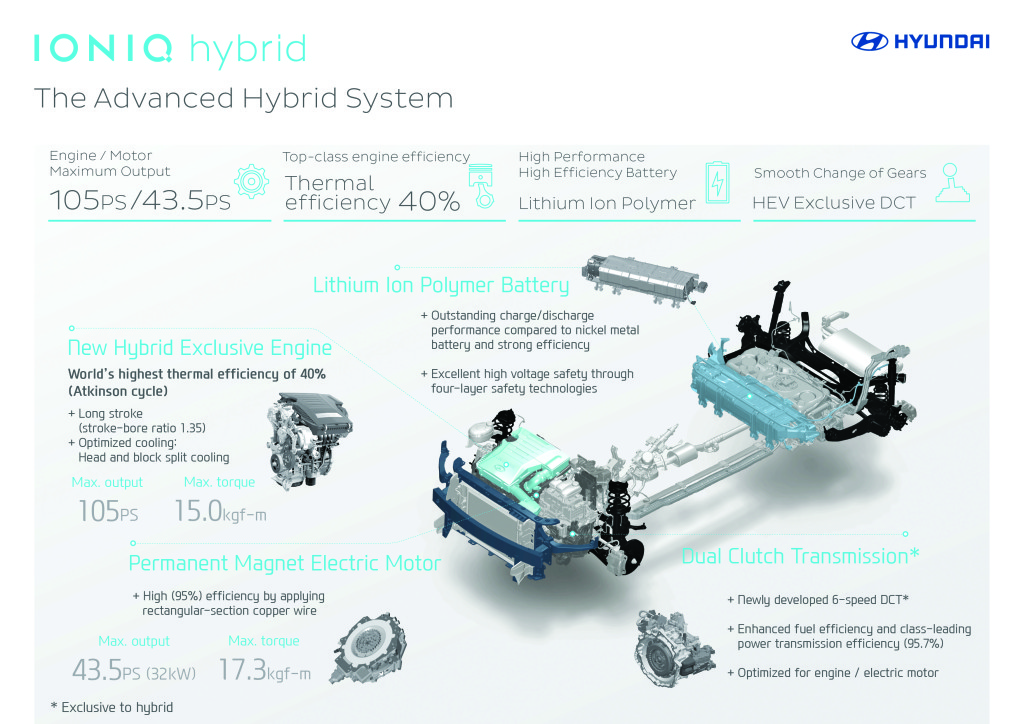 Hyundai expects to sell 77,000 cars across all three models worldwide, according to Reuters — which noted that figure was 80 percent higher than all the hybrids the OEM sold in 2015. So it's a fair bet you'll see one — probably a hybrid — particularly if gas begins to climb in price.
Here's an FEV slide from a Megatrends webinar Wednesday showing how hybrids make more sense at certain gas and mileage price points.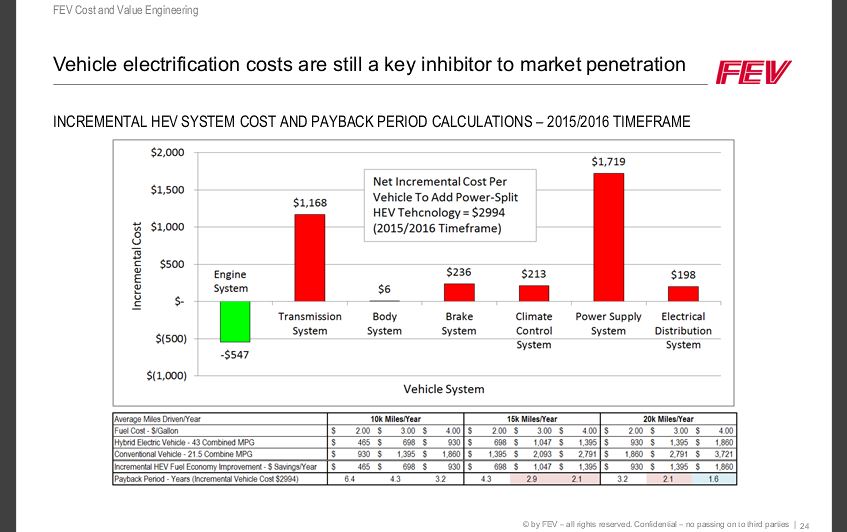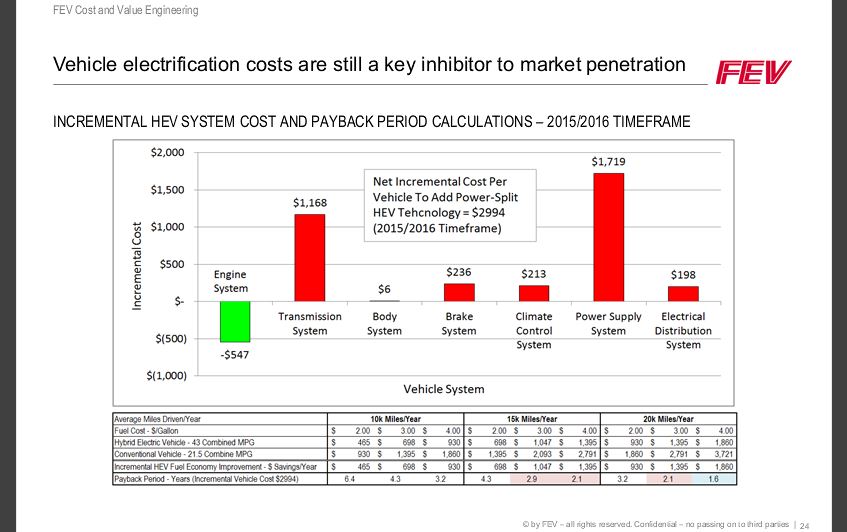 More information:
"2017 HYUNDAI IONIQ MODEL LINEUP MAKES U.S. DEBUT AT NEW YORK INTERNATIONAL AUTO SHOW"
Hyundai, March 23, 2016
"IONIQ: A Leap Forward for Hybrid Vehicles"
Hyundai Global, January 7, 2016
Images:
The Prius-fighting 2017 Hyundai Ioniq, which starts at a hybrid version (pictured) and works its way up to fully electric, debuted last month at the New York International Auto Show. (Provided by Hyundai)
A graphic of the 2017 Hyundai Ioniq hybrid powertrain. (Provided by Hyundai Global)
Hyundai built the Ioniq hood, tailgate, bumper beams and parts of the suspension out of aluminum, calling it 45 percent lighter than steel. The rest of the car has more than 50 percent of advanced-high-strength steel, much of which is probably really ultra-high-strength steel based on where it's located in diagrams Hyundai Global provided in January. (Provided by Hyundai Global)
An FEV slide from an Automotive Megatrends webinar Wednesday shows  how hybrids make more sense at certain gas and mileage price points. (Provided by FEV via Automotive World/Automotive Megatrends)
Share This: