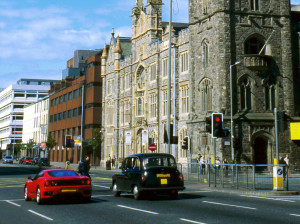 An engineer reported finding "notable differences" between aftermarket and OEM collision repair parts in a study announced Wednesday by the Northern Ireland Bodyshop Alliance.
"In this substantive study, and from the analysis and testing undertaken, it is my opinion that there were notable differences between OEM and non-OEM parts tested which may affect performance, and, ultimately, the safety of drivers and pedestrians," consultant engineer Alan Deering said in a statement.
"If it were my own car, I would request OEM parts.  I would certainly feel more comfortable with these than if non-genuine parts were fitted as the best quality can only be assured in this instance."
Deering's study applied "rigorous mechanical, chemical and microscopic testing" to aftermarket body panels on undisclosed model years of Ford Focus, Puegeot 206 and Volkswagen Golf models, according to NIBA.
"It concluded that real differences existed between the genuine and non-genuine panels tested which could affect how well they fit and which could reduce their performance in an 'impact' situation," NIBA wrote on its blog.
The association noted that engineers found using multiple generic panels at a time produced a "heighted chance that the vehicle may underperform, corrode more quickly or be more vulnerable overall."
Despite Consumer Reports and IIHS coverage of issues with non-certified generic bumper beams (and even certified aftermarket parts are controversial), some insurers continue to use unvetted aftermarket components in the U.S. Aftermarket advocates argue the uncertified (and certified) parts are cheaper, just as good or better as OEM parts and — somewhat paradoxically to the quality argument — cosmetic.
According to NIBA, the parts are often installed upon the request of an insurer without the Northern Ireland vehicle owner knowing, and the 50-shop organization seeks to create awareness among consumers such a thing happens — and even end the practice. It's unclear from the NIBA post if customers are truly uninformed or if it's an example of just glossing over the fine print. (Which is easy to do too, based on numerous U.S. incidents.)
"The study highlights the real dangers involved for drivers, pedestrians, and cyclists in Northern Ireland, where many car owners will no doubt be shocked to learn that insurance companies are trying to cut costs by having non-genuine parts fitted rather than the manufacturer's parts after they have been involved in a collision," NIBA Chairman Richard Hastings said in a statement. "This report underlines our assertion that the practice, which can compromise … safety (and) integrity, is completely flawed. Drivers who have been unfortunate to have been involved in a collision – no matter who is at fault – should also be concerned that the practice can often affect the vehicle resale value and limit or invalidate the car's warranty."
In the U.S., installing an aftermarket part doesn't void a vehicle's warranty — but if an aftermarket part fails and affects a warrantied OEM part, the automaker might be off the hook on the contract. We don't have an aftermarket-resale example from the States, but an OEM parts supporter in a recent Maryland hearing has described drivers returning vehicles at the end of a lease having to replace aftermarket parts with OEM ones or eat a fine, which seems similar.
NIBA also spoke to the insurer argument that policies are cheaper because of aftermarket parts. (In the U.S., the difference is less than $25 a year; which is less than £18 over in Northern Ireland.)
"Some insurance companies may say that using non-genuine parts allows them to offer lower policy prices," Hastings said in a statement. "However, any small savings could be lost thanks to the non-genuine parts devaluing the overall price of your car and increasing the bill for future repairs because they don't provide adequate structural integrity in an accident."When it's a choice between lives and profit – there really is no contest."
More information:
"NI probe exposes risks of 'cheap' car parts"
Northern Ireland Bodyshop Alliance, April 6, 2016
Featured image: Cars travel in Belfast, Northern Ireland. (Philartphace/iStock/Thinkstock)
Share This: