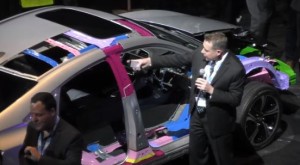 Canadian and U.S. collision repairers will both benefit from a look at an excellent series of OEM videos from the first of the Canadian Collision Industry Forums this year.
While U.S. repairers of course should double-check the concepts with American OEM contacts and U.S. repair procedures, it appears most of the information from January's CCIF Toronto should apply for either country. (After all, OEMs frequently refer to "North America" rather than either nation.)
That includes:
Yes, you have to calibrate the Toyota passenger airbag
Apparently, U.S. repairers and insurers aren't alone in ignorance or resistance to Toyota's requirement that all passenger's side airbag sensors be calibrated in any impact. Here's Toyota Canada talking about the same concept with our northern neighbors. And in either country, it has to happen, or the airbag could — or could not — deploy at inopportune times.
The 2016 Honda Civic has a lot of higher-strength steels
We've emphasized it, and Honda does here: This is unlike like anything Honda's done before on the Civic body-in-white, and you need to be ready. This video discusses the steel content and its locations, partly through a cool Honda auto body cutaway we hope makes it to U.S. trade shows as well.
(Note: It appears getting onto Honda's ProFirst program in Canada might be different than in the U.S.; learn more about the U.S. program here.)
How Ford made some F-150 repair easier
Yes, the F-150 is aluminum, and that adds some different procedures. But a Ford expert presents some ways in which you might save some repair hours due to some clever engineering and by accessing OEM information.
Audi: Shop of the future will face new joining, mixed-materials vehicles
Audi discusses its mixed-materials TT and Q7, and also the next generation of joining techniques and collision repair facilities — including the need for virtually all of its shops to have separated areas for both safety and corrosion considerations.
See where you might replace, cut BMW i8 carbon fiber
Get a neat look at the "life module" of the BMW i8, including the kind of replaceable body structures and location-specific sectioning BMW built into the carbon-fiber cars.
Porsche: Not much difference between race car, 911s
Porsche hints at a trend repairers might have already noticed: Race/exotic car body engineering seems to travel downstream to luxury cars — and then to the mainstream.
Start your engines.
More information:
January 2016 CCIF Cars & Technology Showcase videos
Canadian Collision Industry Forum
Featured image: A Honda Canada representative discusses the 2016 Civic next to a color-coded body-in-white cutaway in this screenshot from Canadian Collision Industry Forum video. (Screenshot from CCIF video)
Share This: