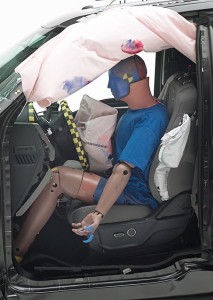 Ford used engineering tweaks in the 2016 editions of its SuperCab F-150s to beat all tested competitors in the difficult IIHS small-overlap crash test, the OEM and Insurance Institute for Highway Safety announced Tuesday.
Not only does Ford's large-truck "good" ratings — it was the only OEM to ace an initial wave of crew- and extended-cab crash tests — put the ball in the court of rivals like the Chevrolet Silverado, it puts pressure on repairers to deliver the same result on an F-150 unlucky enough to crash again.
It also shows the necessity of checking OEM repair procedures frequently — after all, the truck's already different from a safety perspective just a model year into its first aluminum generation. (Get links to all OEM collision sites with the OEM Resource Center, OEM One Stop or the Repairability Technical Support portal.)
"Ford is leading the way among large pickup manufacturers when it comes to protecting people in a range of crashes and offering technology to warn drivers of imminent frontal crashes," IIHS Vehicle Research Center Vice President Raul Arbelaez said in a statement Tuesday."We commend Ford for taking last year's test results to heart and upgrading protection for SuperCab occupants in small overlap crashes."
The new wave of Insurance Institute for Highway Safety testing and Ford changes to the extended-cab variant came after the IIHS last year decided to test larger variants of pickups.
Only about 5 percent of F-150s are Regular Cabs, so the additional IIHS testing makes sense. Ford's four-door SuperCrew variant makes up about 75 percent of F-150 sales, and the SuperCab, which has a set of rear-hinged half-doors, comprises the remaining 20 percent of sales, according to Ford.
F-150s made up roughly two-thirds of the 780,354 F-Series trucks sold last year, according to Ford.
The IIHS found last year that while the 2015 SuperCrew crew cab version received top "good" marks in all crash tests and was a Top Safety Pick, the 2015 SuperCab extended cab only posted a "marginal" small-overlap crash score. The IIHS' ratings are good, acceptable, marginal and poor.
This year, both crew and extended cab variants were Top Safety Picks — something no other large truck OEM matched. (You can't get an IIHS Top Safety Pick+ unless autobraking is an option; the F-150s can help apply braking force but not hit the brakes themselves, according to Ford.)
The IIHS has so far tested the F-150, Chevrolet Silverado, GMC Sierra, Ram 1500 and Toyota Tundra. It will test the 2016 Nissan Titan and Honda Ridgeline later this year with the small-overlap test — a first for the models since the exam's introduction in 2012.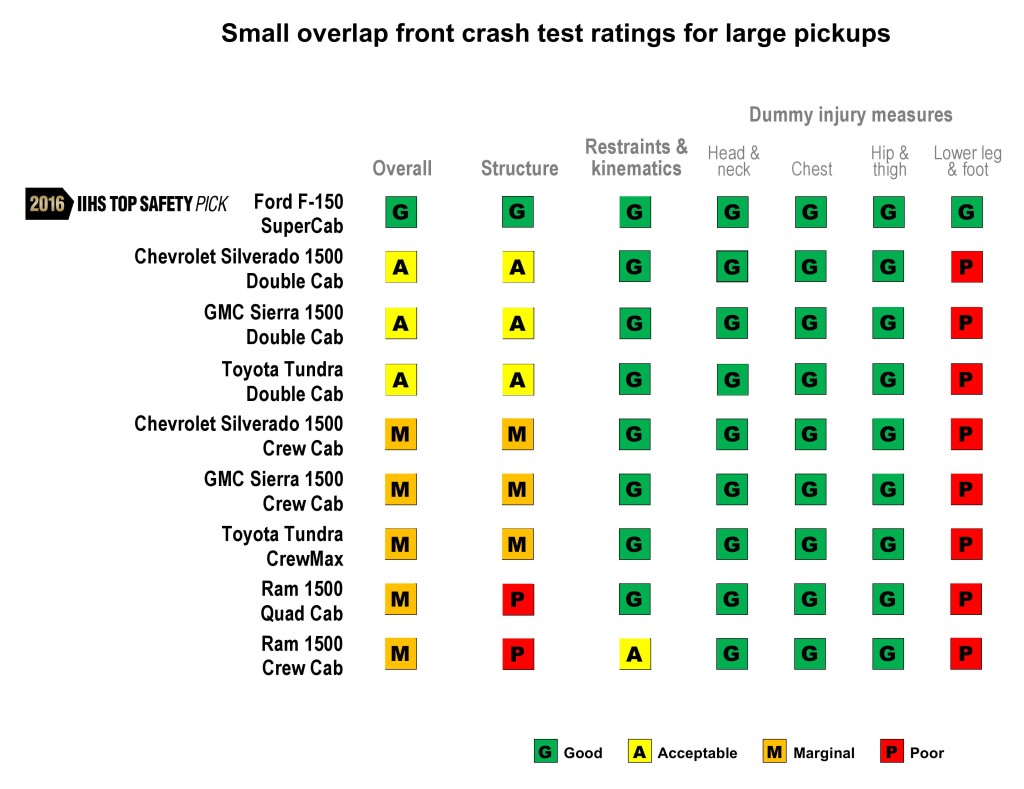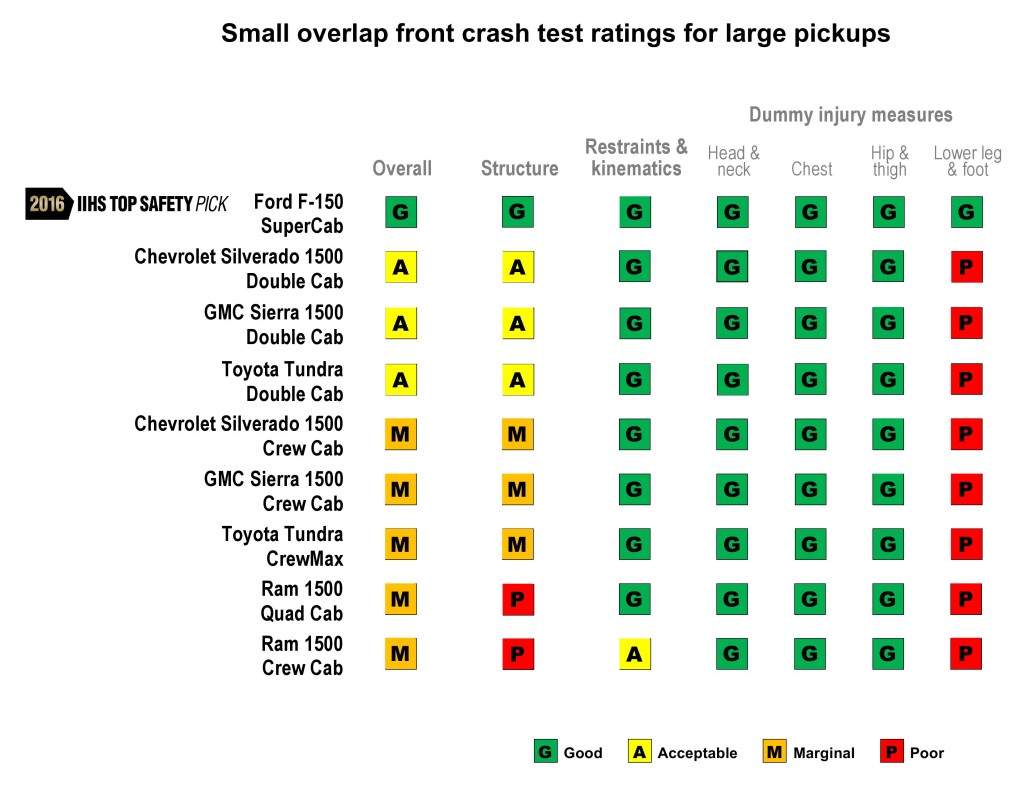 "From the moment our team set out to design and build the new F-150, we knew it had to be best-in-class," Ford global product development Executive Vice President and Chief Technical Officer Raj Nair said in a statement. "This Insurance Institute for Highway Safety Top Safety Pick is another example of Ford's commitment to building the toughest, smartest, most capable and safest F-150 ever."
The IIHS in 2015 said it usually only tests the highest-selling variant of a model, but noted both the radical departure of an aluminum F-150 as well as the sheer volume of even less popular variants.
"For starters, there's been lots of buzz around the release of the first aluminum-body pickup and how it would perform in crash tests," IIHS Chief Research Officer David Zuby said in a statement last year. "What's more, even the lower-selling extended cab sales top those of many of the passenger vehicles we rate."
Ford described the following steps to help clinch the top scores, though it's unclear if these refer to new actions taken for the SuperCab (and others) between the 2015 and 2016 model years or leading up to the 2015 models of F-150s:
A cross-functional group of Ford truck veterans worked thousands of hours to deliver improved durability, capability, fuel economy and safety. The team created 31 safety-related innovations – including new structures that manage crash forces, and joining methods that were tested virtually with supercomputer simulations, then retested in Ford's advanced laboratories to engineer the safest F-150 ever.
These smart innovations include a patented extruded aluminum roof crossmember and additional frame crossmember to help improve crash resilience.
To manage crash forces in the Insurance Institute for Highway Safety small overlap front crash test, Ford created a system of innovations that work together to help protect the driver. Nylon hinge pillar reinforcements save weight, and in conjunction with specially designed wheel blockers, work to control crash forces while also providing additional safety.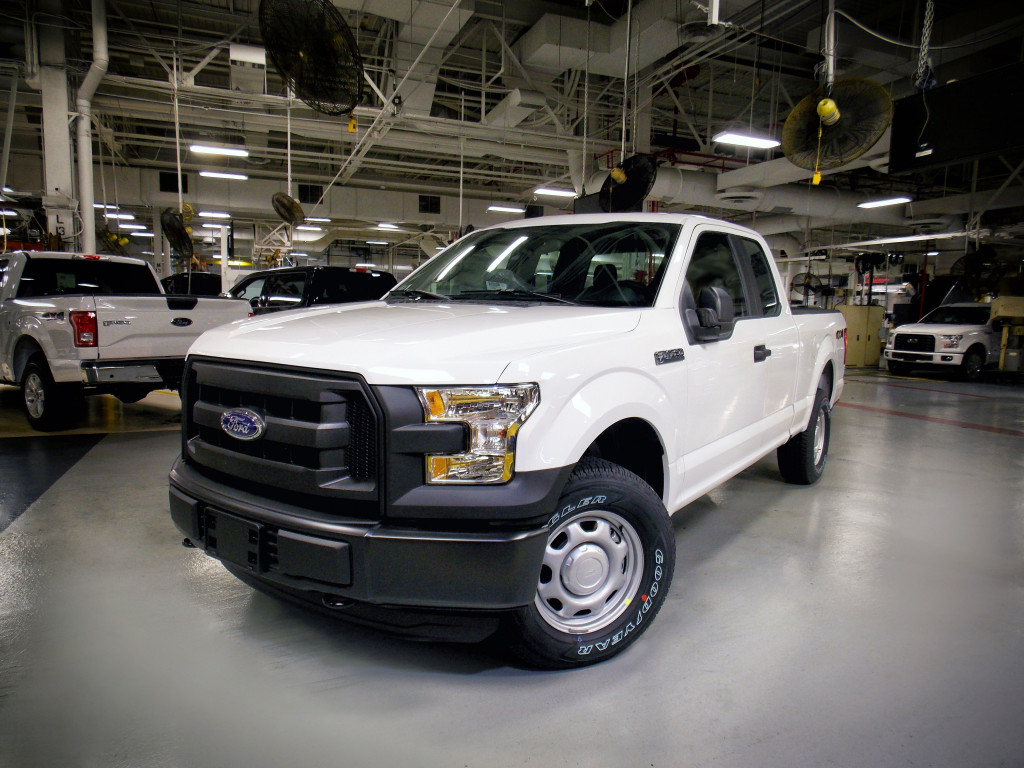 The rivals
Chevrolet and Toyota saw the reverse of Ford's 2015, with their respective extended-cab Silverado 1500 Double Cab and Tundra Double Cab earning acceptable small-overlap ratings while their 1500 Crew Cab and CrewMax crew cab models netted marginal scores. The IIHS noted that the Chevrolet scores were identical to what the GMC Sierra 1500s received.
"Survival space for the driver in these extended-­cab pickups was maintained reasonably well overall, contributing to their acceptable ratings for structure. … Both (crew cab) models had considerable intrusion into the occupant compartment that compromised survival space for the driver."
Either way, Ford still has bragging rights for its higher "good" 2015 SuperCrew score in the latter category.
Dodge had a rough show of it, with both the Ram 1500 Crew Cab and Quad Cabs hit with marginal overall small-overlap ratings and poor ratings in the structural subset.
"The force of the crash pushed the door-­hinge pillar, instrument panel and steering column back toward the driver dummy. In the Ram Crew Cab test, the dummy's head contacted the front airbag but rolled around the left side as the steering column moved to the right, allowing the head to approach the intruding windshield pillar.
"All of the pickups except the F-­150 had moderate to severe intrusion into the driver footwell area during the small overlap test. The footrest/left toepan, brake pedal, parking brake and/or lower dashboard were shoved against the dummy's lower legs. In the worst cases (Ram Crew Cab and Ram Quad Cab), maximum intrusion reached 16-­17 inches. Measures taken from the dummy in all but the F-­150 indicated a likelihood of serious lower leg, ankle and foot injuries."
"Drivers in these pickups would need help freeing their legs from the wreckage following a small overlap crash. We encourage manufacturers to redesign their pickups to resist intrusion in the lower occupant compartment to safeguard people from serious leg and foot injuries that might require months of rehabilitation," Arbelaez said in a statement.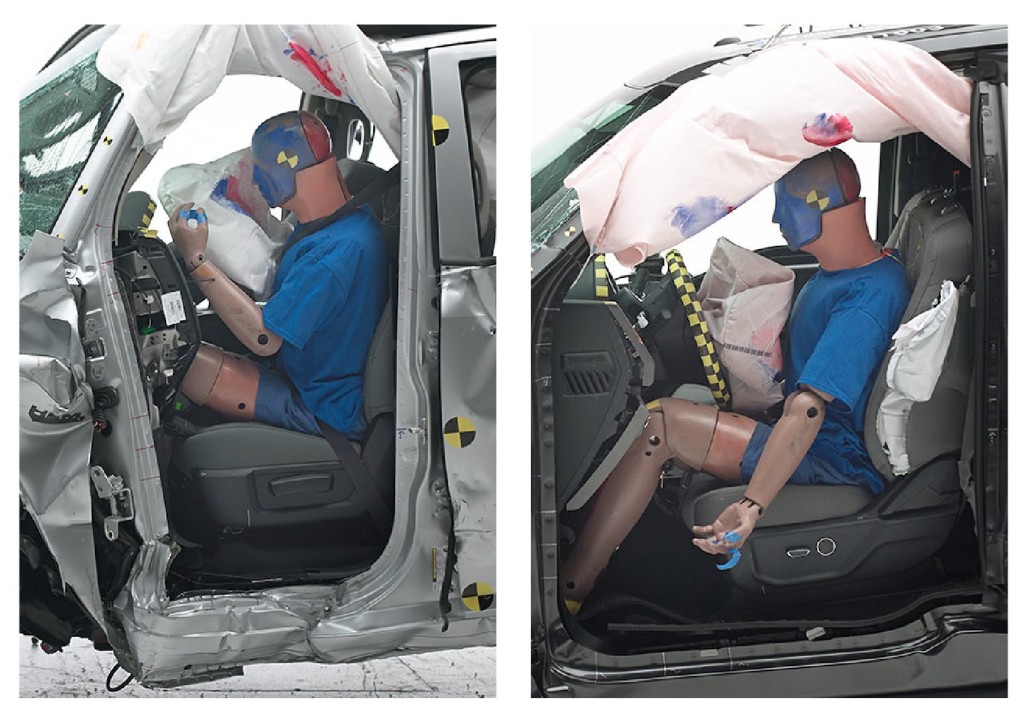 Other tests
The IIHS observed that all the tested trucks scored in the good range for all other tests except for roof strength. Both F-150s and both Silverados (the IIHS didn't say how the Sierras did) have roofs rated good.
The Toyota Tundra Double Cab's roof received a "good," but the CrewMax only won an "acceptable." Both Ram roofs scored "marginal."
According to the IIHS, 44 percent of pickup deaths occur in rollovers. Not only do stronger roofs resist crushing, but they can keep a passenger or driver from being ejected out of the cab — particularly as only 77 percent of truck drivers wear a seat belt compared with 88-89 percent in other common vehicles.
Remember, these are factory-floor, brand new trucks struggling to pass these tests. Think about the kind of additional havoc an improper repair could wreak upon cab occupants in another crash. Be thorough, and follow OEM guidelines — for the correct model year.
More information:
"Safest F-150 Ever: Ford F-150 SuperCrew and SuperCab Only Full-Size Pickups to Earn 2016 IIHS Top Safety Pick"
Ford, April 12, 2016
"Ford F-­150 is the only pickup to earn top safety rating for small overlap protection"
Insurance Institute for Highway Safety, April 12, 2016
Images:
The 2016 Ford F-150 SuperCab won a good small-overlap crash rating from the Insurance Institute for Highway Safety. (Provided by IIHS)
Insurance Institute for Highway small-overlap scores for larger-cab trucks, including the 2016 Ford F-150. (Provided by IIHS)
A SuperCab 2016 Ford F-150 is seen at a Claycomo, Mo. factory in 2015. (Provided by Ford)
The Ram 1500 Quad Cab, left, received a "poor" structure rating from the Insurance Institute for Highway Safety on the small-overlap crash test. However, the 2016 Ford F-150 SuperCab's structure and overall small-overlap crash test scores were "good." (Provided by IIHS)
Share This: