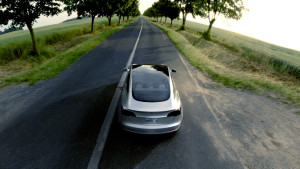 Tesla reached 325,000 pre-orders in the first week of the $35,000-baseline, 200-mile Model 3 — a mass-market vehicle which might be barred from the general masses of auto body shops.
Tesla hasn't formally outlined if the vehicle, whose massive global pre-order tally was announced April 7 by CEO Elon Musk, will be repairable by all collision repairers or simply its certified Tesla network of shops. (We asked, but they're not answering.)
Over 325k cars or ~$14B in preorders in first week. Only 5% ordered max of two, suggesting low levels of speculation.

— Elon Musk (@elonmusk) April 7, 2016
"A week ago, we started taking reservations for Model 3, and the excitement has been incredible," Tesla wrote April 7. "We've now received more than 325,000 reservations, which corresponds to about $14 billion in implied future sales, making this the single biggest one-week launch of any product ever. This interest has spread completely organically. Unlike other major product launches, we haven't advertised or paid for any endorsements. Instead, this has been a true grassroots effort driven by the passion of the Tesla team that's worked so hard to get to this point and our current and future customers who believe so strongly in what we are trying to achieve. Most importantly, we are all taking a huge step towards a better future by accelerating the transition to sustainable transportation."
However, the fact that the company plans to expand its internal mechanical service and repair network to 441 service centers/"dealerships" worldwide by the end of next year seems to indicate the company wouldn't let a Tesla be serviced/fixed anywhere. That would make it highly unlikely that a less common service like auto body repair would be opened up to the entire collision repair industry for the Model 3.
Tesla is anecdotally producing longer waits and higher service costs, however, based on a November 2015 David Noland piece in Green Car Reports. And analysis online (see these Mashable and Covestor reports) points to the Tesla repair model as well as a potential hurdle for the Model 3.
For the record, if the 325,000 $1,000 pre-orders were all followed through upon and sold in the U.S., the Model 3 would have been the No. 10 best-selling vehicle of 2015, ahead of the Toyota RAV4 (315,412) and behind the Nissan Altima (333,398), according to GoodCarBadCar figures.
Musk noted on Twitter that only 5 percent of Tesla preorderers reserved the two-Model 3 maximum, "suggesting low levels of speculation."
The cars themselves will be delivered starting on the West Coast and then moving east, then abroad, starting with anywhere that drives on the right side of the road.
Model X
Tesla made headlines right after the Model 3 by recalling the Model X over seat issues. But we were more interested in the other detail about the Model X revealed this month: the amount of magnesium used in the car, according to a Wall Street Journal reviewer.
"Not to be confused with the Model 3 compact sedan that debuted so boffo this week, the Model X is a full-size SUV with dual electric motors front and rear, providing all-wheel drive," WSJ critic Dan Neil wrote April 7. "Although its body structure is almost entirely aluminum and magnesium, our flagship test car (P90D Ludicrous) was quoting a massive 5,381 pounds, most of it in the floor-mounted battery pack. Four-corner air suspension with five ride-height settings, from off-road to highway, is standard."
But it still flies in Ludicrous mode, according to Neil, and Tesla notes the car's drag coefficient is 20 percent lower than all other SUVs.
Neil also wrote that magnesium made the "Falcon Wing doors" possible.
"Most maddening was creating a dead-stable pivot point for the doors, which rise and fall slowly on the motorized breeze not like falcon wings but more like seagull wings, with a double fold," Neil wrote. "The solution required a heroic amount of costly magnesium in the car's dorsal spine."
Unlike other OEMs, Tesla doesn't brag much about how the body-in-white protects occupants, so we'll take any insight like this we can get. Here's the structural safety pitch to potential buyers, in case you were interested:
"Model X is designed with safety as the first priority," Tesla wrote. "The floor-mounted battery lowers the center of gravity so that the risk of rollover is about half that of any vehicle in its class. The battery structure strengthens Model X against side impact intrusions. And without a gasoline engine, the large front trunk acts as a giant impact-absorbing crumple zone. Although the National Highway Traffic Safety Administration has not yet conducted crash testing on Model X, Tesla's own internally conducted crash testing indicates that Model X should be the first SUV to receive the highest safety rating in every category."
GM: Game on
General Motors, which will sell a $30,000 (with incentives) 2017 aluminum and steel Chevrolet Bolt able to travel 200 miles soon, took a shot at its mass-market electric rival Wednesday at the SAE World Congress in Detroit, according to the Detroit Free Press. The Free Press puts the Bolt's price at $37,000, which seems to refer to the pre-incentive price.
"I am very proud of the Chevrolet Bolt that's coming out, which will be the first to market as a long-range affordable battery electric vehicle," GM global propulsion systems Vice President Dan Nicholson said, according to the Free Press. "It will have more than 200 miles of range and it will be in production by the end of 2016, so it's not necessary to put down $1,000 and wait until 2018 or sometime after that."
A couple of other interesting GM Bolt pieces:
More information:
"The Week that Electric Vehicles Went Mainstream"
Tesla, April 7, 2016
"Life With Tesla Model S: Service Centers Get Crowded, Cost More"
Green Car Reports, Nov. 10, 2015
"Tesla Model X: Electric Meets Extravagant"
Wall Street Journal, April 7, 2016
"GM exec takes shots at Tesla Model 3"
Detroit Free Press, April 13, 2016
Featured image: The Tesla Model 3 is shown in an image released by Tesla March 31, 2016. (Provided by Tesla)
Share This: