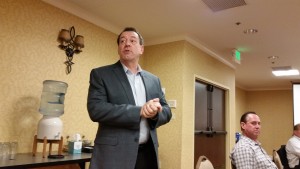 The Society of Collision Repair Specialists membership re-elected a shop owner and picked another collision repairer, a distributor, and an AkzoNobel consultant to join him on the organization's board.
Kye Yeung, SCRS' vice chairman and owner of European Motor Car Works (Calif.), will return to the board for another term. He'll be joined by Dave Gruskos, Reliable Automotive Equipment (N.J.); Jeff Kallemeyn, Kallemeyn Collision Center (Ill.); and Tim Ronak, AkzoNobel (Calif.), SCRS announced Wednesday.
Gruskos, Kallemeyn and Ronak fill seats held by Luis Alonso (Pan American Collision), Rodes Brown (Sherwin-Williams) and Paul Val (Raintree Auto Body). All are term-limited out.
Trace Coccimiglio of Valet Auto Body (Utah) was also nominated for Tuesday's election. Board members — several of which lost at least one election before winning a seat — encouraged him to stay active with the group.
The Executive Committee, selected by the existing and new board members, stays largely unchanged. Andy Dingman will continue as chairman, Yeung as vice-chairman, Brett Bailey as secretary and Bruce Halcro as treasurer. Dusty Womble was tapped to be the at-large representative of the other board members to fill the slot vacated by Alonso.
Featured image: Tim Ronak of AkzoNobel makes his pitch for election to the SCRS board April 19, 2016. (John Huetter/Repairer Driven News)
Share This: