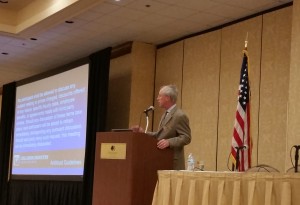 Today's Collision Industry Conference includes a look at OEM price matching, details on crash energy transfer and a presentation from the newly relaunched Insurer-Repairer Relations Committee.
We'll be there to give you live updates with our feed below starting at 8 a.m. Pacific Time.
Or follow along with @repairerdriven on Twitter. You can also join the conversation with #CICApril2016.
Thursday's CIC opens at 8 a.m. and gets down to business at 8:15 a.m. with the Marketing Committee. It'll discuss "2016 Progress—Creating relevance for CIC," according to the agenda.
At 8:45 a.m., the Insurer-Repairer Relations Committee, helmed by Allstate claims director Clint Marlow, will address "Identifying value in our business partners."
The Parts and Materials Committee gets two time slots after this. Collision Industry Electronic Commerce Association Executive Director Fred Iantorno at 9:15 a.m. will discuss how the BMS standards can help in parts procurement.
Chris Northup, CEO of aftermarket parts retailer Professional Parts Group, will at 9:30 a.m. present "Unintended Consequences of OEM Price Matching," an intriguing topic.
At 10:30 a.m., the Education and Training Committee will lead a talk on "apprentice programs and career pathing," addressing the oft-cited concern of technician shortages.
Finally, you won't want to miss the Technical Committee at 11:40 a.m. European Motor Car Works owner Kye Yeung will present how OEMs have engineered vehicles to transfer energy — which means a head-on collision could affect a part of the body-in-white somewhere else besides the front.
Share This: