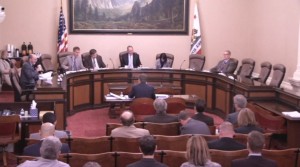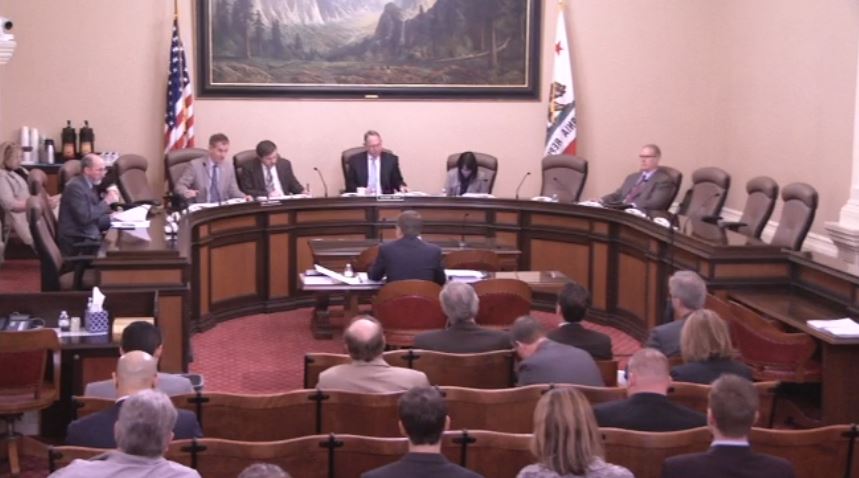 While some of the industry was higher up the West Coast for the Collision Industry Conference last week, California auto body and insurance company representatives were weighing in on proposals to curtail improper labor rate surveys and steering.
On Wednesday, a Senate oversight committee did so as well. Representatives from the Insurance, Budget and Fiscal Review, and Subcommittee No. 4 on State Administration and General Government panels held a joint hearing, which should be available to watch as archived footage Thursday and onward.
According to California Autobody Association lobbyist Jack Molodanof, Democratic Insurance Commissioner Dave Jones' proposed auto body-related regulations were expected to be a topic, and both proposals were indeed mentioned Wednesday.
The California Autobody Association has warned insurers might try to do a legislative end-run around the regulations, and "the insurers have threatened to sue" on the grounds of regulatory overreach, according to Molodanof.
Chairman Richard Roth, D-Riverside, also the chairman of the Insurance Committee, has endorsed Jones for attorney general in 2018, which could be a good sign for shops who support the proposed regulations.
The hearing, at which no action was planned, concluded with Roth indicating the Legislature should await the outcome of the California Supreme Court's review of ACIC v. Jones, which might help shed light on the scope of the DOI's regulatory authority. However, he noted that curtailing the DOI's authority could demand legislative action to protect consumers in response.
Jones' Department of Insurance has proposed clarifying and revamping state antisteering rules to curtail insurers from unfairly steering from or unreasonably inconveniencing customers and personnel of a non-DRP shop.
Molodanof, who attended the steering hearing Friday, said it went well. Several speakers for both sides appeared at the packed house, including three to four auto body representatives, he said.
---
More RDN coverage of California's proposed labor rate, steering regulations
---
Besides giving insurers better guidance on what the agency expected from the rules on the books, the steering regulations would truly define some nebulous terms like "reasonable" time or distance, leaving no room for intentional or unintentional breaches of either when handling claims. They'll also restrict insurers from forcing an inspection to be done at a DRP shop before a customer can patronize a non-DRP shop, and they'll demand proof to back up any disparaging of non-DRP shops.
As for labor rate surveys, the California Department of Insurance also offers precise definitions for the nebulous terms which are giving everyone grief. These include geography of market areas (the six nearest shops, including the shop itself), who counts as a surveyable body shop (BAR-licensed and with the right equipment), which rates can be used, how current the survey data must be (28 months, max) and how to calculate the market rate itself (higher of mean or whatever shop has a rate "at or below which a simple majority of surveyed shops charge").
Carriers wouldn't have to use the California Department of Insurance's labor rate survey template, but those who elected to do so could receive a "rebuttable presumption" they were acting in good faith on labor rates.
The new proposal also explicitly states that the CDI is the middleman, not a seal of approval, on whatever the insurers are producing as survey results.
We've reached out to the California Department of Insurance and California Autobody Association for more details on the public comment hearings.
The California DOI answered late Wednesday afternoon that their staff would be too tied up with the Senate hearing today, but promised a response Thursday.
Continue to check Repairer Driven News for updates, including coverage of the hearing itself.
Insurers respond
The Property Casualty Insurers Association of America's California wing, ACIC, attacked the regulations, joined by the American Insurance Association, National Association of Mutual Insurance Companies, Pacific Association of Domestic Insurance Companies and Personal Insurance Federation of California.
The PCI/ACIC blasted the DOI proposals as "designed to give more money to auto body repair shops." (Bet you didn't know you were doing that well!)
"The frequency and severity of auto accidents are increasing nationally and are causing California auto body repair costs to skyrocket," ACIC Vice President Armand Feliciano said in a statement April 21. "California's total loss cost per insured car has been climbing and its growth rate since 2013 is now the 4th highest in the nation CDI's proposed regulations are untimely because they add costs to a system already struggling with surging costs.  These costs could increase premiums paid by California drivers."
These total loss costs might be at least partly due to California having a lot of expensive cars and a high cost of living in general. In 2009, Forbes reported that 15.9 percent of cars sold were luxury brands, the highest proportion in the country.
In terms of premiums, California's are partly high because the state is so urban and on the whole, wealthy. About 97.7 percent of the population lived in metropolitan areas in the 2010 census — drove 1.86 million miles per mile of roadway in 2012, and was on the higher side of per capita disposable income at $41,704 that year, according to the National Association of Insurance Commissioners.
"The auto body labor rate survey regulation is a prescriptive approach on how companies should conduct a labor rate survey and imposes a significant cost on insurers," the PCI/ACIC wrote. "The steering regulation is equally problematic because it attempts to regulate what insurers can say about non-direct repair shops and limit the insurer's ability to have a vehicle inspected by a direct repair program.  Both regulations exceed CDI's authority and are examples of regulatory overreach that will ultimately drive up costs for consumers."
That's misleading, as customers can still say anything they want about shops — so long as they can back it up with their claim files. Have you had to pay for rerepairs from the shop the customer wants to use? Think they don't warranty work? Have customer complaints? Prove it, don't insinuate it.
As for a DRP inspection, the insurer can simply send their own adjustor to the customer's shop of choice, or have the policyholder take the vehicle anywhere else nearby for an inspection.
"Auto insurers are committed to providing insurance consumers with accurate and helpful information about the auto repair process, including information about the benefits of using direct repair shops that undergo extensive auto repair quality-control review by insurers. The proposed regulation will needlessly hinder insurers in their efforts to assist insurance consumers in securing high-quality auto repairs in a timely and cost-effective manner," said Christian Rataj, NAMIC senior director.
Shops in litigation and in news reports have cast doubt upon the quality of repairs done by some DRP shops, so it's not necessarily a given that customers will get the best results. Some local luxury OEM-certified shops (which have some of the most stringently vetted technicians in the industry) which might not be on DRP programs.
As for the cost issue, the PCI/ACIC argued that insurers will pay $1.17 million more. The state expects insurers to pay $1.15 million more to body shops and a $20,000 administrative fee for the surveys in at least the first year. Some or all of that $20,000 administrative cost difference should fall in the years when insurers can adjust their findings by the California inflation rate rather than try a new study. (If deflation occurs, insurers can't lower the rates.)
The DOI doesn't seem to consider the possibility insurers will pass some or all of those claims and survey expenses to policyholders. So let's assume that happens and do the math:
California had about 23.8 million registered autos in 2014, according to the state DMV. About 14.7 percent of its motorists were uninsured in 2012, the last year we could find Insurance Information Institute data.
Assume the uninsured will still duck the law and the remaining 20.3 million owners all must eat the $1.17 million cost. That's less than 6 cents more per driver to remove the possibility that customer would have to eat those out-of-pocket costs on the back end.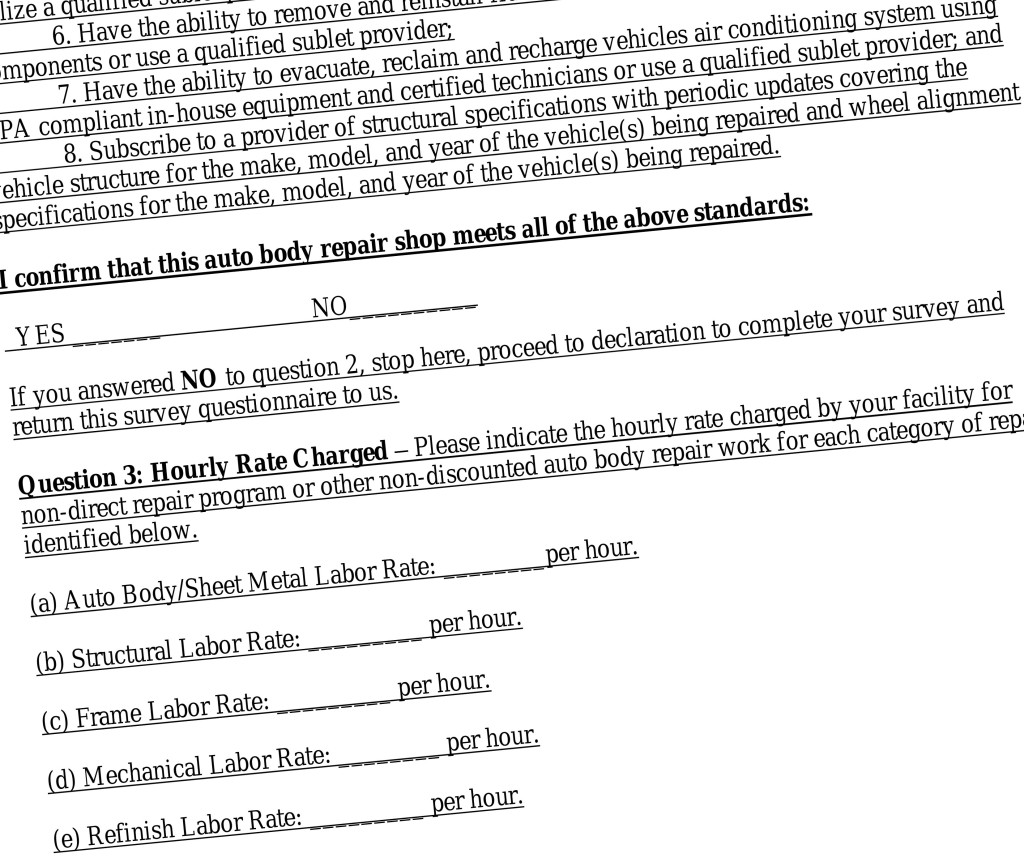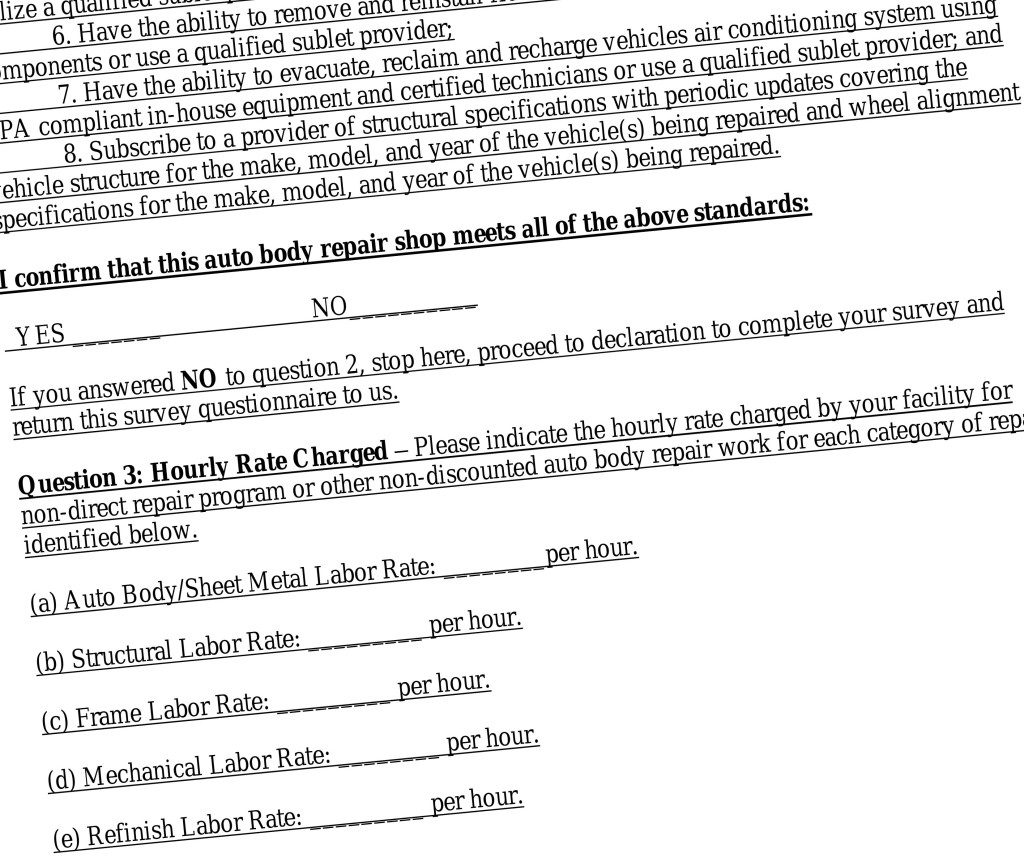 Humorously, the insurers attacked body shops for opaque posted rates and being overpaid.
"We believe that the auto body labor rate survey regulation is one sided, and there other parties that need to weigh in here.  We hear the Department's argument that somehow auto body repair shop believe they are underpaid. But what about 'overpaying' auto body repair shops because of higher labor rates?" PFIC Vice President Michael Gunning said in a sttatement. "Isn't that equally important for policyholders and insurers? Insurance rates are highly regulated and scrutinized by law, that's a fact.  As we understand it, auto body repair shops in California are not even required to pose their labor rates publicly. How do insurers verify labor rates? Do we rely on the questionnaire and take their word for it?"
Insurers right now can calculate a survey however they want, with shops unable to verify it until the data is submitted to the California DOI — and sometimes that can be obsolete or calculated in a questionable manner, according to the DOI. Customers and shops are also asked to "take their word for it" that they're the only one charging for a certain procedure or amount.
"Consumers and policy holders benefit by a transparent and fair system for paying for repairs to automobiles," AIA Vice President Katie Pettibone said in a statement. "Similar to healthcare costs, actual price paid and what is posted rates can be vary greatly. We are concerned that the proposed labor rate survey regulations would allow 'rack rates' or outlier costs to be charged and passed on to consumers and insurers."
But the reverse also might be the case, as the DOI seems concerned about direct repair program shops' negotiated discounted rates being counted in the survey.
"Also, since Ins. Code section 758.5 confers upon a claimant the right to select the automotive repair dealer (repair shop), using discounted or negotiated rates from DRP hinders that right, misrepresents the actual market labor rates in a given geographic area and results in unreasonably low insurance settlements," the DOI wrote. "The proposed language is reasonably necessary to address the skewed data that may result by including discounted or DRP labor rates."
The DOI also noted the surveys might have been flawed in other regards as well.
"Currently, the various insurers determine a geographic area in several ways, including but not limited to United States Postal Service (USPS) Zip Code areas, city, counties, multiple counties, and some highly irregular and customized 'markets' or 'zones' which the insurer creates," the DOI wrote. "The Department's experience is that some of the geographic areas used by insurers in surveys result in artificially inaccurate, unreliable, and unreasonably low labor rates that are not representative of the market. For example, in one instance, an insurer used its insurance adjusters' territories as the geographic areas for its labor rate survey, which may have been convenient for the insurer, but which also had no relationship to the actual market areas where shops were located. The result is a significant range in labor rates used by insurers for the same insured, claimant, or repair shop. A claimant should not be paid significantly differently depending on which insurance company is paying the claim. In order to achieve greater consistency and reliability in the Standardized Labor Rate Survey, the Department finds it necessary to define geographic area."
Correction: Carriers wouldn't have to use the California Department of Insurance's labor rate survey template, but those who elected to follow the proposed template could receive a "rebuttable presumption" they were acting in good faith on labor rates. The article has been updated to reflect this.
More information:
Auto body labor rate surveys: Initial statement of reasons
California Department of Insurance, March 4, 2016
Auto body labor rate surveys: Text of regulation
California Department of Insurance, March 4, 2016
Auto body labor rate surveys: Notice of proposed regulatory action
California Department of Insurance, March 4, 2016
Anti-steering in auto body repairs: Notice of proposed regulatory action
California Department of Insurance, March 2, 2016
Anti-steering in auto body repairs: Initial statement of reasons
California Department of Insurance, March 2, 2016
Anti-steering in auto body repairs: Text of regulation
California Department of Insurance, March 2, 2016
California Autobody Association
"California Auto Body Repair Regulations Could Push Auto Insurance Costs Higher"
ACIC (and others) via Property Casualty Insurers of America, April 21, 26, 2016
Images:
A joint California Senate committee met April 27, 2016, to discuss regulatory power with Democratic Insurance Commissioner Dave Jones. (Screenshot from California Senate video)
Part of the proposed California labor rate survey text is shown. (Provided by California Department of Insurance)
Share This: