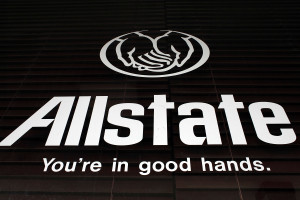 Auto claims severity was up 7.5 percent in the first quarter of 2015, Allstate said Thursday, and the company plans more rate increases and claims scrutiny to manage it.
Allstate brand President Matt Winter attributed the "clear acceleration" in property damage and collision severity to newer cars with more parts to replace and more complex repairs, as well as increased total losses.
Investor relations Vice President Pat Macellero said on an investor webcast the 7.5 severity outpaced inflation. Auto property damage frequency was up 2.1 percent gross (reported claims), and 2.4 percent paid (paid and done claims).
"Allstate has historically outperformed the industry in managing those costs," Winter said. "… Our goal is to get back to our competitive position there and lead the industry."
The company will continue its four-part profit improvement plan of raising rates; tightening standards for underwriting; cutting ads and expenses, though not necessarily to the degree of 2015 — and getting tougher on claims. ("Claims operational excellence and precision," is how Macellero put it.)
"Our team is working to address these industry challenges (frequency and severity) and create a competitive advantage for Allstate," Macellero said.
So some markets might encounter — if they haven't already — the irony of Allstate raising its rates but refusing to pay a shop hiring, training, and tooling to manage those newer cars more per hour to preserve "operational excellence."
"We know that once you fall behind those trends (auto frequency and severity), it's really hard … to really ever catch up quickly," Winter said.
Winter noted that auto rate increases have been outpacing loss costs. "That's a really good thing," he said.
Allstate might challenge an auto body shop when the repairer demands an extra buck an hour to cover its expenses, but it requested and got $1.1 billion in rate increases last year companywide and another $335 million in the first quarter of this year. The company's average written premium was up 4.8 percent, with the net earned (an actual check in hand from the policyholder) up 3.8 percent last quarter.


In fact, Allstate was very profitable if you look purely at premiums versus losses; it's only the ads and other overhead which pushes it into the ranges that make executives nervous — and the company spoke of starting to restore some of the ad spend it cut last year.
The Allstate, Esurance and Encompass auto business had first quarter loss ratios of between 73.4 and 77.4 last quarter — higher than a year ago in the cases of Allstate and Encompass but still a nice return. Overall, the company brought in $5.2 billion in earned premiums and paid out $3.9 billion in losses.
"We're getting good returns in the auto business," CEO Tom Wilson said, but noted the company has done better in the past.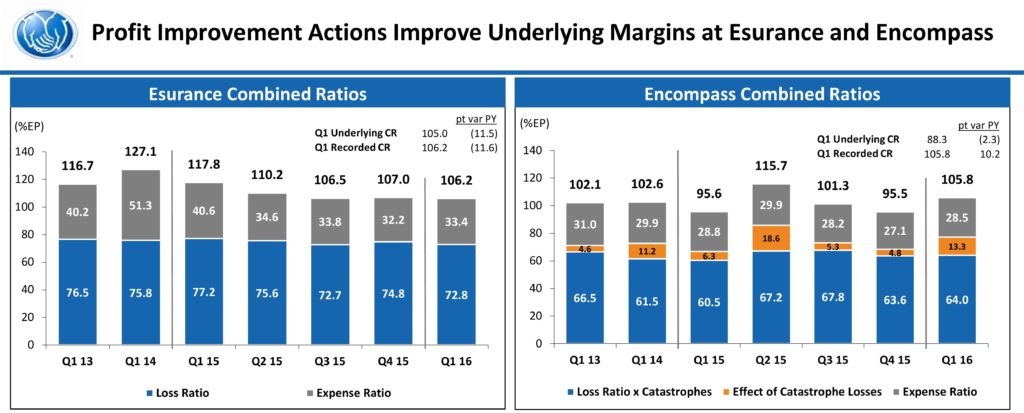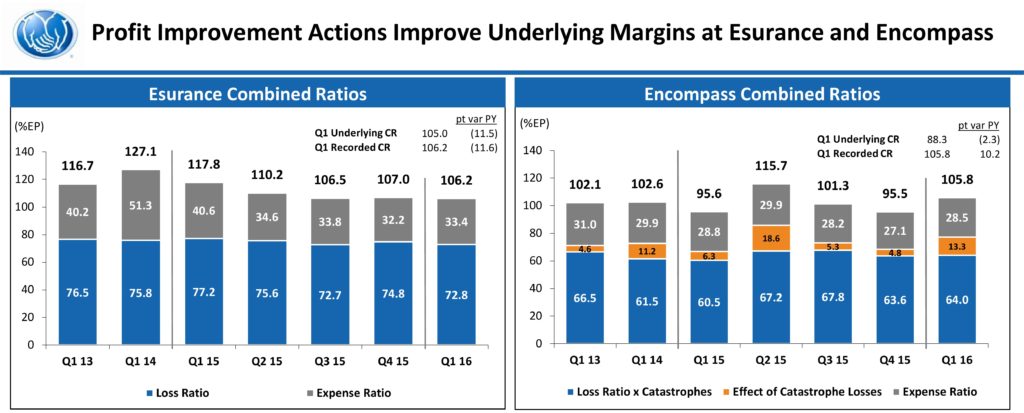 "We know we need to make more money in auto insurance," Wilson said, describing "great progress, but we're not done yet."
Winter said it was unclear if the seeming moderation in auto claims frequency was simply milder weather or if the U.S. was truly at the "end of the rise" in frequency seen as gas prices, miles driven and the economy put more vehicles and crashes on the road.
Wilson said Allstate's four-part profitability plan for Allstate, Esurance and Encompass "all made progress in the first quarter," though he thought rate increases might have caused a slight drop in customer satisfactions.
Overall, Allstate's companywide combined ratio was 98.4 for the quarter, with a 87.2 underlying combined ratio (which throws out uncontrollable items like catastrophes and makes other adjustments). The company seeks between a 88-90 underlying for the full year. Anything lower than 100 is profit; anything higher is a loss.
Correction: An earlier version of this article misstated Allstate's rate increases companywide in the first quarter of 2016. Allstate received $335 million in rate increase approval. The article has since been corrected.
More information:
Allstate first-quarter investor call
Allstate, May 5, 2016
Allstate first-quarter results spreadsheet
Allstate, May 2016
Allstate, May 2016
Images:
An Allstate insurance company sign is seen outside one of its stores Jan. 17, 2008, in Miami. (Joe Raedle/Getty Images News/Thinkstock file)
Rate increase approvals sought by Allstate through the first quarter of 2016 are shown here. (Provided by Allstate)
Ratios of claims losses and expenses (ads and overhead) losses to premiums are shown in this 1Q 2016 results slide. (Provided by Allstate)
Share This: