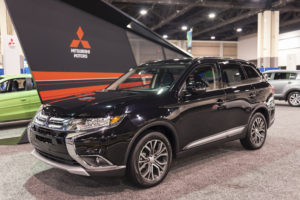 Nissan announced Thursday that it would buy what Reuters described as a controlling stake in Mitsubishi, an interesting development which should be at least noted by the collision repair industry even if the impact on shops might be rather minimal.
Based on Mitsubishi's low market share in the U.S. (which probably won't be helped by the recent Japan fuel economy scandal), it's unclear how Nissan's takeover would actually affect the collision repair industry in the U.S.
Mitsubishi in January reported 2015 sales increased 22.8 percent — to 95,342, or less than half of what General Motors sold last month alone. That 95,000 represented Mitsubishi's best year since 2008. According to USA Today, which cited Autodata, Mitsubishi peaked at 2002 with 345,111 vehicles. General Motors sold 358,748 in December 2002 and 4.9 million that year, according to an Associated Press report posted on the Lubbock Journal.
In our admittedly only year of existence, we found the only Mitsubishi-specific coverage to related to that of a sister company — Mitsubishi Rayon, and its carbon-fiber precursor. Still, that could aid Nissan (the Nissan-Renault alliance, really) develop its own carbon-fiber applications, as well as help Nissan learn other internal Mitsubishi details.
That said, repairers do obviously work on Mitsubishis. Here's a link to I-CAR's Mitsubishi repair information page for more details on what to do and where to find OEM repair procedures if one comes into your shop. And here's the Database Enhancement Gateway, which actually has a fair amount of inquiries about Mitsubishis.
Nissan will pay $2.18 million for 34 percent of Mitsubishi, which Reuters said lets them run the show under Japanese stockholder rules. The OEM will get to nominate someone to become chairman of Mitsubishi's board and fill other board seats.
"This is a breakthrough transaction and a win-win for both Nissan and Mitsubishi Motors," Nissan President and Chief Executive Carlos Ghosn said in a statement. "It creates a dynamic new force in the automotive industry that will cooperate intensively, and generate sizeable synergies. We will be the largest shareholder of MMC, respecting their brand, their history and boosting their growth prospects. We will support MMC as they address their challenges and welcome them as the newest member of our enlarged Alliance family."
Reuters reported that Nissan viewed the purchase as a great way to break into Japan's small-car market, and the OEM likely also saw it as a means to make inroads into other parts of Asia in general.
Those curious to know more about potential ramifications of the deal should check out this entertaining but interesting analysis from a Jalopnik writer in Asia.
A Nissan-Renault-Mitsubishi combined company would have sold 9.6 million vehicles worldwide in 2015 — which puts it into the range of global Top 3 Toyota, Volkswagen and GM, according to the Wall Street Journal.
Broadcast live streaming video on Ustream
Nissan noted it for 17 years has had an "Alliance model" cross-shareholding deal with Renault, and it has agreements with of or a piece of OEM concerns like Daimler and AvtoVaz.
Nissan and Mitsubishi already have worked together on various items for years, and they'll in the future "cooperate in areas including purchasing, common vehicle platforms, technology-sharing, joint plant utilization and growth markets," Nissan wrote in a news release.
"Through its long history of successful partnerships Nissan Motor has developed a deep knowledge of maximizing the benefits from alliance partnerships," Mitsubishi Chairman (for now) of the Board and Chief Executive Osamu Masuko said in a statement. "This agreement will create long-term value needed for our two companies to progress towards the future. We will achieve long term value through deepening our strategic partnership including sharing resources such as development, as well as joint procurement."
Ironically, according to another Jalopnik report, Nissan was the one who caught Mitsubishi cheating on fuel economy tests in Japan. Mitsubishi acknowledged impropriety in Japan but said it didn't happen in the U.S., according to the Wall Street Journal.
More information:
"Nissan and Mitsubishi Motors forge strategic alliance; Nissan to take 34% stake in Mitsubishi Motors for 237 billion yen"
Nissan, May 12, 2016
"Why Nissan Taking Control Of Mitsubishi Is A Huge Deal In Asia"
Jalopnik, May 12, 2016
"Nissan buying $2.2 billion controlling stake in scandal-hit Mitsubishi Motors"
Reuters, May 12, 2016
Featured image: A Mitsubishi Outlander is shown at the 2015 Charlotte Auto Show on Nov. 11, 2015. (edaldridge/iStock file)
Share This: