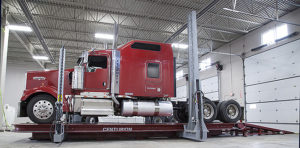 Chief announced Thursday the launch of a line of heavy-duty collision repair equipment, including a new giant frame rack, heavy-duty rivet gun and photometric measuring system.
"Heavy-duty collision repair shops face unique challenges stemming from the sheer size of the vehicles being repaired," Chief global data product manager Lee Daugherty said in a statement. "There are no OEM specifications to follow when straightening frames that can be 60 feet long or bringing multiple axles back into alignment. Squaring up a trailer that has rolled and repairing a cab that's manufactured with a mix of steel, aluminum and other materials also can be tricky when relying on traditional measuring and repair tools."
Chief Heavy Duty includes a new Centurion frame rack, Vulcan debonding unit, a rivet gun and PNP90 blind rivet attachment and Cam Scan HD; it also incorporates Rotary mobile column lifts and a Chassis-Liner frame rack.
The Cam Scan measuring system comes with an interesting case study showing the virtue of such 3-D measuring, and automotive body shops might be interested in the tale as well.
According to Chief, the truck in question rode up onto a guardrail after losing control at highway speeds.
"Subsequently, the axles on the trailer were torn completely off and the fifth-wheel plate was sheared off," it wrote.
Because the "only" damage was thought to involve the suspension and fifth-wheel plate, the vehicle went to a mechanical repairer, who couldn't align the suspension and referred it to a body shop.
"The mechanical shop measured the rails point-to-point and concluded that the frame had a 'diamond' due to the length differences," Chief wrote.
But by using the Cam Scan HD, the body shop figured through measurements that points were off-kilter by between 10 and 103 mm, the worst cases being a point off of its X axis by 36 mm, off Y by 103 mm and off Z by 33 mm. The sway had thrown off the length and height, "not indicating a true diamond," according to Chief.
Chief gets its name out there for trucking three months after 3M announced a series of publications providing standard operating procedures for heavy-duty collision repairs and after Fayetteville, N.C.-based Fayetteville Technical Community College's "CollisionU" reported it planned an eight-week heavy-duty truck repair class this summer.
"We are currently working with Steve Howard with the Tysinger Howard Freightliner dealership group to turn this into an additional full time educational path for our collision repair students," FTCC collision program head Paul Gage wrote in February. "It is an incredibly dynamic part of the collision repair industry that has been overlooked for far too long."
The future of trucking
All of these actions probably can't come soon enough, for heavy-duty trucking could soon see massive innovation tied to technology.
Lightweighting: The obvious one. It seems inevitable that the kind of lightweighing advances we're seeing on private passenger vehicles will come to trucks (if they haven't already), as the trucking industry continues to try and mitigate the cost of gasoline.
In 2014, Walmart announced the Walmart Advanced Vehicle Experience concept truck, which cuts 4,000 pounds from the trailer through carbon fiber.
See-through trucks: Some shops — or at least those which handle truck trailers — might find themselves becoming TV repairmen if the Samsung "Safety Truck" can get governmental approvals.
The truck has a giant screen in the rear of the trailer so drivers passing know if it's safe, based on images transmitted from a front-facing camera. Samsung says the technology works.
"This allows drivers to have a better view when deciding whether it is safe to overtake," Samsung wrote in a 2015 news release. "Another advantage of the Safety Truck is that it may reduce the risk of accidents caused by sudden braking or animals crossing the road."
The truck was presented as a particularly useful solution for Argentina, where many road fatalities occur when somebody tries to pass a truck on the country's network of one-lane roads. Samsung says it even works at night, though it seems like it might screw up one's night vision.
No mirrors: Aerodynamics drives fuel savings. Dropping drag-heavy side-view mirrors that can't see drivers 100 percent of the time anyway would save 247.8 gallons of gas annually on the average heavy-duty tractor-trailer, a 2012 Canadian study found.
Last year, Continental presented this technology as a solution for commercial and private passenger vehicles.
Self-driving trucks, platooning: Self-driving trucks might come to market before self-driving cars.
The technology by all accounts works well today on the highways, the home turf for the trucking industry.
But unlike cars, commercial trucks stay in a single interstate lane and aren't supposed to be speeding — there's not going to be any complaints that a computer doesn't tack on the extra 10 mph above the limit common to U.S. drivers.
You wouldn't have to pay drivers — who at some point must sleep and cost you travel time — except whatever "last mile" guys are necessary once the truck exits the interstate to get gas or travel to its final destination.
Daimler last year made a splash by receiving approval to test self-driving trucks in Nevada. (Which admittedly is not the most complicated set of driving conditions.)
The other benefit is fuel. "Platooning," in which a lead truck lets other self-driving or V2V (or both) trucks draft behind it, can save a great deal of gas (10 percent with three trucks, by Daimler's estimate) and was a hot topic at the recent Automotive Megatrends USA.
Again, this one is basically doable today — it's just smarter version of adaptive cruise control.
In fact, groups of trucks from a variety of manufacturers in April reached Rotterdam in a successful platooning initiative. Here's how Daimler described its technology:
"In parallel with this, platooning allows much more efficient use of the road space: thanks to the shorter distance between vehicles (Daimler says its Highway Pilot Connect cuts this to 49.2 feet), a platoon of three linked trucks has a length of only (262.5 feet). In contrast to this, three trucks which are not electronically docked require a total of (492.1 feet) of road space. At the same time platooning makes road traffic much safer: while a human behind the wheel has a reaction time of 1.4 seconds, Highway Pilot Connect transmits braking signals to the vehicles behind in less than 0.1 seconds. This considerably reduced reaction time can make a major contribution towards reducing rear-end collisions such as occur e.g. when encountering traffic jams on motorways. Besides all technologic possibilities of the connected vehicle the driver always bears responsibility for the control of all assistance systems."
Here's Volvo testing and describing the technology before the trip:
Ironically, all of this also comes at what Daimler on Thursday called "a period of sustained contraction" for trucking globally.
"In recent weeks, the situation in major markets has changed significantly. In the NAFTA region, Daimler Trucks is defending its clear market leadership with its strong product portfolio," the company wrote in an investor relations release Friday. " At the same time, there has been no revival of orders received, especially in the heavy-duty segment (Class 8). The overall market for Class 6 to 8 trucks will contract by approximately 15% in 2016. This can be only partially offset by the market development in Europe. Although demand in Europe is significantly higher than last year, Page 2 the competitive situation has become much more intense and is influencing market players' pricing."
Correction: An earlier version of the story inaccurately described the number of types of certain heavy duty collision repair equipment announced by Chief. The story has since been corrected to reflect the correct tallies.
More information:
"Chief Introduces Heavy-Duty Collision Repair Line for Trucks, Trailers, Buses and Other Big Vehicles"
Chief, May 19, 2016
"CASE STUDY : FRAME RAIL DAMAGE"
Featured image: Chief announced May 19, 2016, the launch of a line of heavy-duty collision repair equipment, including gigantic frame racks, heavy-duty rivet guns and a photometric measuring system. (Provided by Chief)
Share This: