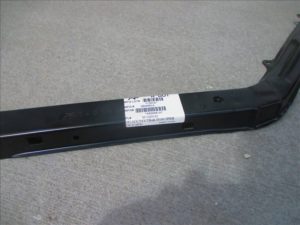 Based on the National Highway Traffic Safety Administration's records, a CAPA-decertified generic radiator lot at the heart of a recent collision industry controversy was never recalled at the federal level.
In fact, manufacturer Auto Power appears not to have recalled anything within the years of records stored in the NHTSA database.
Obviously, just because a private organization like CAPA decertifies an aftermarket part doesn't mean the feds or manufacturer are required to recall or self-recall it. However, you'd think something meant to be "like kind and quality" and seemingly proven not to be might by definition merit such an action, at least on Auto Power's initiative. (While there's a great deal of controversy over whether CAPA-certified parts are truly comparable to the OEM originals, it seems like a fairly safe bet that an uncontested decertification indicates a non-equivalent part.)
Taiwan-based Auto Power did not return an email request for comment.
The controversy over the part and others was raised by this month Vermont Auto Body Association President Mike Parker, who reported testing the bar with an Ames Rockwell Hardness tester and finding it didn't meet OEM specifications for tensile strength.
Parker, the owner of Parker's Classic Auto Works, discussed his findings in an email challenging CAPA which was sent to many collision industry leaders and media.
He, CAPA director of operations Deborah Klouser, and others have been corresponding since, with Klouser pointing out that CAPA investigated and decertified the part and another lot last May once it was alerted to quality issues. The organization urges repairers with concerns about a part to submit a complaint.
There's been new communications since we last reported on the email string; the most recent came from Klouser on Thursday. Here's the string, with minor edits and redactions for clarity and privacy purposes.
CAPA and recalls
As noted above, CAPA in May decertified two lots of the upper tie bars, which carry the SBS6681A manufacturer number and are usable in 2005-09 Subaru Legacy and Outback models. The lots were manufactured in July 2013 and June 2014 and could have been sold or used at any time after that.
Asked about the lack of federal recall (self-initiated or otherwise) in this incident, CAPA said it contacts the NHTSA itself if there's a safety issue.
"If a CAPA part is found to have a potential safety-related issue, CAPA recommends to the manufacturer that they issue a NHTSA recall," Klouser wrote. "If the manufacturer does not notify NHTSA within 10 business days then CAPA will contact NHTSA directly.
"Also per prior responses the CAPA TRACKER is available to shops and insurers who want to participate and has been available for 12 years.  A repairer or insurer simply inputs the CAPA seal number, insurer name and repair order number into the CAPA TRACKER database via Internet or fax. CAPA links the data to a myriad of information about that part using the unique CAPA seal number.  In the event of a part problem, CAPA TRACKER can identify all reported uses of the part and immediately notify  repairers or insurers who used or requested use of the part."
Asked how decertification is communicated to shops and customers and if any requirement for manufacturers to notify customers exists, Klouser indicated distributors or the CAPA Tracker were the main way anybody would know.
"CAPA notifies the manufacturer when their part and/or lot is decertified as well as the public (which includes, distributors, shops, insurers, etc.)," Klouser wrote. "CAPA does not have the relationship with the end-user, the consumer, as we do not sell or distribute the parts so we have metrics in place for notification as explained.  Distributors will notify their customers including the repair shops of any part recalls.   If the shops are doing what they should do by taking the secondary piece of the seal which has the seal tracking # on it and placing it on the repair order they can then participate in the CAPA Tracker so we can notify them about a safety recall or if they do not participate when they receive notification from the distributor they can check their internal files and make notification to their customer."
Finding decertified parts
CAPA's database search is also one means of determining the status of a part, though the system is sort of counterintuitive.
Search the decertified parts database for the two Auto Power part numbers, and there's nothing to be found.

The part can be found by searching for it as certified and then clicking on the part number to reveal the two decertified lots.




Klouser explained that as only two out of eight lots were decertified, the parts were still classified as certified.
"The Subaru part number was not decertified; the part lots found to be nonconforming to CAPA standards were decertified," Klouser wrote. "Because the part number itself is still certified, and there are still certified part lots available, this part number will continue to show up as a CAPA certified part in the reports and listings on the website.
"When the Subaru part nonconformance was found, a Corrective Action was issued that prevented the manufacturer from running any CAPA-certified production until the nonconformance was validated to be resolved.
"CAPA addresses all complaints and performs routine marketplace monitoring.  Like in the case of the Subaru part, if nonconformances are found on additional lots, each nonconforming lot will be decertified.  If there is a systemic issue found over a range of lots, CAPA reviews on a case by case basis and reserves the right to decertify the part number and require the manufacturer to begin the new part approval process again before CAPA-certified production may resume."
The lots are listed as decertified in CAPA's monthly and weekly parts updates, however.
Auto Power has 13 parts, all fenders, which appear in a decertified parts manufacturer database search.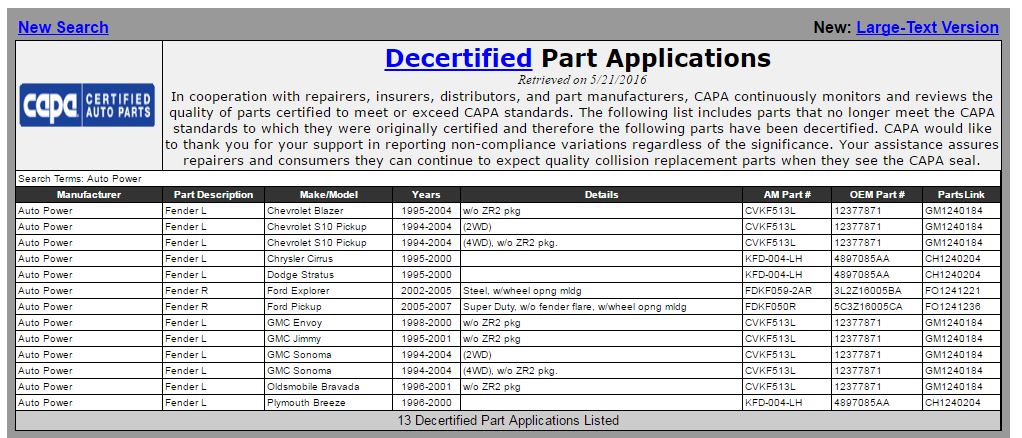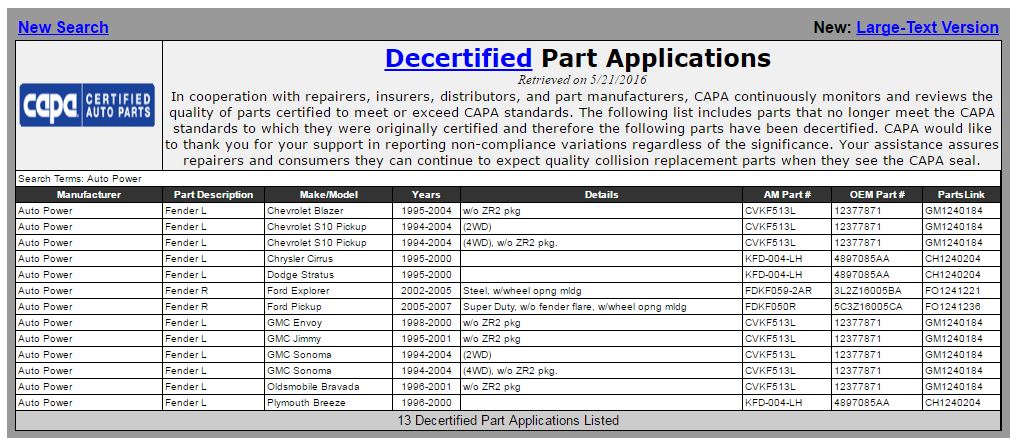 To the manufacturer and certifier's credit, we only know any of this because Auto Power let a third-party like CAPA test its part and disclose the results.
So while we're highlighting potential deficiencies in the Auto Power and CAPA process here, at least both entities are part of a third-party vetting process transparent enough to evaluate. But what about all the uncertified aftermarket parts still being used by some insurers, customers and shops?
One solution for dealing with such uncertainty was proposed in the email chain Monday by Barrett Smith, president of Auto Damage Experts: Have the vehicle owner sign a waiver for any aftermarket parts before installing them.
"Although many do, no one has ever said that a repairer had to or should do these processes (testing) for free…or accept the associated liabilities," Smith wrote.
"If a shop (employs) a 'Alternative Parts Disclosure and Liability Waiver/Hold Harmless Agreement(') and edifies their customer properly, there are no remaining questions other than to the customer asking them how they wish for the 'humble service provider' to proceed with their repair?"
More information:
Email exchange between Cobb, Smith, Klouser and Parker (minor edits and redactions)
May 19, 2016
Featured image: A CAPA Subaru radiator upper tie bar ordered by Parker's Classic Auto Works is shown. Owner Mike Parker said a Rockwell hardness test found the part to be 110 megapascals stronger than the OEM original. (Provided by Parker's Classic Auto Works)
Share This: