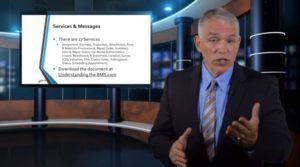 The Collision Industry Electronic Commerce Association announced Monday that it has completed and posted all of a video series introducing BMS for auto body shops, insurers, parts providers and other collision repair stakeholders.
The organization posted videos for repairers, insurers and auto recyclers earlier this month. On Monday, it officially unveiled videos for rental agencies, parts providers, salvors and subrogation.
CIECA is charged with managing the back-end standards allowing software from these related industries to communicate. It's been trying to push the industry to quit using the Estimate Management Standard, released in 1994 and unsupported since 2003, and shift to the Business Message Suite.
EMS is inefficient, insecure, and transmits everything but the kitchen sink to all parties receiving the file, which means that each industry in the collision repair food chain (insurer, parts vendor, repairer, rental car agency, etc.)  or anyone else with a data pump sees details from the others. BMS allows targeted messages and confirmation the message was received, as well as greater security.
CIECA seems to suggest all stakeholders whose software communicates with each other should demand their software companies — estimating services, parts procurement software, business management programs, etc. — apply adapters converting EMS to BMS until everyone can finally put a stake in the heart of the antiquated framework.
Some businesses have pursued such work-arounds, likely for reasons like system performance or fears of a lawsuit tied to a customer data breach.
PartsTrader, for example, stresses its BMS data security — and in that regard, it might be ahead of some of its fiercest critics.
"PartsTrader only uploads State Farm related data automatically, and only the specific vehicle and part information required for the parts procurement process to work effectively," the company notes. "We do not upload any other data in the estimate file. No non-State Farm data will be uploaded unless a repairer chooses to, and then it is quite simple for them to authorize and move forward with parts procurement for any job.
"For those familiar with EMS, we convert the data required into BMS and only upload the specific parts procurement BMS file."
Last year, a collision repairer faced getting suspended from a direct repair program after a VIN database obtained a customer's loss information. The VIN service confirmed it didn't get that information directly from the information provider or the repairer, leaving that shop off the hook, "but it further reinforced the need for collision repair business owners to have protocol in place to maintain control of information and data generated by their business," according to the Society of Collision Repair Specialists.
The videos
Each industry can watch their respective video and get the related slides at
Or just see them all at the bottom of the article.
The videos might be a little dense if you're not familiar with IT, but the narrator notes that implementation guides exist for each segment, providing examples of messages and how you'd use them. Ask your IT provider or CIECA for more details about getting it up and running.
For example, "How do I send a RFQ to a parts provider – OE, Recycled, Part Locator Service?" for an auto body shop or "How does a repair facility send the insurance company a production status change message?" for an insurer.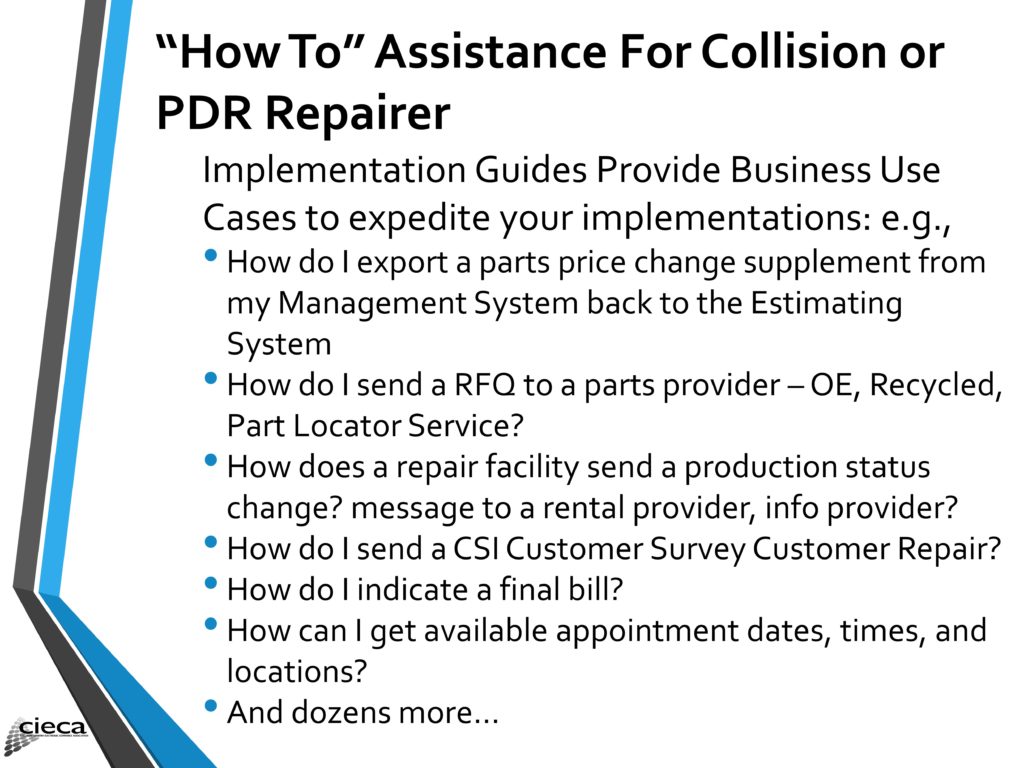 For recyclers (get slides here):
For car rental companies (get slides here):
For salvors (get slides here):
For other parts providers (get slides here):
For subrogation (get slides here):
Share This: