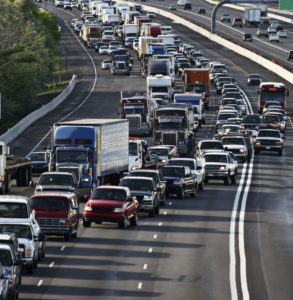 A Caliber Collision vice president predicted the collision repair chain would grow from 400 U.S. shops to 1,500 worldwide by 2020, bodyshop magazine and the IBIS Twitter feed reported Tuesday.
Caliber supply chain/procurement Vice President David Smith predicted 1,500 shops worldwide, 20,000 suppliers and more than $6 billion in revenue by 2020 — up from $1.75 billion and more than 400 locations today, according to bodyshop and the IBIS feed.
In 2010, the company had 68 shops and did $280 million, according to the British trade publication.
It was unclear from the piece and the International Bodyshop Industry Symposium's Twitter coverage how many of the 1,500 shops — if any — would be located outside of the U.S.
Bodyshop magazine described Smith as "coy on a move into European markets, saying there was still 'plenty of runway' left in America."
By 2020 – how many bodyshops will @CaliberAutoBody have? Oh yes… 1,500! GULP! #IBIS2016

— IBIS (@IBISworldwide) May 24, 2016
Caliber's projection — but probably backed up by the necessary private equity money — mimics similarly bold growth predictions by Boyd/Gerber and CARSTAR.
Outgoing ABRA CEO Duane Rouse, who grew that company from less than $300 million and 98 shops in 2011 to more than $1 billion and 337 shops today, also earlier this month predicted his successor would continue "rapid and profitable growth."
Service King CEO Chris Abraham in April told the Dallas Morning News he saw massive growth ahead for his own business.
"There's still a lot of opportunity," Abraham told the newspaper in a feature celebrating the company's 40th birthday.  "All of the big four [collision repair] companies combined control less than 14 percent of the industry. There's still a huge runway for growth."
Eddie Lennox started the company with a $10,000 loan and without running water, heat or a bathroom, according to the entertaining Morning News feature. Today, it has 299 shops and expects to hit $1 billion in revenue this year, the newspaper reported.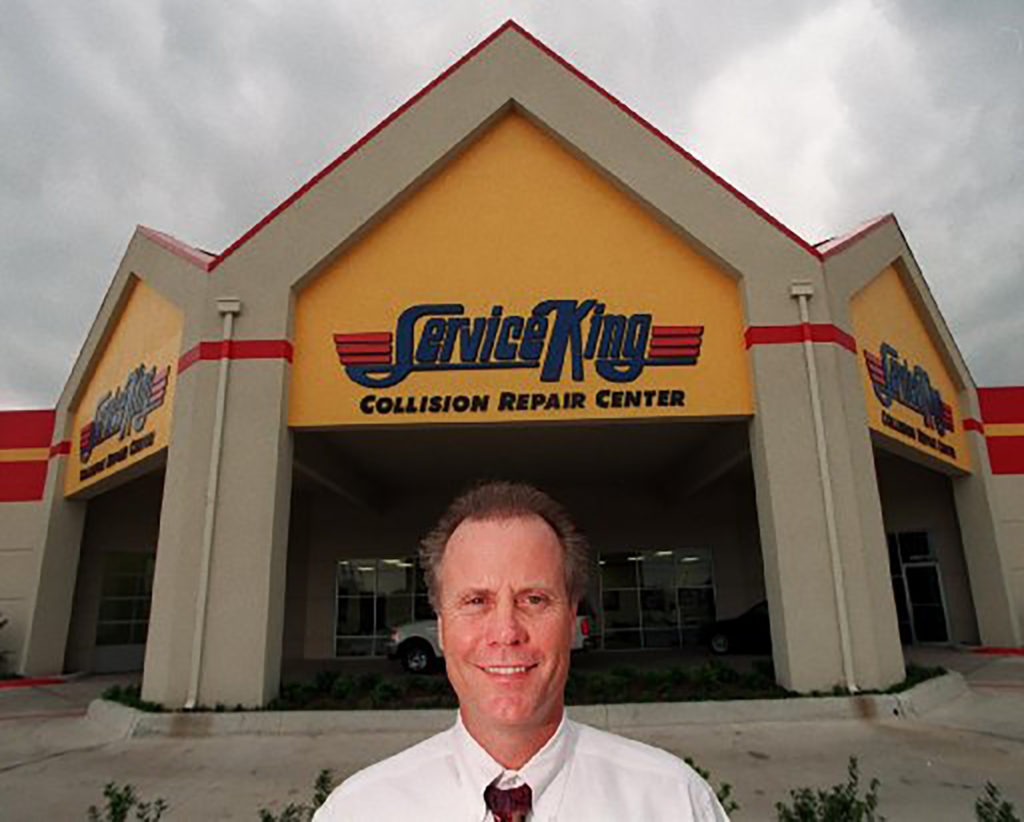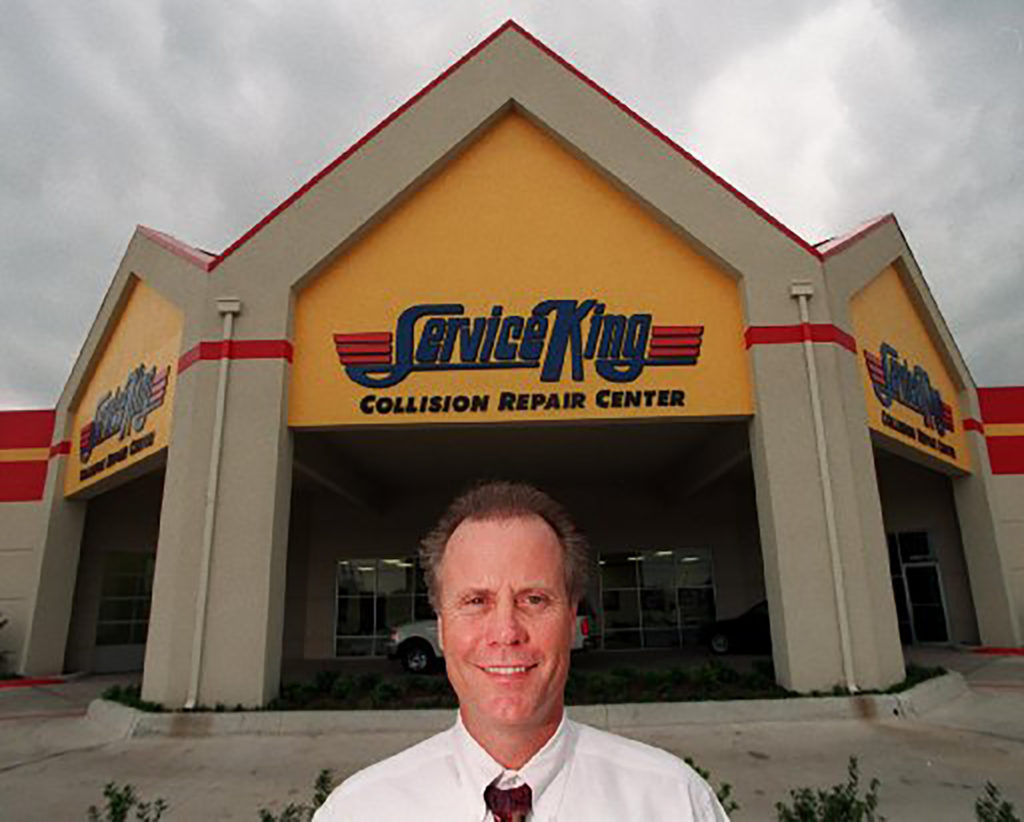 Finally, Fix Auto World CEO Steve Leal predicted to Canadian Business that the 430-shop (globally) franchisor will take over the world. 
"I want us to be the next big Canadian franchise chain after Tim Hortons," he told the magazine. "I know that sounds aggressive, but I am an aggressive guy."
'Consolidation curve'
All of this activity supports the bold claims last year by then-BB&T Capital Markets retail and consumer industry groups managing director Rex Green.
Green predicted that by 2025, the four consolidators would have gone from 10 percent of the revenue to two-thirds of it and do basically all of the insurance claims in America, according to the IBIS feed.
Bradley Mewes of Supplement! mentioned Green's views during another IBIS presentation on the "consolidation curve" — the phenomenon that finds virtually any industry condensing over time.
"Harvard economists found that nearly every industry follows a very predictable pattern of consolidation, from highly fragmented to highly concentrated," Mewes said at IBIS, according to another bodyshop article. "What made this study even more interesting is that within each stage they identified key strategies that successful companies employed to not only survive but aggressively outgrow and outperform their competitors.
"The companies that were successful and survived industry consolidation focused on two key things: developing economies of scale and developing a core competency in acquisitions and integrations to drive profitable growth. In other words, intelligent inorganic growth."
He's probably talking about the research described in this 2002 Harvard Business Review article (if not, this'll get the point across pretty well), for those who want to learn more.
Those trying to go it alone might find "you can only sharpen a knife so many times," Mewes said, according to IBIS.
However, Mewes last year described a few other options for smaller outfits besides going under, getting bigger and selling out. See our discussion of the issue here.
So, that's how private equity works, says Bradley Mewes speaking at #IBIS2016 pic.twitter.com/OcOvIee856

— David Worsfold (@DavidWorsfold) May 24, 2016
How smaller shops can still survive
But bodyshop columnist Andy Warren had a more optimistic perspective on how smaller United Kingdom shops — which are encountering the same consolidation — can survive.
Warren, former head of supply chain for the insurer RSA, encouraged shops to seek out the actual policyholders rather than the insurer — as the former "still have choice in where they have their vehicles repaired. They may just not know it."
While that won't be easy, pursuing the "end-user" was "far less expensive" than courting the insurer paying the claim, Warren advised in the May 20 piece.
"My interaction with successful independents recently has proven that simple and low-cost promotions such as sponsorship of local youth sports teams, community-based advertising, promotions in colleges, training and community centres, canvassing small and medium sized local businesses, offers in local papers for low-cost valeting, MOTs, tyres and servicing etc has paid dividends in attracting crash repair work when it is required," Warren wrote.
More information:
"CALIBER: WE WANT PARTNERS, NOT SUPPLIERS"
Bodyshop magazine, May 24, 2016
Bodyshop magazine, May 24, 2016
"IS CONSOLIDATION A FOREGONE CONCLUSION?"
Andy Warren in bodyshop, May 20, 2016
"From tiny Dallas body shop to 299 locations, Service King's made an impact in 40 years"
Dallas Morning News, April 16, 2016
"Inside the race to consolidate the auto-collision repair business"
Canadian Business, May 24, 2016
International Bodyshop Industry Symposium Twitter feed
Harvard Business Review, December 2002
Images:
Get it? They're merging. (strickke/iStock)
Service King founder Eddie Lennox poses outside the Service King headquarters. (Provided by Service King)
Share This: