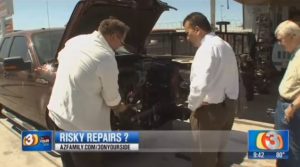 Phoenix TV station KTVK this week provided coverage describing insurer practices like direct repair program shops and non-OEM parts and also highlighting what shop errors might be concealed by a nice appearance.
"Inside Coach Works in Mesa, Matt Radman is hard at work fixing cars that have already been fixed by someone else," KTVK reporter Greg Harper states in the video posted Wednesday.
Harper notes later that half of Coach Works' business is now reinspecting and rerepairing cars — raising an interesting business option for independent shops amid consolidation. Radman tells Harper that he sees misrepaired vehicles "sadly, multiple times every month."
In the video, Radman shows Harper various issues on at least two vehicles, including an absence of welds on a wheel well support tab and on a hole cut in a trunk, a front bumper foam absorber which wasn't fixed in place, and wire clips left open that could "ultimately cause a fire."
On one of them, a customer's truck, "He's taken this vehicle back to the shop five times," Radman says.
It's unclear, however, if any of the misrepaired vehicles were actually the product of direct repair program shops, despite the broadcast warning viewers that some shops say a "preferred" shop might be focused on saving the insurer money. It seems to imply at least one of the repairs was done at a DRP.
Unlike other reports, this one goes a bit more sensational, showing live footage of wrecks. While definitely very "television," it's certainly an effective way of getting a customer to consider "What if I had a bad repair or a non-OEM part during that?"
azfamily.com 3TV | Phoenix Breaking News, Weather, Sport
The video does note the pressure from insurance companies to use non-OEM parts — another item customers might not know is allowed by their policy — and Radman says "every day" an adjustor is on him to do so.
It quotes and references Legends et al v. State Farm et al, calling Coach Works an unnamed participant. Unfortunately, it missed that the case is on slightly shaky ground, with April 29 recommendations from Florida Magistrate Judge Thomas Smith that at least the state part of the case be dismissed with prejudice.
The plaintiffs objected May 17, calling Smith's report "myopic" and disregarding national legal procedure that barring an absurd assertion like time travel, courts must at the pleading stage treat all plaintiff allegations as true. Formal weighing of the evidence's validity comes later, their attorneys wrote.
More information:
"Are you getting risky vehicle repairs?"
KTVK, May 26, 2016
Featured image: Phoenix TV station KTVK has provided the latest coverage describing insurer practices like direct repair program shops and non-OEM parts and also highlighting what shop errors might be concealed by a nice vehicle appearance. (Screenshot of KTVK video on www.azfamily.com)
Share This: