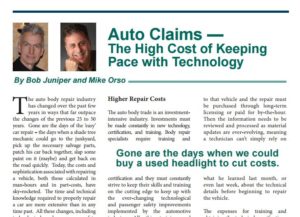 A spring issue of a company magazine geared toward the insurance industry features two collision industry leaders who warn of the dangers and potential infeasibility of cost-cutting on modern vehicle claims.
Three-C body shop owner Bob Juniper and Nick Orso's Body Shop and Service Center President Mike Orso explain some of the auto body industry's challenges and considerations — and what they could mean for claims severity — in the newest issue of the Demotech Difference.
The magazine is published by Demotech, which reviews the financial health of property and casualty insurers (among other insurance fields). It has a circulation of around 11,000, a magazine representative said Thursday, and it's delivered to a wide swath of the insurance industry.
That's the kind of audience that needs to understand the kind of points the two repairers make, and like a recent PropertyCasualty360.com piece, it's a welcome development.
Below are a few highlights, but there are many others; Juniper and Orso pack a lot of information in just a few pages. Both shops and insurers should read the full item — it's available on Pages 26-28 of the PDF copy available here.
Hazardous waste disposal: "One area, for instance, that is often not considered is the cost to replace seatbelts. Most manufacturers require that seatbelts be replaced after a crash. These seatbelts often are considered hazardous and explosive waste that require special disposal, disposal which can be expensive." (They're probably talking about seatbelt pretensioners; for example, see this discussion from California's DEQ or this one from KPA.)
Overincentivizing inexpensive repairs: "When insurers try to unrealistically control the pricing of repairs, it encourages all repair companies to cut corners to save money … This leads to shoddy and sometimes dangerous repair work."
Part technology: "With the new technology of part imprinting, parts are being produced with VIN identification recognition making parts specific to a particular vehicle, not just a specific make or model as in years past. Such an imprinted part would be incompatible with another vehicle thereby making a salvage part useless, maybe even dangerous to use, in the repair." (For coverage of a similar automotive concept, see here.)
Cheap work can cost the insurer: "Post Repair Inspections conducted across the country are revealing how corners cut in the repair process by such shops are perpetuating a new breed of repaired vehicles that are reclassified after repair as total losses. Such corner-cutting work may seem like it saves money initially but, in the long run, ends up costing insurance companies, and their clients, more money as insurers pay more in rerepair costs or consider more vehicles total losses."
More information:
"Auto Claims — The High Cost of Keeping Pace with Technology"
The Demotech Difference, Spring 2016
Featured image: A spring issue of a Demotech magazine geared toward the insurance industry, the Demotech Difference, features two collision industry leaders who warn of the dangers and potential infeasibility of cost-cutting on modern vehicle claims. (Provided by the Demotech Difference)
Share This: