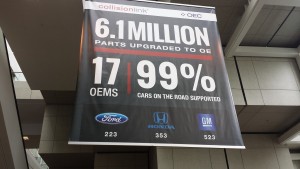 Private equity firm Providence Equity will buy a majority stake in OEConnection, the auto parts e-commerce company announced Thursday.
Founders Ford and General Motors will each keep a 15 percent piece of the company following the expected closing of the deal at the end of the month (barring any sale or regulatory snags).
"OEC is a unique, high growth technology solutions company led by an outstanding management team and backed by two world-class automotive companies," Providence Equity managing director Davis Noell said in a statement. "We are excited to partner with management, Ford and GM to help accelerate OEC's growth strategy, both organically and through acquisition, and add lasting value to the Company."
OEConnection is the parent company of CollisionLink and a facilitator of auto and heavy-duty truck parts sales for 20 OEMs and 100,000 repairers and dealerships.
An OEConnection spokesman told us Friday afternoon that a shop probably wouldn't see any functional difference in the services they use from the company — if anything, the sale should give OEConnection more resources and allow it to expand abroad. Find out more on Monday.
A message left with Providence Equity was not returned as of early Friday evening.
"Providence has a thorough understanding of OEC's business model and market opportunities as well as a proven track record of successful partnerships and investments in similar companies," OEConnection President and CEO Chuck Rotuno said in a statement about his new boss, which controls $45 billion in assets. "We look forward to leveraging their resources and expertise to expand our global client base, and make it easier for our customers everywhere to grow their parts and service business."
Providence Equity, like probably most private equity company, owns an eclectic group of companies, the Spanish-language network Univision, cellphone insurer Asurion and scuba driver instructor trainer PADI. It does not appear to currently own any automotive-related interests, though it once owned a piece of AutoTrader (and subsidiary Kelly Blue Book/KBB.com), selling it in 2014 to Cox Enterprises.
Here's Bill Aliber, chief financial officer of subsidiary Ascend Learning, talking about Providence Equity three years ago. He describes the company as interested in quarterly financial updates but mostly hands-off in letting management operate how they feel is best.
"Their interaction with us is very limited," Aliber said then, describing Providence Equity as interested in the same metrics Ascend set itself to measure its performance.
GM's interest in OEConnection extends beyond the usual services the company provides to OEMs. The company and CollisionLink help General Motors run the dynamic list pricing program MyPriceLink.
"General Motors views this change as a great opportunity to expand the product and service offerings to our GM Dealers through the investments of Providence in OEC," GM customer care and aftersales Global Vice President Tim Turvey said in a statement. "Through this new partnership arrangement GM will continue to have an active role in OEC."
"Providence Equity Partners' expertise in technology services businesses will help OEC significantly expand its product offerings and parts delivery globally," Ford global customer service President Frederiek Toney said in a statement. "Doing so will allow Ford dealers and independent service shops to serve customers more effectively and drive increased satisfaction."
More information:
"Providence Equity to Become Lead Investor in OEConnection"
OEConnection, June 2, 2016
Featured image: A banner advertising OEConnection is displayed in Detroit at the July 2015 NACE|CARS. (John Huetter/Repairer Driven News)
Share This: