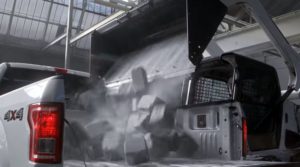 General Motors stepped up its campaign to tout the steel Chevrolet Silverado's body as superior to the aluminum Ford F-150 with what Automotive News reported was a nationally-airing ad campaign.
Chevrolet took shots at Ford's top-selling truck last summer for its aluminum, and Ford replied in kind by mocking the steel Silverado. The two seemed to have simmered down on the materials barbs until Wednesday, when Chevrolet announced the new videos.
Automotive News reported Wednesday that the ad campaign will span far beyond media coverage and YouTube:
Chevy plans an ad blitz starting today that will run 30- and 60-second commercials on ESPN, NASCAR programming, the NHL finals, Major League Baseball and more. It will also run longer versions in 2,400 movie theaters nationally. Print ads are slated for most major markets in Texas, a strategic state for pickup truck sales and marketing. A four-page wraparound (advertisement) also appeared in Detroit's newspapers today.
In one new video, Chevy dumps 825 pounds of landscaping blocks 5 feet above unlined F-150 and Silverado beds while "Real people. Not actors." watch.
"That's a huge hole," one real person says of damage to the F-150's stamped aluminum bed.
"This is — broken," another concludes.
"You're aluminum now, you're going to go, 'Ugh'" another says.
It follows by demonstrating how an old-fashioned toolbox tipped from the side punches a hole in the bed.
Chevrolet also released a methodology video, which features a third test using 17-pound wedges, and footage of another exchange between Howie Long and engineer Eric Stanzcak.
That last video lives up to the infomercially awesome caliber of its predecessor but gets the message across.
Chevrolet's campaign makes an interesting materials case for roll-formed high-strength, low-alloy steel, which GM promoted as stronger but lighter than stamped steel in 2014.
"The roll-forming process takes a long strip of steel and passes it through a set of rolls, each performing part of the desired bend until the final shape is reached," General Motors wrote then. "The process allows the use of higher-strength steel, because the metal does not need to be shaped as much (less metal fatigue) as it does during a conventional stamping process. The process also generates less scrap."
Read more about the steel in the Silverado with Chevrolet's 2013 Great Designs in Steel presentation and collision repair manuals. Chevrolet described it in Great Designs in Steel as 0.95 mm high–strength, low-alloy steel, and the manual classifies various other Silverado HSLA parts as between 300-700 megapascals.
The OEM also discussed modular repair procedures in a 2015 news release, though we'd caution a) use the actual repair procedures and b) Chevrolet has produced a separate repair manual for the 2016 Silverado than it did for the 2014-15 edition.
Ironically, Ford also released a video in the last quarter of 2014 showing how aluminum beds withstood spherical projectiles launched by athletes better than a steel bed. (The nature of that steel was unclear.)
It also produced a similar "dumping stuff in the back of the bed" then too, though you don't get a good look at the box.
Chevrolet reported that it used a 17-pound (7.7 kg) "wedge-shaped striker" for the lab test and found a piece of a Silverado bed survived up to 90 joules of impact energy. The aluminum bed yielded "hairline cracks" at 30 joules and punctured through at 40 joules, Chevy wrote.
The 55 landscaping blocks combined weighed 825 pounds (347 kg) and were dumped out of a loader 5 feet (1.5 m) above the beds. The steel bed suffered no punctures in 12 comparisons, while the aluminum version averaged 4.3 holes and was punctured every time.
The toolbox fell from whatever the height of the side rail was 14 times and dented the steel in 12 of them, puncturing them the other two times. The F-150 was dented once and took a "sizable puncture" the other 13 times, according to Chevrolet.
"Obviously, any material can be pushed to the breaking point if you subject it to enough impact energy," Chevrolet truck marketing director Sandor Piszar said in a statement. "If a customer does manage to puncture the high-strength steel bed of the Silverado, they have the added peace of mind knowing steel tends to be easier to repair than aluminum — potentially saving money and minimizing time without their truck."
Ford has challenged such repair cost assessments, and it dismissed GM's latest promotion as a "stunt" in a statement provided by truck marketing manager Mike Levine:
When you're the market leader for 39 years, competitors sometimes try to take shots at you with marketing stunts. The fact remains that F-150's high-strength, military grade, aluminum alloy cargo box offers the best combination of strength, durability, corrosion resistance, capability, safety and fuel efficiency ever offered in a pickup. We have built nearly a million new F-150s, and our lead over the competition continues to grow.
The Aluminum Association's Aluminum Transportation Group issued this statement:
In comparative tests and real-world consumer experiences, advanced aluminum alloys have proven time and again to be more durable than steel, and in crash tests conducted by federal regulators every aluminum-bodied vehicle ever tested earned a perfect 5-star rating.
Proof Points
Ford, who sells trucks with both aluminum and steel beds, conducted a side-by-side comparison of the beds in steel and aluminum-bodied F-150s where athletes hurled baseballs, golf balls, hockey pucks at shot puts at steel and aluminum truck beds, and the aluminum bed was far more durable.
For real-world, head-to-head comparisons, Ford secretly swapped out six of its steel-bodied trucks for aluminum ones (to include aluminum beds) gave them to construction, energy and mining customers to see if they noticed any differences. According to Forbes magazine, this was, "the gold standard in durability testing…all six aluminum beds have shown as much or more resistance to wear in these real-world conditions than previous steel versions."
The U.S. military trusts aluminum's durability to protect troops in Humvees and Bradley Fighting Vehicles as they operate in some of the word's harshest environments.
The aluminum-bodied F-150 earned a perfect 5-star safety rating from NHTSA, eclipsing the 4-star rated steel version it replaced. It also earned the only "Top Safety Pick" in the IIHS safety test—outperforming all steel-bodied competitors.
In any case, collision repairers repairing higher-strength steels and aluminum should get a chuckle out of the OEMs' footage.
But they shouldn't assume they can forget about either metal — or not have to learn some new ones.
All vehicle bodies will likely go mixed-material to some degree, so as Truck Yeah/Jalopnik points out (with its typical profane-but-humorous analysis), it won't be completely hypocritical if Chevy puts out an aluminum-paneled Silverado with a steel bed if the materials/cost case exists for it.
Chevrolet in the news release says engineers seek "to select the right material, enabled by the right manufacturing processes, for the right application."
Aluminum panels are likely to dominate down the road, according to a NanoSteel executive. That's a reality of pursuing weight savings alongside dent resistance at a cost-effective point, he said. But more formable higher-strength steels — his product — would win the structural battle, he predicted.
Down the road, carbon fiber might seriously erode both aluminum and steel market share, he and a Peugeot expert have predicted.
More information:
"CHEVROLET DEMONSTRATES COMPETITIVE ADVANTAGE OF SILVERADO'S ROLL-FORMED, HIGH-STRENGTH STEEL BED"
Chevrolet, June 8, 2016
"Chevy escalates Silverado advertising battle with Ford F-150"
Automotive News, June 8, 2016
Featured image: General Motors stepped up its campaign to tout the steel Chevrolet Silverado's steel as superior to the aluminum Ford F-150 with new videos announced Wednesday. (Screenshot from Chevrolet YouTube channel footage)
Share This: