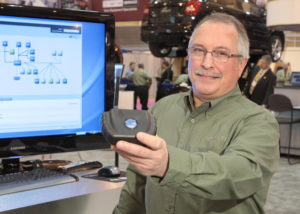 FCA on Thursday confirmed that auto body shops, glass replacers and even someone disconnecting a battery must scan a vehicle before and after every repair.
A Mopar position statement sent to I-CAR, collision repair associations and more than a dozen major auto insurers and subsidiaries set out the official OEM stance on the procedure:
Safety and security related systems, such as antilock brakes, supplemental restraint systems (SRS – air bags), occupant restraint controller (ORC), seat belts, active head restraints, forward facing camera and radar, blind spot monitoring, and other automated electronic driver assistance systems, MUST be tested for fault codes (DTCs) that could be active (current) or stored following a collision. Use of the Mopar wiTECH vehicle diagnostic tester is necessary before and after collision repair.
ANY of the following conditions could trigger DTCs prior to or during collision repairs, which could result in improper vehicle performance:
Vehicle is involved in an accident or collision, even though the damage may appear minor
Vehicle has been in an accident with or without air bag deployment
Voltage loss, including battery disconnects and hybrid battery disabling
Significant vehicle disassembly including, but not limited to, bumpers, door handles, headlamps and mirrors
Interior trim repair or removal
Glass removal and replacement operations
(Emphasis FCA's. Triangular bullets replaced with dots for the purposes of reproduction here.)
The OEM also notes that aftermarket scan tools might not cut it.
"Use of the Mopar® wiTECH vehicle diagnostic tester (Mopar Scan Tool) is an important part of FCA US vehicle service and maintenance," the document states. "This tool contains software that aftermarket tools may not contain and can assess whether any FCA US vehicle's safety and security systems contain active or stored Diagnostic Trouble Codes (DTCs)."
The full document can be found below and here.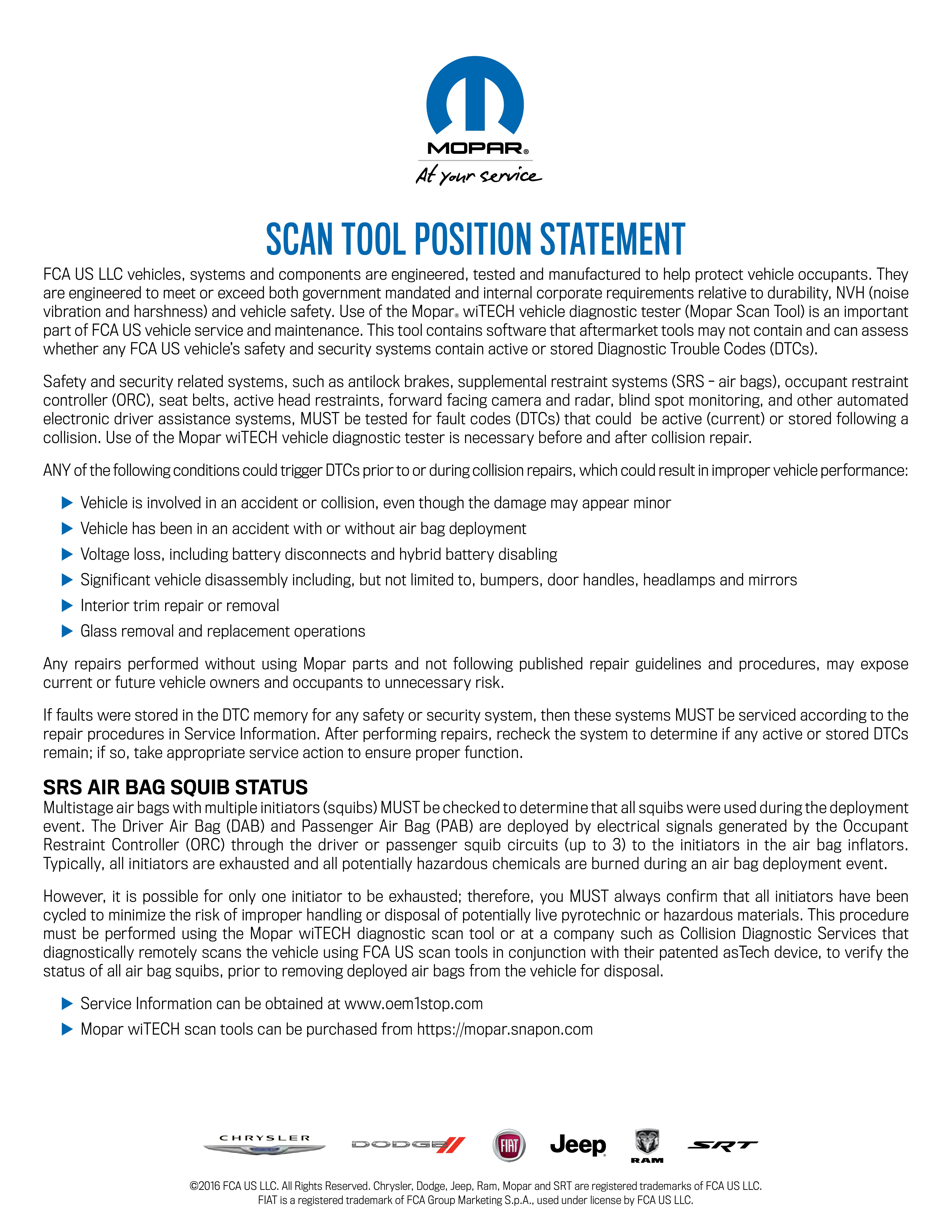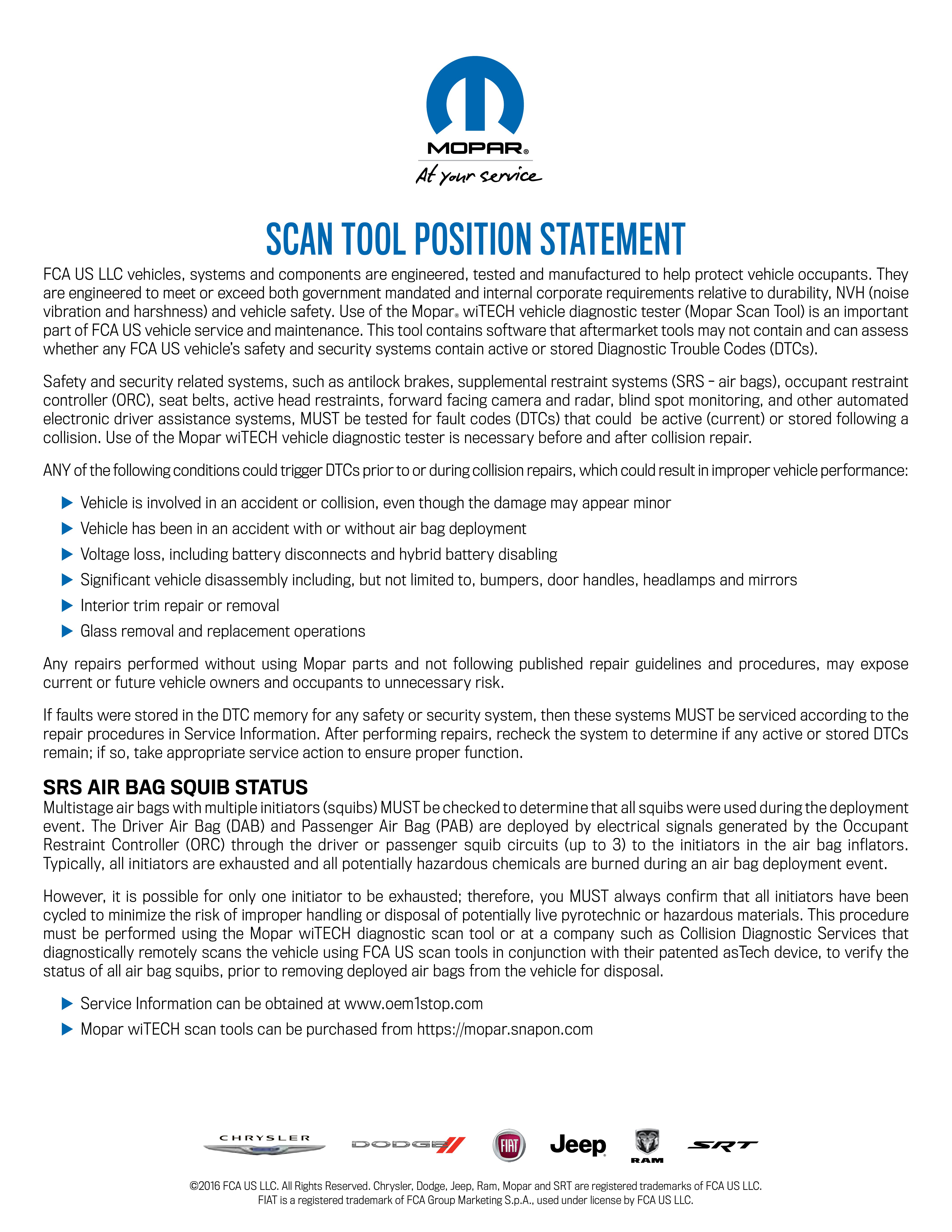 The OEM didn't specify which model years would require the procedures. However, it's interesting to note that safety devices mentioned in the statement include not just cutting-edge — and soon standard, in the case of autobraking — features like automated electronic driver assistance systems and blind spot monitoring. They also include mundane safety items like antilock brakes and seatbelts.
Collision repairers have complained that insurers refuse to reimburse for the procedure, which experts say is as necessary as 3-D measuring on basically ever vehicle — the dash light doesn't tell you nearly enough.
Insurers emailed the document included Allstate, Amica, Erie, Esurance, Farmers, GEICO, Kemper, Liberty Mutual, Metlife, Nationwide, Progressive, Safeco, Shelter, State Farm, Travelers and USAA.
More information:
MOPAR scan, airbag position statement
FCA, June 9, 2016
Featured image: Chrysler dealer technical operations and global service director Al Motta displays the wiTECH in 2009. (Provided by FCA)
Share This: