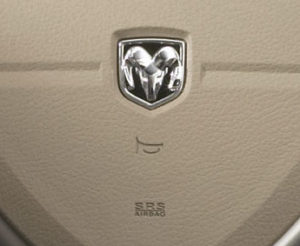 Fiat Chrysler Automobiles warned auto body shops and insurers that all squibs in multistage airbags must be checked during a replacement to avoid disposing a hazardous chemical or a live explosive.
Usually, all of the squibs blow, according to the manufacturer of Chrysler, Fiat, Dodge, Jeep and Alfa Romeo. But sometimes, that's not always the case, FCA said in the Mopar position statement disseminated by email Thursday. And if you don't want a body technician or a garbageman encountering an unfortunate situation, you're going to have to scan the airbags.
FCA also stresses that only a Mopar wiTECH diagnostic scanner or a company remotely using one, such as Collision Diagnostic Services and its asTech, should be used to determine the initiator status.
"Multistage air bags with multiple initiators (squibs) MUST be checked to determine that all squibs were used during the deployment event. The Driver Air Bag (DAB) and Passenger Air Bag (PAB) are deployed by electrical signals generated by the Occupant Restraint Controller (ORC) through the driver or passenger squib circuits (up to 3) to the initiators in the air bag inflators," FCA wrote. "Typically, all initiators are exhausted and all potentially hazardous chemicals are burned during an air bag deployment event."
"However, it is possible for only one initiator to be exhausted; therefore, you MUST always confirm that all initiators have been cycled to minimize the risk of improper handling or disposal of potentially live pyrotechnic or hazardous materials. This procedure must be performed using the Mopar wiTECH diagnostic scan tool or at a company such as Collision Diagnostic Services that diagnostically remotely scans the vehicle using FCA US scan tools in conjunction with their patented asTech device, to verify the status of all air bag squibs, prior to removing deployed air bags from the vehicle for disposal."
Speaking of airbags and Mopar's awesomely accessible body repair information, here's a guide to supplemental restraint systems from 2007-13. If the service bulletin or anything else you've encountered on those model year's safety systems surprised you, it might be worth a refresher.
Chrysler didn't say how frequently the multistage airbags, which are one potential form of the advanced airbags required standard since the 2006 model year, can be found on the current and past FCA fleet.
However, you ought to encounter them in virtually all newer-model cars, according to Insurance Institute for Highway Safety communications Senior Vice President Russ Rader.
"All new vehicles have multi-stage airbags," Radar wrote in an email. "The common term for this now is variable inflator output.  The force of the airbag can vary depending on the severity of the crash as well as what the airbag "knows" about occupant position. For example, if the passenger seat is positioned forward in its track, the airbag may deploy with less force because of the position of the occupant. Sensors can be in the seat track, but also in the seat cushion itself depending on the automaker."
But you're scanning the car anyway to see what's happening, right?
If you're not scanning FCA vehicles after every collision — even a minor one that doesn't trigger an airbag — you're doing it wrong, the company warned auto body shops and car insurers in the same position statement. Find out more about that requirement here.
For a scanner and body and service/maintenance data, FCA referred users to mopar.snapon.com and www.oem1stop.com, respectively.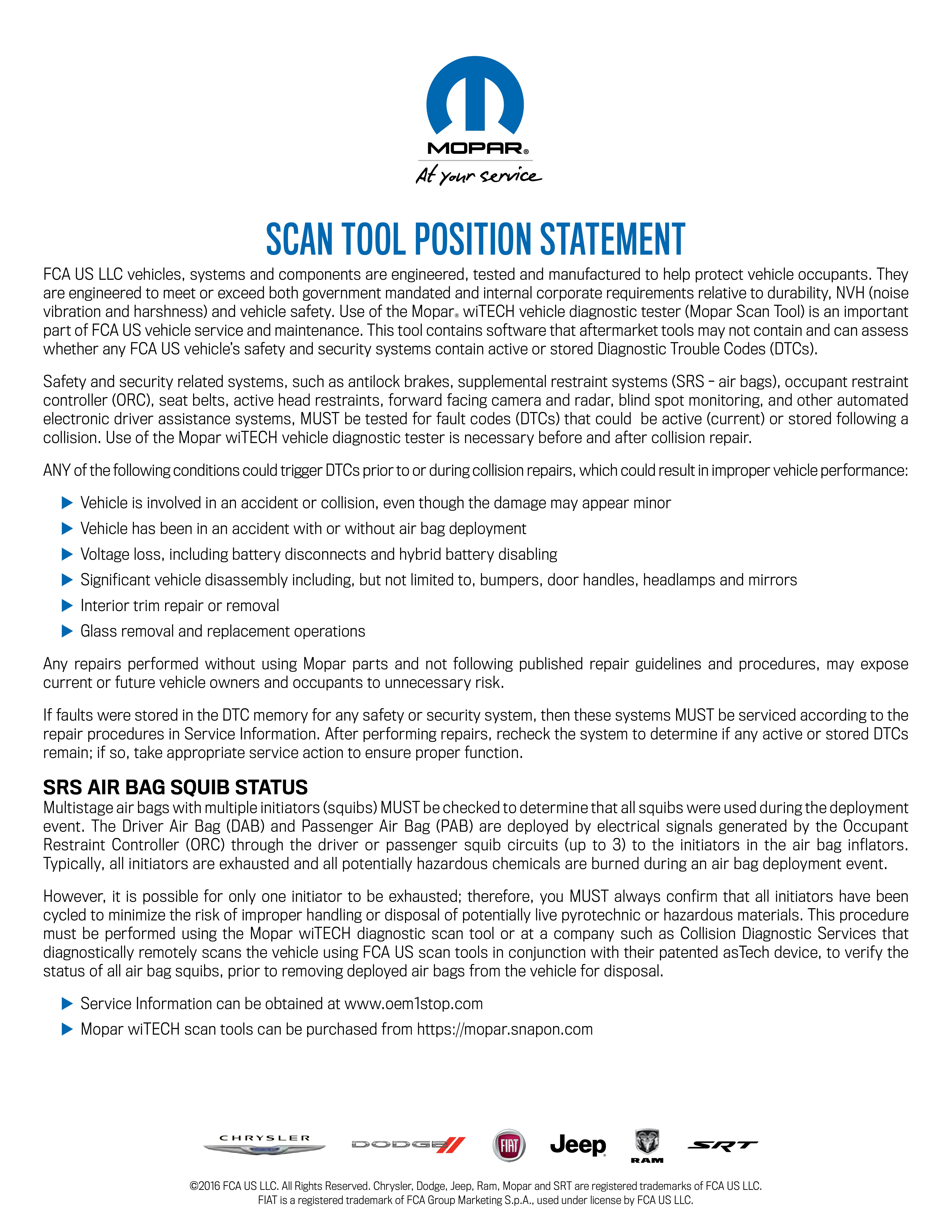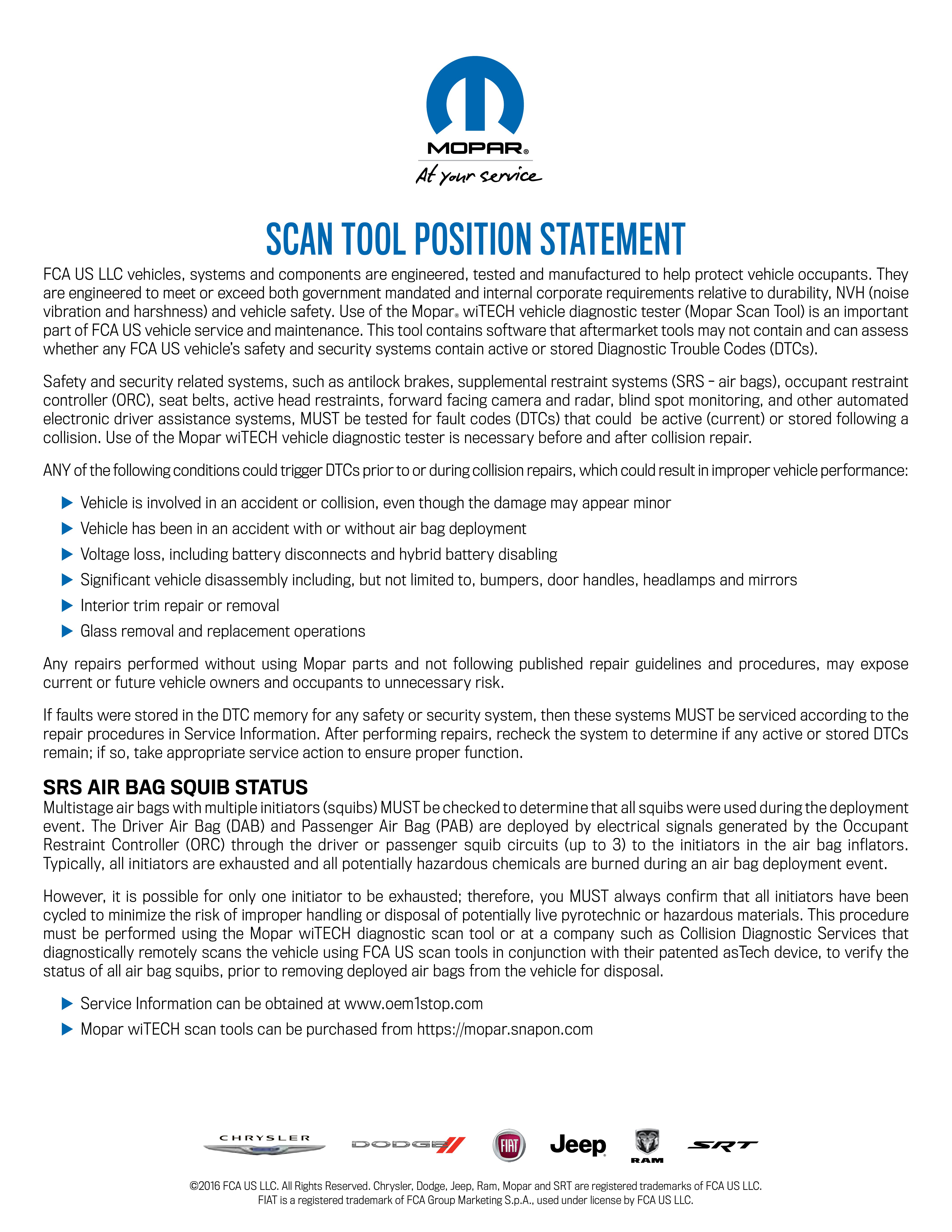 Major auto insurers are aware of the requirement. FCA emailed the document to Allstate, Amica, Erie, Esurance, Farmers, GEICO, Kemper, Liberty Mutual, Metlife, Nationwide, Progressive, Safeco, Shelter, State Farm, Travelers and USAA on Thursday.
Collision Diagnostic Services has collected other some OEM airbag information collision repairers and insurers should know, though the most current data is going to be found on the OEM collision and mechanical repair websites themselves.
And because this one always seems to come up, here's the infamous Toyota CRIB bulletin No. 177  on Toyota's official collision repair training site. The document explains that you'll need to scan and clear codes after any collision.
More information:
Mopar scan, airbag position statement
FCA, June 9, 2016
Mopar Repair Connection collision site
Featured image, video: The 2008 Dodge Grand Caravan has multistage airbags. (Provided by FCA)
Share This: