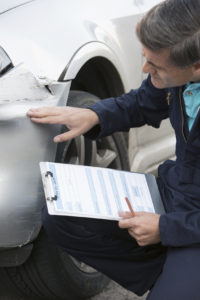 Two of the major estimating services this month announced means of detecting and itemizing all the little things a busy estimator might forget — or not even have considered.
On Wednesday, CCC announced a partnership with another industry powerhouse — supplies vendor and software provider Würth. CCC ONE will automatically import all the supplies tallied by a shop's Würth SIS inventory software, which uses barcode scanners to tally supplies used during a repair and to keep track of stock on hand.
"Wurth USA is an important supplier to collision repairers," CCC automotive network partnerships director Bill Langley, Director said in a statement. "CCC's focus is on bringing together the tools and information repairers need to drive efficiency throughout the repair process. By creating interfaces with their suppliers, our repair customers can save time and create more accurate, complete estimates, while gaining better visibility and control over job costs."
CCC estimated that supplies like fasteners and clips equate to $600 million a year. It's unclear if that number refers to revenues to companies like Wurth or what shops are ultimately charging customers for the expenses, but you get the idea. Letting those items go ignored because it's inconvenient to re-enter the data into CCC could add up for a small shop — and be a huge amount of money lost for a regional or national MSO.
"Repairers are busy and have a lot of moving parts to manage at any given time," Würth national sales manager David Gibson said in a statement. "Recording all of the on-hand supplies used while repairing a vehicle can be cumbersome and imperfect, which often results in inaccurate job costing, and inefficient workflows. By creating an interface between Wurth USA and CCC's industry-leading software, repairers can better manage their time while making sure they account for the supplies they use."
"We started working with Wurth USA a year ago to create more organization in how our on-hand materials are stored and accessed in our seven locations," H&V Collision Center assistance vice president Rich Tanchyk said in a statement. "When we learned Würth's SIS software would be connected to CCC ONE we got onboard right away. We want to embrace any system that allows us to improve, and better serve the customer. This interface does just that. We're writing more accurate estimates, more efficiently, and our job costing has improved. It's a great use of technology."
AudaExplore predictive analytics
AudaExplore also announced an interesting new product which uses predictive analytics to estimate what you overlooked or didn't know to invoice on an estimate.
The Shop Recoverables Tool kind of does the reverse of what shops have complained the IPs do for insurers — scans an estimate and draws the user's attention to various items that could cost them.
In this case, it seeks to recover revenue for a shop through an "incredibly fast, line-by-line review of your estimate," according to an AudaExplore news release.
"The advanced rules engine considers repair materials, labor and operations that might (be) needed based on the (repairer's) decisions as the repair expert," AudaExplore continues.
This could span basically everything involved in a repair, according to AudaExplore, which provided the examples of materials, parts, refinish and repair labor and supplies.
Once the tool weighs in, the estimator can adjust the estimate accordingly before uploading it. AudaExplore predicts this should help a shop get paid for more of what it did and avoid supplements with a more thorough original estimate.
The question with any predictive analytics involves how it avoids the GIGO ("garbage in, garbage out") problem that must be overcome with any modeling. If your data is distorted or assumptions incorrect, then your predictions will be skewed. For example, if shops in AudaExplore's data set have historically forgotten or offered discounts on certain items, would the system even know to suggest a current user charge for those procedures?
But AudaExplore Vice President Don Mikrut explained that despite AudaExplore's news release reference to a tool "powered by Audatex's industry leading Predictive Analytics," it looks at the existing estimate rather than modeling based on past data.
"The Recoverables is not like predictive analytics," he said in a statement. "It is using key indicators in the real time estimate (not past estimates) to remind the estimators that certain items (material or labor) need to be accounted for.
"So in this case DRP agreements where you may have agreed or another shop may have agreed not to charge for Coolant, does not effect the reminder message to charge for coolant. It's up to the estimators discretion to select or skip."
On the whole, both IP moves and Mitchell's lower-tech "forgettables" checklist promoted in February (MIA from their website now; see our coverage to learn more.) seem like good steps towards what industry experts constantly have advised: Itemize what you do, back it up with OEM procedures, P-pages or other data, and get paid for it.
More information:
"CCC and Wurth USA Bring Accuracy and Efficiency to Job Costing for Collision Repairers"
CCC, June 22, 2016
"New Tool Helps Shops Recover Forgotten Expenses"
AudaExplore via YouTube, May 11, 2016
Featured image: Two of the major estimating services this month announced means of detecting and itemizing all the little things a busy estimator might forget — or not even have considered. (Daisy-Daisy/iStock)
Share This: