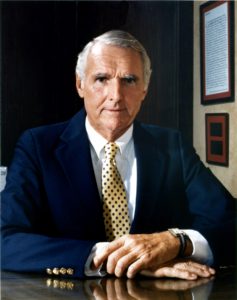 A New York Times obituary for Jack Crawford Taylor explains how he and his company Enterprise Rent-A-Car helped develop the now-commonplace market for vehicle rentals during collision repairs.
Taylor died Saturday at age 94, according to an Enterprise Holdings news release.
The Times piece Sunday describes how Taylor first opposed the idea of renting cars at his company Executive Leasing but relented in 1962.
"We started out saying, 'We don't rent cars,'" Mr. Taylor recounted in a corporate history. But after accommodating some good customers, he relented, and … he began what he saw as a sideline rental business, with 17 Chevrolets, for which he charged $5 a day and 5 cents a mile.
But rentals soon thrived, propelled by imaginative relationships that aides struck up with insurance companies. Adjusters would offer a rental car, often those of Enterprise, instead of cash to a driver making a claim. Passage of no-fault insurance legislation also stimulated rental growth by eliminating lengthy arguments over who should pay for repairs after traffic collisions.
This led to the creation of what Enterprise Holdings calls the "home city" rental market, according to the Times.
"By renting cars from convenient, neighborhood locations to meet a variety of customer needs, Enterprise quietly but steadily transformed the industry by developing a market segment that grew to be as large or larger than the airport-based rental market," the company recalled in an official obituary news release Saturday.
"… Taylor recognized the potential market for renting cars right in the neighborhoods where people lived and worked. He began providing these home city rentals to customers who needed an extra car for the weekend, for out-of-town guests or for children home from college, or whose own vehicles were in the shop for repairs. In the years since, Taylor's company has continued to drive the development of the local rental and car-sharing market, as consumers rent cars to meet an expanding variety of transportation and lifestyle needs."
The Times also pointed out the "unconventional" Enterprise idea of "offering to pick up customers from home, office or body shop."
This signature idea originated in an Orlando, Fla., office when the arrival of no-fault insurance prompted a flood of insurance claims — and demand for rentals. To avoid overcrowding his office, the Orlando manager offered customers making reservations the option of pickup service at a less busy time.
The Times reported that Taylor "was engaged with company policy into his 90s." He stepped down as CEO in 1991 but remained chairman until 2001, when he stepped back to become executive chairman. He formally retired in 2013.
"My father took a simple idea and created a great company," Enterprise Holdings Executive Chairman Andrew C. Taylor, Taylor's son, said in a statement. "We will miss him. But we will honor his memory every day as we live the values he instilled in our company – taking excellent care of our customers, encouraging and supporting each other and giving back to our communities."
The company created the Automated Rental Management System, ARMS, in 1994. Today, it is used by insurers to manage rentals and by shops to boost cycle times and communicate with customers and insurers.
Enterprise bought Alamo and National in 2007, and renamed itself Enterprise Holdings in 2009. It also owns Enterprise Fleet management.
In 2014, it bought Performance Gateway from Axalta and planned to focus it primarily on the business of tracking metrics for direct repair programs and multi-shop operators. Enterprise Holdings plans to combine the efforts of Performance Gateway, CynCast and ARMS into ARMS Business Solutions sometime this summer.
The company is also notable for its quarterly releases of length-of-replacement-rental data (See the latest in Mitchell's recent Industry Trends Report), which collision repairers can use to compare average repair cycle time to state, regional and national averages.
More information:
"Jack Crawford Taylor: War Hero, Business Leader, Philanthropist"
Enterprise Holdings, July 2, 2016
"Jack Taylor Remembered" website
"Jack Taylor, Founder of Enterprise Rent-A-Car, Dies at 94"
New York Times, July 3, 2016
Featured image: Jack Crawford Taylor, founder of Enterprise Rent-A-Car, died Saturday at age 94. (Provided by Enterprise Holdings)
Share This: