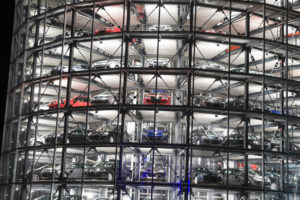 OEMs are aggressively targeting the Holy Grail of cars driving around without anyone inside at all, but their efforts on a more mundane feature — one likely far simpler to achieve — could radically redefine our lives too.
Car & Driver on Monday posted a really fascinating feature taking a look at how self-parking technology like Tesla's "Summon" — available today — could eliminate how parking needs to some degree hold city residents and visitors hostage.
It also could cut down on the number of door dings and dents, as well as parking lot fender benders — which is too bad for those focusing on cosmetic collision repairs.
"Using Summon, once you arrive home and exit Model S or Model X, you can prompt it to do the rest: open your garage door, enter your garage, park itself, and shut down. In the morning, you wake up, walk out the front door, and summon your car," Tesla wrote in January. "It will open the garage door and come to greet you. More broadly, Summon also eliminates the burden of having to squeeze in and out of tight parking spots. During this Beta stage of Summon, we would like customers to become familiar with it on private property. Eventually, your Tesla will be able to drive anywhere across the country to meet you, charging itself along the way. It will sync with your calendar to know exactly when to arrive."
In February, Tesla pointed out that this could cut collisions.
"By enabling remote retrieval of Model S or Model X from a parking space, Summon provides the driver with a direct line of sight to the danger zones around it. At the same time, ultrasonic sensors placed around the vehicle proactively guard against any unseen or moving hazards and enable the car to stop upon detection," Tesla wrote. "If at any time during the Summon maneuver the driver decides to stop Model S or Model X, he or she can do so with a simple tap of the app, keyfob, or a door handle. While these additional layers of security will not completely eliminate accidents when using semi-autonomous features like Summon, when used correctly, they can reduce their occurrence relative to conventional driving."
Nashville is already planning around such technology with "what is believed to be the nation's first parking structure designed for an era in which cars contain valet features like Summon and can park themselves and connect with broader transportation networks," Car & Driver reported.
Experts, according to Car & Driver, think American city residents' parking needs could be altered as early as 2-5 years by autonomous technology.
Autonomous cars bring the likelihood that drop-off zones will be needed for vehicle occupants at the front of the buildings. Once occupants exit cars at a designated area, the cars can park themselves. And if there's no need for humans to exit parked cars, they can fit into narrower berths that may eventually shrink from a traditional 9.0-foot width to perhaps 7.0- or even 6.5 feet wide. Squeezing vehicles into tighter spaces in turn saves millions in costs for builders, home buyers and consumers alike. But that's just the small stuff
Connected cars add another dimension to the autonomous capabilities. Whether they're privately owned or shared vehicles, the ability to summon a ride remotely means garages may not even need to be located smack-dab in the middle of shopping districts or close to city centers. The garages can potentially be moved out of areas where real estate is at a premium. Not only does this mean big changes for parking garages, but big changes for the areas around them.
Technically, you don't even need a self-driving car, Car & Driver observed. Just eliminate mandatory minimum parking spaces for residential and commercial properties and let the free market figure it out.
A 2013 UConn honors thesis referenced in the article examined the difference between New Haven, Conn., and Cambridge Mass, since Cambridge focused on parking maximums rather than minimums in 1981. Basically, Cambridge did better.
"Since 1951, off-street parking provision has increased by nearly 400% in New Haven, meanwhile both employment and residential population have declined in the city," authors Bryan Blanc and Michael Gangi wrote in 2013. "In contrast, off-street parking provision in Cambridge has risen around 140% since 1952, while employment and residential populations in the city have increased by 50% and 67 % respectively."
Or just use existing technology like the the Autostadt in Germany, which parks Volkswagens for delivery to drivers in an autonomous tower, as Reuters reported in 2012.
It reportedly inspired the briefcase fight in a robotic parking lot at the end of "Mission Impossible: Ghost Protocol" You can see a clip at this website from the 2012 MTV Movie Awards, for which it was nominated in "Best Fight Scene."  (The fight lost to a "Hunger Games" battle.)
More information:
"The Parking Garage of the Future: Big Makeover Coming in Autonomous Age"
Car & Driver, July 25, 2016
"Urban Parking Economics and Land Consumption: A Case Study of New Haven, Connecticut and Cambridge, Massachusetts"
Bryan Blanc and Michael Gangi's University of Connecticut honors thesis, 2013
"Enhancing Safety and Convenience with Summon"
Tesla, Feb. 8, 2016
Share This: