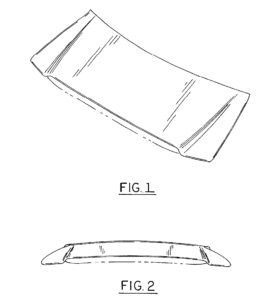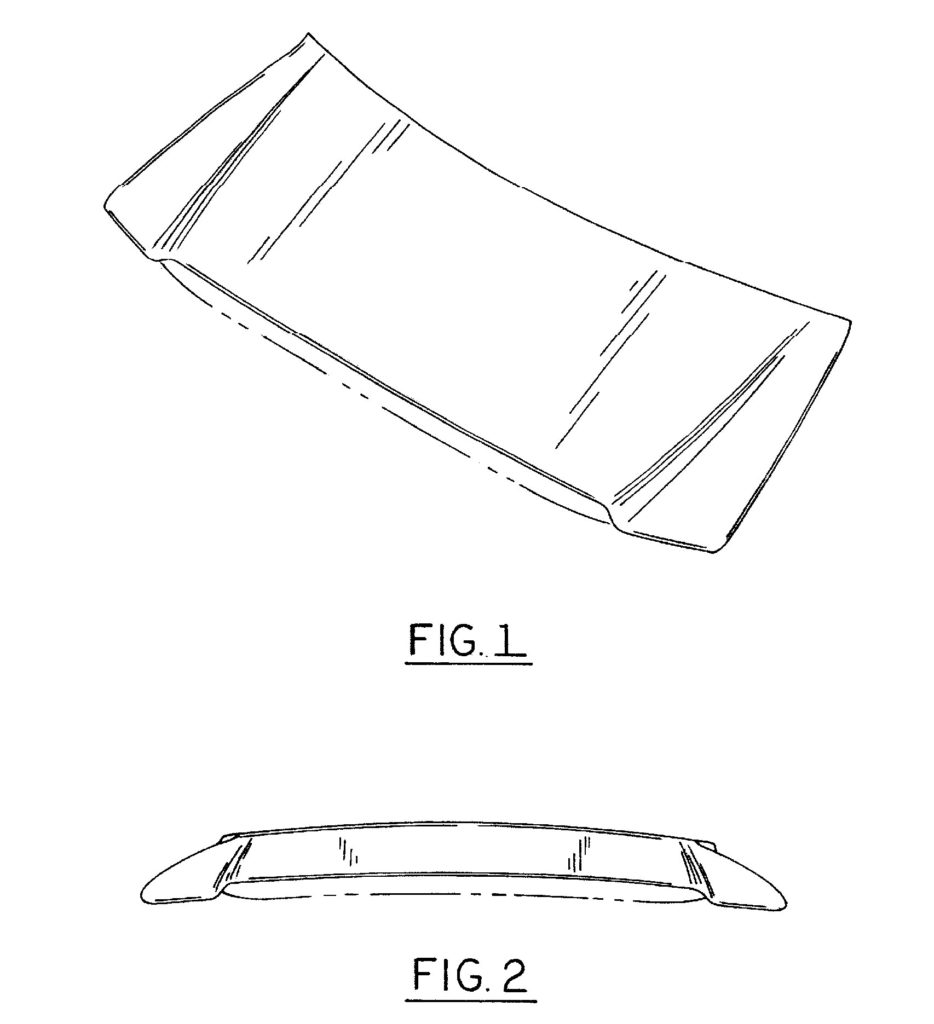 The U.S. Supreme Court last month refused to hear an aftermarket parts trade group's appeal contesting the transfer of their patent suit against Ford from Texas to Michigan — an apparent win for OEM parts.
The Automotive Body Parts Association, whose members sell imitation versions of original Ford parts, sued the automaker in 2013 over several design patents for common collision parts. It amended the lawsuit in 2014 to specify just a 2004 hood and 2005 headlight design patent.
Both patents run out within a couple of years — the headlight patent expires in 2019, and the hood runs out in 2018.
"It may seem as if the litigation against Ford has dragged on for a long time," ABPA Ed Salamy wrote in the July 26 Body Language. "Our initial lawsuit was filed in November, 2013. The ABPA's lawsuit against Ford is a critical 'test case.' If Ford is allowed to slap a design patent on every fender, hood, light assembly, nut and bolt on its F-150 truck, there is nothing stopping them – and other automakers – from doing the same with every vehicle they produce. Ford must be stopped."
Ford's headlamp and hood design patent drawings are shown below.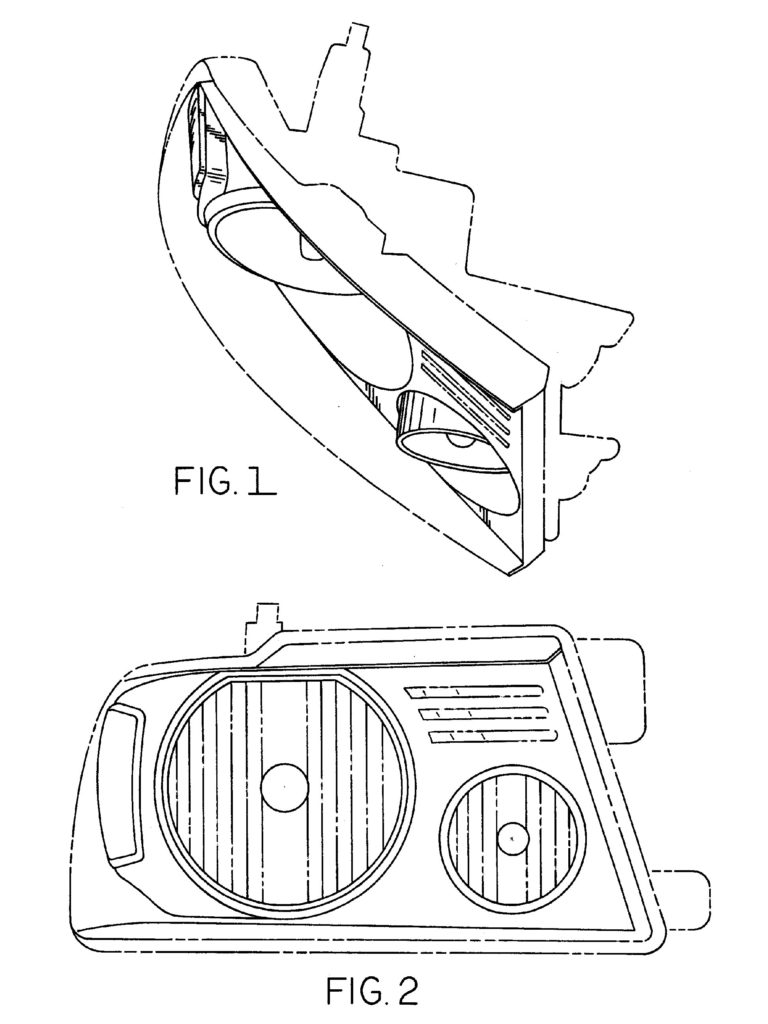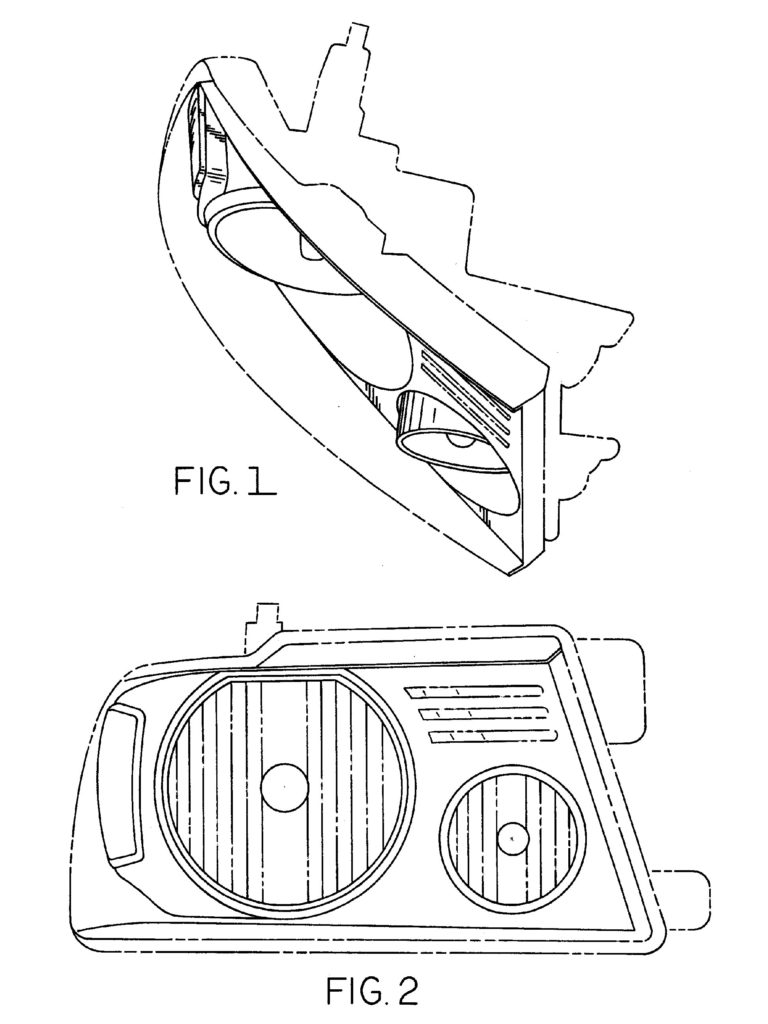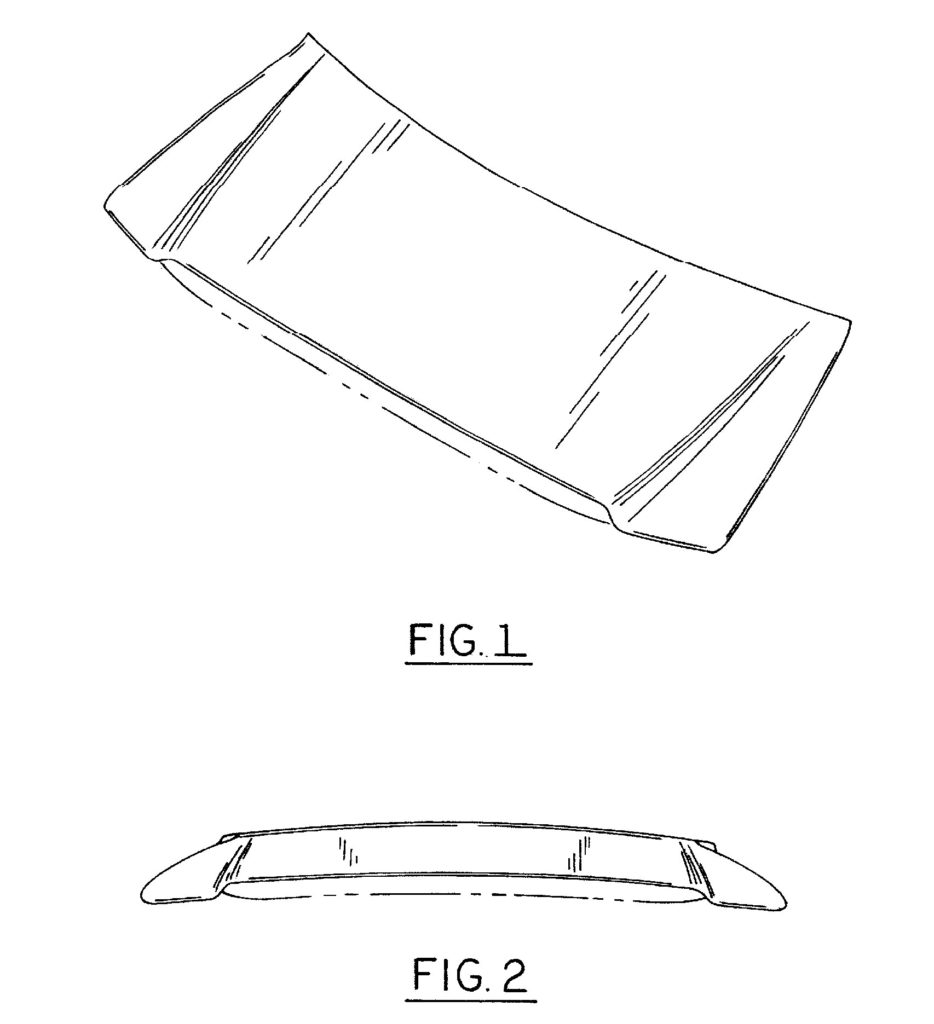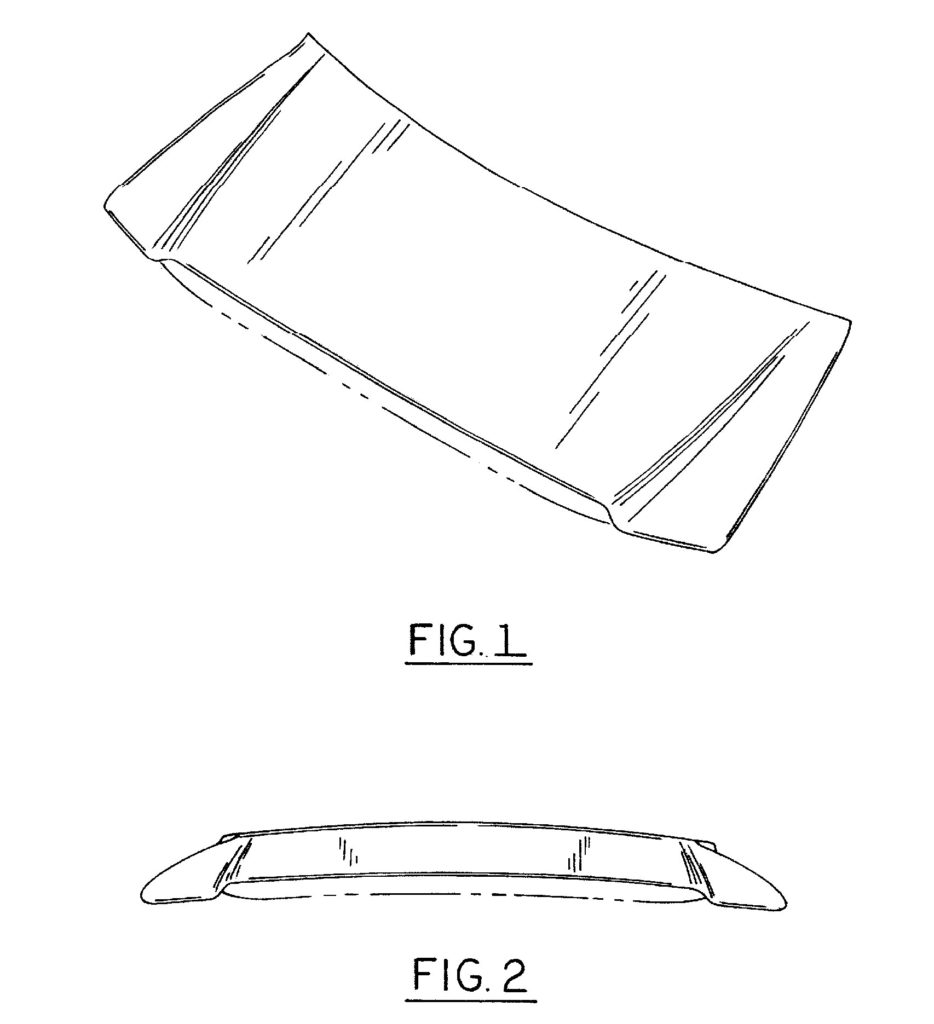 The ABPA seems to overstate what Ford can do and what recourse the aftermarket has. Design patents only protect the appearance of an object — no function. (Function is protected by utility patents — the documents we typically associate with patented inventions.)
Whether an appearance OK'd by the Patent and Trademark Office is always sufficiently original to survive a court challenge is another question. For example, you probably couldn't design-patent a plain fork, but you could design-patent a fork with a unique swirly pattern etched into the handle.
As an OEM patent attorney pointed out in a hearing over the PARTS Act — which seeks an exemption from the current 14- to 15-year design patent protections only for aftermarket automotive parts — there's nothing about about a design patent that restricts used or reconditioned parts. Nor does it restrict any aftermarket "fender, hood, light assembly, nut and bolt" so long as it looks different enough. (But like a replacement panel without paint, it might be obvious you don't exactly have a factory part.)
Salamy also expressed concern that ABPA members would be relegated to creating aftermarket imitations of older parts only for "supplying parts for antique cars." Admittedly, the average car on the road is only about 11.5 years old, but 14 years would mean anything design-patented in 2002 becomes fair game this year. Fifteen-year patent protections exist for design patents filed after a point in 2015.
ABPA wants a federal court to find that Ford's "design patents directed toward automotive body repair parts are invalid, unenforceable, and not infringed by ABPA Members" and block Ford "from enforcing or attempting to enforce
the subject design patents directed toward automotive body repair parts against ABPA Members.
The Eastern District of Michigan is defendant Ford's home turf. Plaintiff ABPA's corporate headquarters are in Rhode Island, and relevant ABPA member New World is headquartered in a different Texas district. Patent cases are nationally relevant and can be filed anywhere, but defendants can try and seek a transfer to a more convenient venue.
The Eastern District of Texas has gained notoriety as friendly to "patent troll" plaintiffs, though such controversial figures are typically known for suing other companies over the trolls' portfolios of allegedly vague or dust-gathering patents. (See this coverage in NPR and Ars Technica.) Ironically, the former is what ABPA alleges Ford has done.
"Ford Global Technologies uses design patents on automotive body repair parts to limit distribution and increase cost of the repair parts," ABPA wrote in its lawsuit. "This action seeks a declaration that such automotive body repair part design patents are invalid and/or unenforceable under the doctrines of patent exhaustion and/or functionality and are not infringed by ABPA members." (Patent exhaustion refers to the inability of a party to control an individual version of a patented item after it has been sold.)
But ABPA still sought to keep the case in the Eastern District of Texas following Judge Amos Mazzant's decision that Michigan's Eastern District had a stronger local interest in the case than his.
"It is clear to this Court that the research, design, advertising decisions, and marketing decisions all occurred in the Eastern District of Michigan, giving that district the greatest local interest in deciding this dispute," Mazzant wrote in granting the transfer, though he noted that ABPA listed more Texas witnesses than Ford listed in Michigan. "The Eastern District of Texas lacks any meaningful connection to this litigation."
ABPA first asked Mazzant to reconsider, citing his having sent the case to Michigan before the 21-day time period mentioned in court rules (which also point out that a judge can also act before that) had elapsed. He refused to do so,   followed by an unsuccessful similar attempt before Eastern District of Michigan Judge Laurie Michelson.
"The Court does not appreciate ABPA asking for reconsideration under the guise of a motion for retransfer," Michelson wrote. "In granting ABPA leave to file a motion to retransfer, the Court expected that ABPA would get to the merits of Judge Mazzant's January 7, 2015 transfer order, in particular, Judge Mazzant's assessment of the eight public and private interest factors informing his decision to transfer the case here."
Neither worked, so it appealed to the Federal Circuit of the U.S. Court of Appeals. That court also was unsympathetic.
"ABPA argues that the Texas court's interpretation should be given no weight because, at the time, that court had relinquished jurisdiction over the case," it ruled. "But ABPA cannot have it both ways. It cannot ask for relief from the Texas court in seeking to have the transfer declared premature, and then credibly argue that the Texas court's reconsideration decision is a nullity after receiving an unfavorable ruling."
The U.S. Supreme Court declined June 27 to hear the case, which means it stays in Michigan.
"The aftermarket parts industry is in a fight for its life, and, like the British people, we shall never surrender," Salamy wrote, referencing the infamous Churchill quote.
More information:
Ed Salamy in Body Language, July 26, 2016
Ford 2004 hood patent at issue
Ford 2005 headlamp patent at issue
Images:
The Automotive Body Parts Association, whose members sell imitation versions of original Ford parts, sued Ford in 2014 over 2004 hood (pictured) and 2005 headlight design patents. (Ford patent, courtesy of United States Patent and Trademark Office)
The Automotive Body Parts Association, whose members sell imitation versions of original Ford parts, sued Ford in 2014 over 2004 hood and 2005 headlight (pictured) design patents. (Ford patent, courtesy of United States Patent and Trademark Office)
Share This: