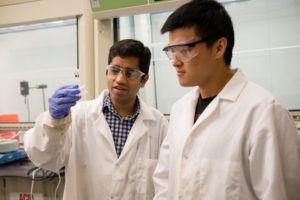 Bring a house painter onto your auto paint team: A Clemson scientist and a USDA lab are attempting to create composite fenders and bumpers out of wood fibers.
Clemson's Srikanth Pilla and the Forest Service's Forest Products Laboratory plan to convert trees removed during forest restoration into the parts.
Pilla, an automotive engineering assistant professor, has theorized that "cellulosic nanomaterials" could lead to collision parts like bumpers and fenders able to absorb multiple impacts.
"They will absorb the energy and just stay intact," Pilla said in a statement Wednesday. "You won't have to replace them because there will be no damage at all. Parts made with current materials might resist one impact. These will resist three or four impacts."
Cellulosic nanomaterials are "liquid suspensions of tiny rod-like structures with diameters 20,000 times smaller than the width of a human hair," according to Clemson.
A composite really is just a solid object reinforcing a cured liquid matrix. (See Activity VI from this UTEP presentation.) — whether that's rebar in concrete, fiberglass boats or carbon-fiber BMWs. So the idea makes sense.
Clemson described the parts as compostable ("biorenewable," technically), useful for European auto recycling rules that the university said could someday come to the U.S. Lightweighting competitors steel and aluminum also frequently tout their recyclability, but a lightweight body panel you could compost might have the environmental win.
As with any slick new automotive technology, the trick is pulling it off cheaply and quickly enough for mass production. Clemson noted that the the nanomaterials are hydrophilic, while the polymer that would contain them is hydrophobic — pairing the two could be difficult.
"We will use supercritical fluid as a plasticizer, allowing the nanoreinforcements to disperse through the polymer," Pilla said in a statement. "We can help develop a conventional technique that will be scalable in the automotive sector."
Pilla also has been developing "ultra-lightweight" doors for CAFE/emissions-conscious OEMs as part of a $5.81 million, five-year Department of Energy grant, according to Clemson. He's near the end of the first year of the funding.
This time, he's getting $481,000 over five years as part of Forest Service efforts to find something to do with the nanomaterials, which are abundant but generally overlooked. Which is a shame, because the stuff is available from trees removed in wildfire-preventing forestry efforts — meaning producers wouldn't need to cut down healthy trees on top of the ones the feds were going to fell anyway.
Though you wouldn't expect a wood pulp derivative to be the most thrilling substance in the world, the USFS points out some intriguing possibilities in this 2014 study.
"We find appropriate outlets for all kinds of forest-derived materials," Forest Products Laboratory engineer Craig Clemons, the other lead scientist on the effort, said in a statement. "In this case, it's cellulosic nanomaterials. We're trying to move up the value chain with the cellulosic nanomaterials, creating high-value products out of what could otherwise be low-value wood. We'll be producing the cellulosic nanomaterials, which are the most fundamental structural elements that you can get out of wood and pulp fibers. We'll also be lending our more than 25 years of experience in creating composites from plastics and wood-derived materials to the project."
More information:
"Researchers say trees could help strengthen auto parts"
Clemson, July 27, 2016
Clemson automotive engineering assistant professor Srikanth Pilla works with a graduate student. (Provided by Clemson)
Share This: