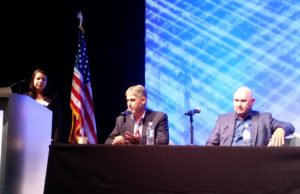 Your trash is fair game for state regulators, and violating materials found inside can ring up thousands of dollars in fines, an environmental expert and two collision repairers warned California repairers last week.
KPA client development engineer Jennifer Blake and Cooks Collision President and Co-CEO Rick Wood and operations Vice President Mike Barber shared some potential pitfalls at the Anaheim, Calif., Collision Industry Conference on Aug. 9. Blake also warned collision repairers about some common environmental compliance misconceptions, which we've covered here.
CIC Chairman Randy Stabler indicated at least one Cooks location learned about some regulations the hard way. The company was brave enough to share its story so peers could avoid the same expensive lesson about the "very scary situation," Stabler said.
In a nutshell, there's not much a shop can place in the trash — an industrial business like a collision repairer doesn't have nearly the kind of leeway a home does, and its trash isn't sorted either.
"Industrial trash is entirely different," Blake said. Garbage left outside for pickup also isn't private property — it's considered public in California.
Anything considered hazardous must be put in an appropriate hazardous waste barrel. You'll need several barrels, separated by waste category. For example, separate barrels for solvent-based paint, waterborne paint, body filler, used oil, floor sweep, batteries (including tool batteries), light bulbs (including dash lights) and e-waste (think of all the computers on cars), etc., according to Barber and KPA.
Some of these items, like oil, are considered hazardous waste violations at a state-specific level only, while others are on the national federal radar, according to KPA. Shops must check both their own state and federal jurisdictions to ensure compliance.
Barber encouraged shops to sign up for a universal hazardous waste program immediately, which allow some wastes to be comingled and remain for up to a year on-site.
The automotive industry is a juicy target, according to Blake, and regulators often will be particularly critical larger of violators within it, both for concerns of unfair competition and because of the mindset, "'You can afford to take care of your waste.'"
Any violating material in a dumpster not only incurs a penalty itself, but it can be multiplied by the number of potential violations possible across the business, according to Blake. "That adds up — pretty quickly," she said.
California can slap multiple fines per violation and then compound it (see slide below) over the number of potential violatinos, while the feds will impose a single fine per violation but still can compound it, according to KPA.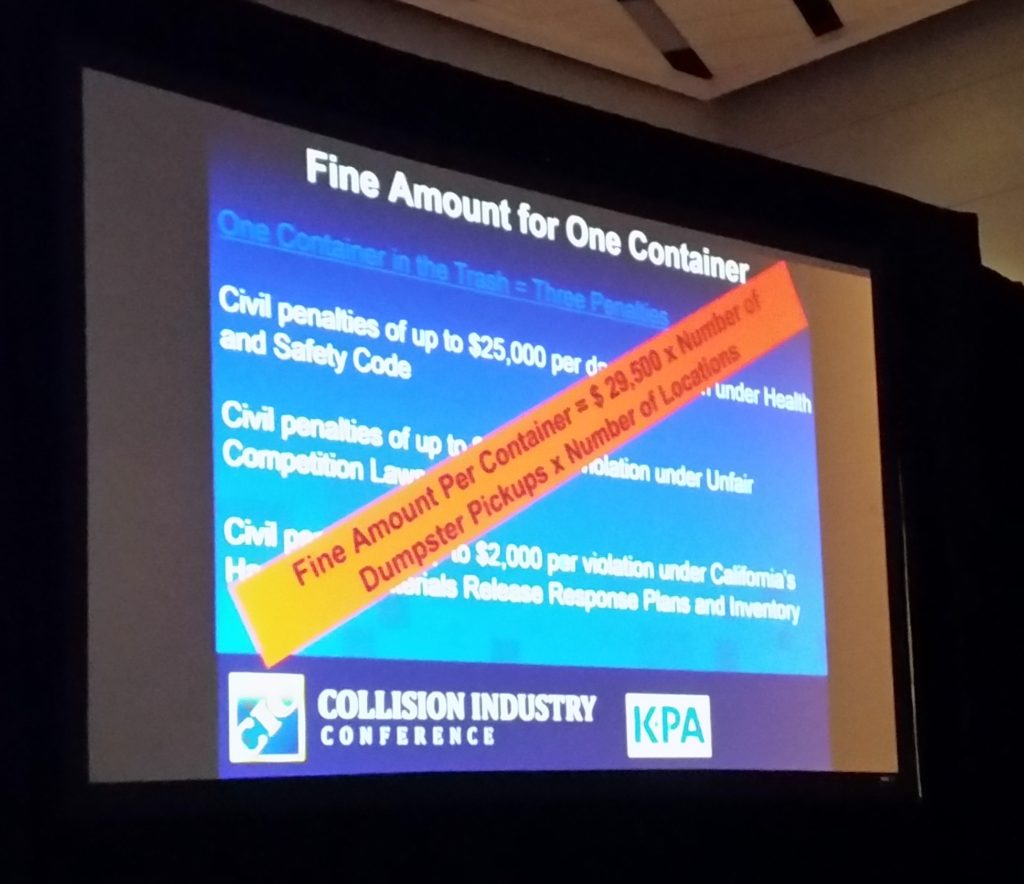 Businesses without a plan to manage their waste can find themselves "way behind," according to Blake.
Barber attended a California Department of Toxic Substances Control class, and found what Cooks thought it knew was wrong. Barber said Cooks staff had been used to throwing everything in a single trash can, and so the business had to roll out a training plan to teach everyone the proper, compliant SOP.
"It was a very big project to undertake," he said.
Wood said his company has 750 employees, and it had to retrain everyone "it no longer can go there" in a trash can. It turns out "there's very little" that can go into the trash, Barber said.
Barber said there's only a certain amount of time each hazardous waste stream barrel can stay at the facility — you have to service them at least twice a year, he said — and compliance also involves paperwork.
"There's a lot of legwork" needed, he said. "It's a full-time job."
"You get accustomed to what's acceptable," Wood observed, and a business will think it's on top of compliance. But until you go to training, you won't understand what the state accepts.
Mundane items like cleaning products, hand purifier and sandpaper are even considered hazardous waste, Wood said.
"It is the toughest year I ever went through," Wood said.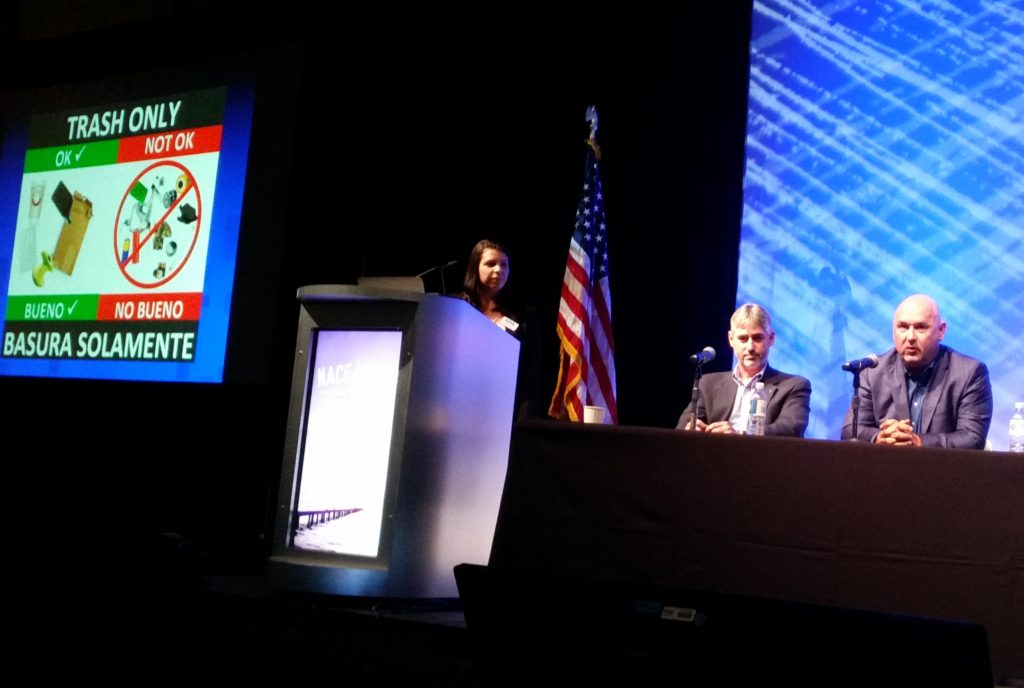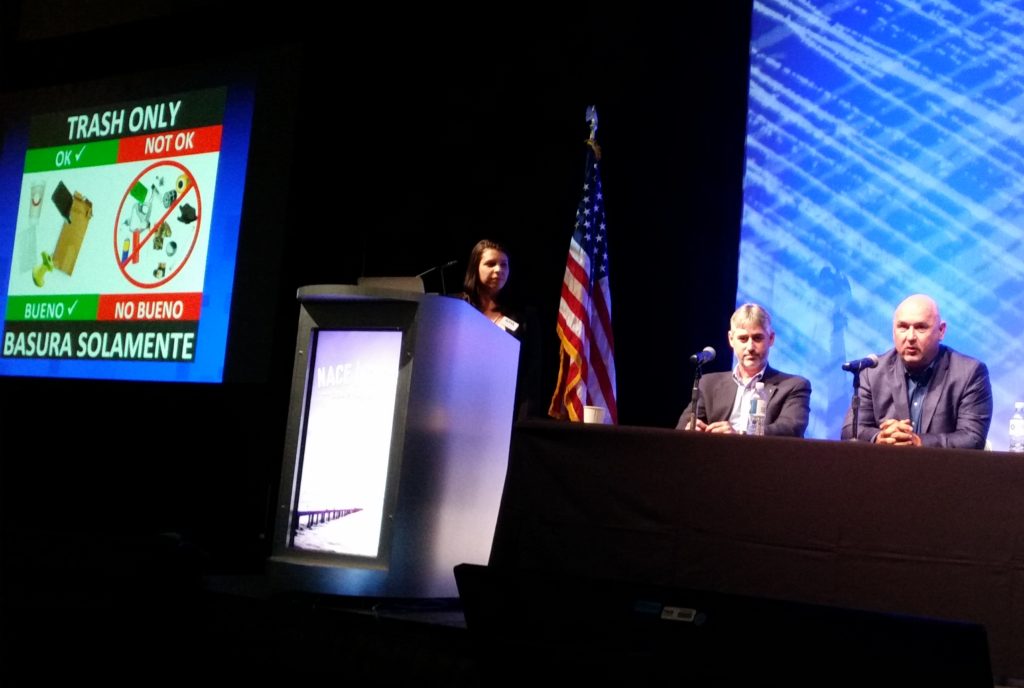 The statute of limitations in California is four years, which when you consider the multiple trash pickups over that time compound into some serious fines.
Get educated, Wood warned. "It is coming," he said, and "they mean business."
It's possible to test items and prove they're compliant, Wood said, but it's a risk.
This is an expensive matter. "Our costs went up over 300 percent. Per job," Wood said.
Whether to pass these costs on to customer is up to each individual collision repairer in the industry, Wood said. He encouraged owners not to ask for the additional money until becoming compliant — just as a matter of ethics.
Images:
KPA client development engineer Jennifer Blake, left, and Cooks Collision Vice President Mike Barber, center, and President and Co-CEO Rick Wood shared some potential environmental regulation pitfalls at the Anaheim, Calif., Collision Industry Conference on Aug. 9, 2016.  (John Huetter/Repairer Driven News)
This slide from environmental consulting firm KPA displays potential California fines for environmental noncompliance. (Provided by KPA; photo by John Huetter/Repairer Driven News)
Share This: