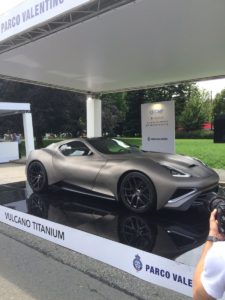 Once in a while at an automotive conference, a panelist drops titanium alongside aluminum, ultra-high-strength steels, carbon fiber and magnesium as a potential vehicle lightweighting prospect.
An Italian company shows us with why with the titanium and carbon-fiber body of the Icona Vulcano, billed as the first full titanium body ever. The supercar made an appearance last year at the Pebble Beach Concours d'Elegance and recently has been garnering U.S. press ahead of what Automobile magazine reports will be its sale Sept. 1. The one-off is priced at $2.8 million and will be offered to three competing buyers, the magazine reported.
Icona says the car can go from 0-60 in 2.8 seconds and reach 220 mph, and it weighs only 3,516 pounds. The body was hand-crafted at CECOMP and took more than 10,000 hours of work to achieve the SR-71 Blackbird-inspired design.
"As different ideas came together, the most challenging design issue which we faced was how to create a balance between power and beauty," Icona design director Samuel Chuffart said in a statement. "When you're trying to create a feeling of aesthetic harmony, you risk creating too many sweet lines, which decreases the feeling of power. On the other hand, if you make too much of the powerful features which are necessary to a super sports car such as its cooling cutouts and blades which manage the air flow, they become graphically too dominant, and this makes the car less beautiful.  The way we found the right balance was using symmetrical signatures for the greatest simplicity."
Automobile reported that the titanium quarter panels are 0.5 mm thick, which is about the thickness of five pieces of printer paper. The metal also apparently explodes fairly easily, based on the magazine's report that the Vulcano "got its name partly because the titanium welding process required a special vacuum chamber so it wouldn't combust, like a volcano."
Obviously, this project is more of a "because it's there" type endeavor. But earlier this year, scientists at the Pacific Northwest National Laboratory published in Nature Communications that they'd figured out how to strengthen the cheaper titanium they'd developed about six years ago.
"We found that if you heat treat it first with a higher temperature before a low temperature heat treatment step, you could create a titanium alloy 10-15 percent stronger than any commercial titanium alloy currently on the market and that it has roughly double the strength of steel," PNNL material scientist Arun Devaraj said in a statement.
For all its reputation, titanium isn't actually all that strong naturally, though it is 45 percent the weight of low-carbon steel, according to the PNNL. However, 50 years ago, scientists figured out they could blend it with iron, aluminum and vanadium to create the Ti185 alloy — but it only was strong in "clumps" and had beta fleck defects where the iron clustered.
However, PNNL tried titanium hydride powder instead of molten titanium and created a cheaper and quicker way to do it — half the processing time and much less energy. Research partner Advance Materials has commercialized the process and sells the powder and other materials to aerospace.
Researchers looked at the original powder-made Ti185 alloy under an electron microscope to figure out where all the different element atoms moved during heating and were able to create an optimized structure that would yield "the strongest titanium alloy ever made," according to PNNL.
OK, here's where it gets really interesting:
"Steel used to produce vehicles has a tensile strength of 800-900 megapascals, whereas the 10-15 percent increase achieved at PNNL puts Ti185 at nearly 1,700 megapascals, or roughly double the strength of automotive steel while being almost half as light," PNNL wrote.
That's stronger than the ultra-high-strength steel "door ring" type structures OEMs are using to ace IIHS crash tests.
"This alloy is still more expensive than steel but with its strength-to-cost ratio, it becomes much more affordable with greater potential for lightweight automotive applications," PNNL metallurgist Vineet Joshi said in a statement.
Ironically, the researchers' discovery might end up leading to other metals still beating out titanium for vehicle design. PNNL in its news release wondered what would happen if the cheaper aluminum alloy could be "hierarchically arranged" like the titanium for greater strength.
"This pushes the boundary of what we can do with titanium alloys," Devaraj said in a statement. "Now that we understand what's happening and why this alloy has such high strength, researchers believe they may be able to modify other alloys by intentionally creating microstructures that look like the ones in Ti185."
More information:
"World Exclusive: 220-mph Icona Vulcano First Drive"
Automobile, Aug. 8, 2016
Icona, Aug. 4, 2015
Pacific Northwest National Laboratory, April 1, 2016
Featured image: The Icona Vulcano is seen in this photo posted by Icona on its Twitter feed. (Provided by Icona)
Share This: