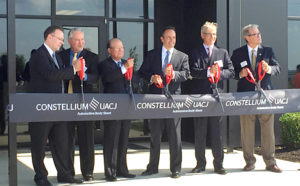 A $150 million, 225,000-square-foot automotive sheet plant opened last week in Kentucky, yet another indication of how broadly aluminum could appear on new model years — and subsequently impact collision repair.
The Constellium-UACJ plant in Bowling Green can expand further if necessary, both in jobs and employees, according to the Kentucky Cabinet for Economic Development. The state of Kentucky will kick in $4.5 million worth of tax incentives so long as the plant's two namesake manufacturers create 80 full-time jobs in a decade. Another $1.5 million could also be available.
The site will open with 65 employees and at first have the capacity to produce 100,000 metric tons. According to Constellium, automotive aluminum body sheet demand in North America alone is projected to double from 500,000 metric tons in 2015 to 1 million by 2020 — just three years away. See more projections here, here and here.
"The plant is currently in qualification phase, with ramp-up planned over the next two years," Constellium wrote. "As of today, the line is essentially committed with orders from leading automotive OEMs in North America."
The facility can produce "flat rolled" aluminum which could be used in "a wide range of applications including closure panels, as well as body structures," according to Constellium.
Constellium is based in the Netherlands, UACJ in Japan. Both companies are giants, and UACJ is No. 3 in aluminum production capacity worldwide.
"We are thrilled to be opening this plant at a time when the aluminium automotive market in the US is extremely promising," UACJ representative Director and President Mitsuru Okada said in a statement. "We are delighted to contribute to the automotive customers in North America not only with our automotive parts business, but also with Constellium-UACJ's advanced and innovative products with a state-of-the-art continuous annealing and pretreatment line."
---
Learn more about aluminum, other substrates at Repairer Driven Education
Collision repairers seeking information on what new materials like aluminum, carbon fiber and higher-strength steel will mean for their shops should check out courses like "Structural Repair and Materials for 2016 and Beyond" with Ken Boylan of CHIEF Automotive, "Case Study of the Procedures for Steel Quarter Panel Replacement" with Larry Montanez of P&L Consultants and "Advanced Vehicle Materials, Construction and Repair Considerations" with Mark Voss of General Motors and Frank V. Billotto of Dow Automotive. Those sessions are part of the Society of Collision Repair Specialists' Repairer Driven Education Series from Nov. 1-4 during SEMA. Register here.

---
Ford, GM and Toyota all have Kentucky operations, as do Tier 1 automotive suppliers. The Kentucky Automotive Industry Association boasts that the state is No. 3 in passenger vehicle production. Neighboring Tennessee houses and GM, Nissan and Volkswagen operations.
"Constellium-UACJ is a huge investment for not only Warren County and South Central Kentucky, but for the entire state," Warren County Judge-Executive Mike Buchanon said in a statement. "Our region's strong automotive industry continues to gain momentum and will continue to do so with the success of companies like Constellium-UACJ."
Wrangler aluminum 'sighting'?
In other aluminum news, a Jeep Wrangler aficionado message board report of a leaked Alcoa memo has daisy-chained around automotive media and prompted a flurry of coverage about the popular vehicle.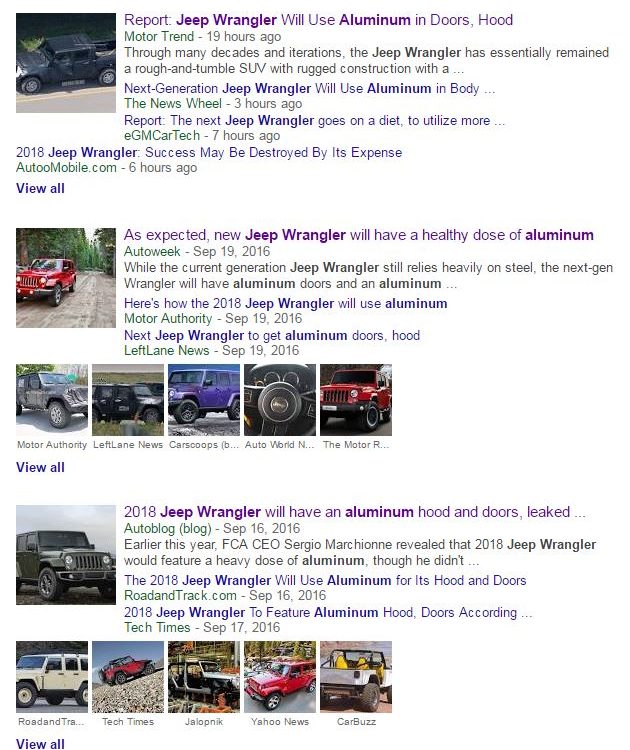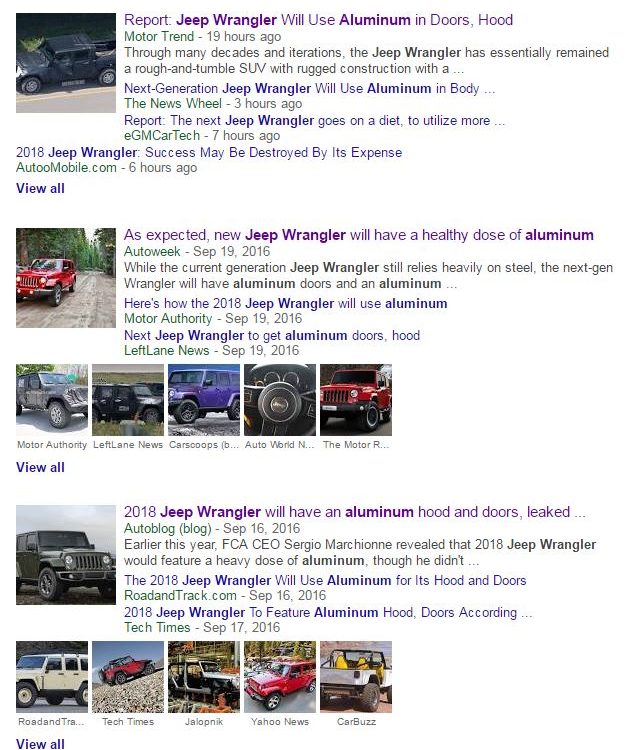 A JL Wrangler Forums thread reported last week it has obtained and confirmed a leaked Alcoa memo describing "C6A1 high form" aluminum on the 2018 Jeep Wrangler and 6022 and A951 alloys on the door inners and both the hood outer and inner.
"I love how this forum is the leading edge of JL rumors for news media.
" one poster commented on the thread. Others discussed how aluminum on the doors would make them more convenient to remove for off-roading.
Neither FCA nor Alcoa would independently confirm the memo's accuracy to Repairer Driven News on Wednesday.
"Alcoa can't confirm any of the information in that piece," an Alcoa spokeswoman wrote to Repairer Driven News.
"We don't have anything to announce at this time," an FCA Jeep spokesman wrote.
Heavier vehicles generally need more lightweighting to meet CAFE standards and subsequently have been predicted to follow the F-150 route and adopt aluminum sooner.
FCA CEO Sergio Marchionne already in 2015 indicated to Automotive News and the Wall Street Journal the company would use some aluminum in the Wrangler and more in the Wagoneer.
FCA sold 134,332 Wranglers through August and at least 202,700 last year.
More information:
"UACJ and Constellium Hold Opening Ceremony for Joint Venture Company That Will Manufacture and Sell Aluminium Materials for Automotive Panels in North America"
UACJ, Sept. 15, 2016
"Constellium and UACJ Announce Opening of their Joint Venture's Automotive Body Sheet Plant in Bowling Green, Kentucky"
Constellium, Sept. 14, 2016
"Gov. Bevin: Opening of Constellium-UACJ Aluminum Auto-Body-Sheet Plant in Bowling Green Helps Industry Prep for Future"
Kentucky Cabinet for Economic Development, Sept. 14, 2016
"2018 Jeep Wrangler Aluminum Parts Confirmed by Alcoa"
JL Wrangler Forums, Sept. 16, 2016
Share This: