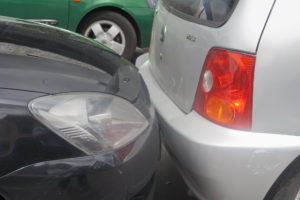 We've all done it or know someone who has.
Two drivers settle a minor ding or bump out-of-pocket, rather than notify each other's insurance or the cops. Everyone goes about their business, and nobody gets a blemish on their driving record or sees premiums rise.
Set aside the question of how minor the damage truly is given the location and sensitivity of sensors and cameras, as well as the moral question of whether a policyholder has the duty to tell an insurer of a minor loss. From a practical basis, will telematics systems such as CCC's DRIVE be the end of these casual, "gentlemen's agreement" deals by detecting a collision and automatically notifying one's insurance — and potentially the authorities — of the impact?
Technologically, low-speed collisions are harder to classify if the telematics platform relies on the physics data gleaned from a smartphone, CCC corporate strategy Senior Vice President Marc Fredman said. So for insurers using those systems, such limitations might essentially preserve the status quo. However, OBD-II devices and OEM-built internal telematics systems are "very accurate," he said.
Fredman said there's really two questions to consider even if the insurer has access to a more precise system. The first surrounds the business model of the insurance company itself, he said.
It's easy to see his point. Insurers are already promoting "Accident Forgiveness" programs for such impacts. Even if a carrier doesn't offer such a perk, raising rates too much on a customer risks losing them to a competitor which has a different strategy on risk and premiums. There's also the cost-benefit equation of investing time and money in handling a claim which might ultimately be covered by the customer's deductible anyway.
The other considerations at play in how a telematics system handles minor collisions would involve local regulations and the customer authorizations "that are gonna be a core part of this stuff," according to Fredman.
"This is a very highly regulated industry," Fredman said of auto insurance. He said CCC anticipated different DRIVE configurations and product designs "by state."
Individual customers might not want to authorize crash-detection services at all, while others might appreciate the idea, or at least the opportunity to have their information automatically uploaded when they choose to file a claim.
If a customer does want to notify an insurer, "the facts are gonna be the facts," Fredman said, which makes sense. A State Farm representative recently raised a similar point regarding OBD-II freeze-frame data (basically, a less advanced form of telematics), which collision repairers and insurers might find valuable for pinpointing pre-loss issues or detecting post-repair complications aren't actually the shop's fault.
Greater impact detection and easy sharing of data might benefit the collision repairer industry by connecting shops and customers, Fredman speculated.
There's different estimates of how much collision and mechanical service and repair business has been floating around ignored or undetected by customers. (Sean Carey of SCG Management Consultants recently cited one estimate that $60 billion worth of work remains undone.) The shop-customer-car data exchange might help both mechanics and auto body shop staff sell themselves to customers.
"If you can make the process of completing work easier, that may actually be able to help improve the conversion rates," Fredman said.
For example, he said, a customer with minor damage might be able to find a trusted shop which has an opening to handle the work.
"Maybe that lifts all boats," Fredman said.
More information:
CCC, Sept. 7, 2016
"CCC DRIVE™ Platform Harnesses the Power of Telematics to Significantly Improve Claims Management"
CCC, Sept. 7, 2016
Featured image: Rear-end collision on a main street in San Jose, Costa Rica, on Aug. 31, 2008. (lilly3/iStock file)
Share This: