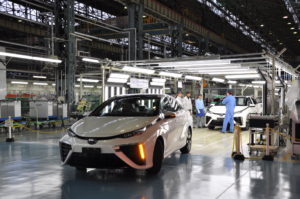 Any independent collision repairer who's kept up to date on modern automotive materials should be able to fix the hydrogen fuel-cell Toyota Mirai — so long as designated dealerships check the powertrain for leaks first.
"It's pretty uneventful," Toyota Collision Repair and Refinish Training assistant manager Eric Mendoza said Friday.
For shops possessing the knowledge and equipment to repair with OEM procedures a body incorporating higher-strength steels and aluminum panels, "they're not gonna have any trouble with this," according to Mendoza.
"They don't need any (Mirai) special training or special equipment," he said.
For mechanics, it'd be a whole different story, of course, he said. At this point, only a handful of qualified California Toyota dealerships are authorized to perform mechanical service and repair on the car, and owners are directed and incentivized to go there, he said.
For collision repair, there's no such restrictions, he said.
There is one caveat, and it's one collision repairers, towers, insurers and first responders must understand. The Mirai must be towed to one of the designated dealerships to check the "tank" for leaks following a collision, Mendoza said. If the owner still is covered by ToyotaCare, which was expanded to offer additional perks to Mirai buyers, the tow is free, according to Toyota.
Those dealers have special hydrogen bays and leak detectors, and they know how to remove the tank if necessary, Mendoza said. If the collision repair requires the fuel tank be removed, those select dealerships must handle that part.
Leaks are actually less of a threat than skeptics might think, according to Toyota.
The Mirai has countermeasures in place to detect leaks and shut off the hydrogen flow, and the tank has been reinforced to the point where Toyota had to use high-caliber bullets to test crash resistance. (Which to anyone with an inner child ought to sound like the most awesome testing in the world.)
---
Hear more about tech, training from automakers at OEM Summit
Collision repairers can network and learn more about scanning, body materials, joining and training with  Toyota's Eric Mendoza and other automaker and Tier 1 experts during the 2016 OEM Collision Repair Technology Summit hosted by the Society of Collision Repair Specialists during the Repairer Driven Education Series Nov. 1-4 at SEMA. Register here.


---
Hydrogen actually has many positive safety aspects, from a vehicle fuel perspective: 1) it's lighter than air, and disperses quickly clearing the fuel from the area of the vehicle, 2) if there is an ignition source that lights the gas on fire, the gas will "flare" very quickly into the air, which is beneficial because it removes the fuel rapidly reducing time to cause damage or harm.
In the case of Mirai, the Toyota-designed carbon fiber reinforced hydrogen tanks have undergone extreme testing, including being shot with high caliber bullets, to ensure their durability in a crash. In fact, during testing, engineers had to move to high caliber bullets in their efforts to puncture the tanks to help determine the force they can take. In the event of a major accident, there are multiple safety systems in place to protect the tanks and overall vehicle.
But body-in-white crash energy management also has a role in protecting the tank, according to Toyota — and that's where body shops would of course have a responsibility to ensure this crashworthiness is restored.
"The frame is designed to distribute crash forces efficiently throughout the vehicle frame and numerous components and materials, reducing cabin deformity to protect vehicle occupants and minimizing body deformation around the fuel cell stack and high-pressure hydrogen tanks," Toyota wrote.
Regardless of all these safety protocols, the car must be checked by a dealer following a crash.  Then it's all yours for the body work.
The Mirai ("Mee-rye," in case you were curious.) debuted in 2016, and Toyota on Tuesday announced pricing for the 2017 model. The car costs $57,500, but a buyer has a crack at $13,000 in federal and California incentives and can drive solo in what Toyota calls the "coveted" California carpool lane. Plus free "gas" and seven days of rental cars a year for three years.
Toyota also has cut the Mirai lease price from $499 to $349 a month, which might make the car more likely to capitalize on recent leasing popularity.
Mendoza called it a "really awesome car," likening it to "buying a Lexus with a Toyota badge on it."
The car, seen at the Anaheim, Calif., NACE is for now limited to the West Coast, and Toyota's only sold 641 in its entire lifetime. Technically, owners aren't supposed to take it out of the range of the infrastructure.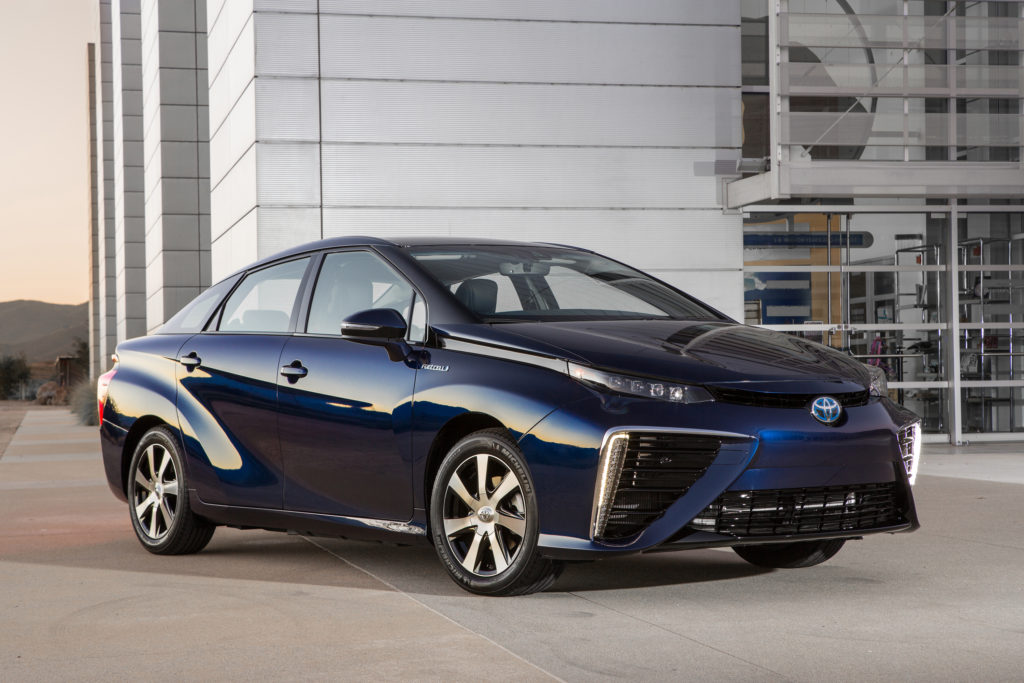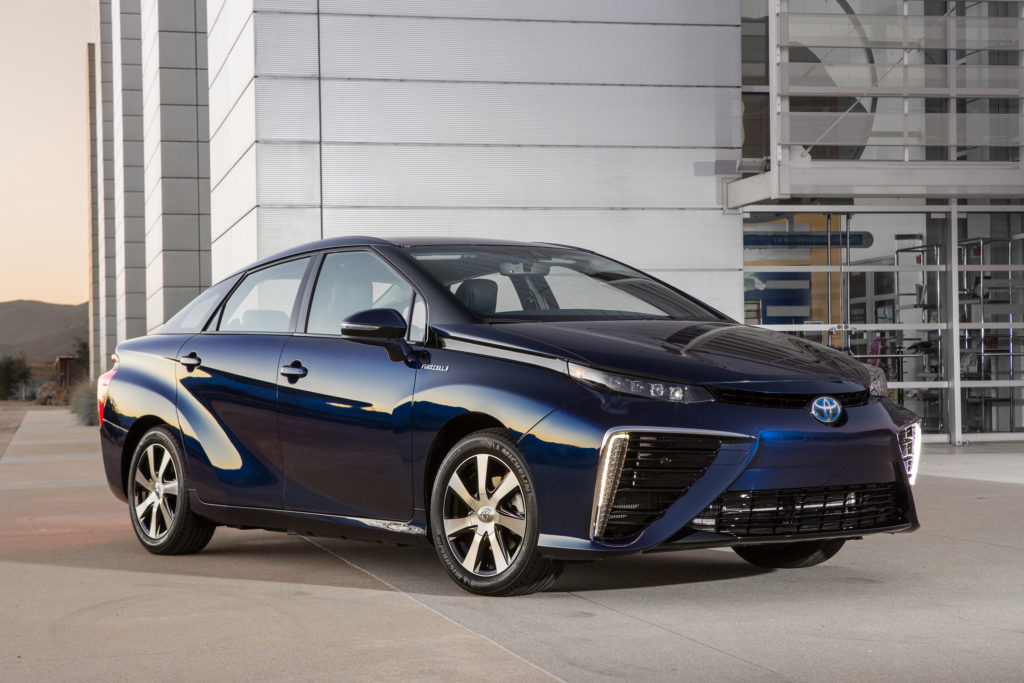 But the Mirai and "FCVs" like it might not be a local anomaly for long. Toyota, like alternative-fuel competitor Tesla, has made its patents available to spur development. Other competitors have gotten into the fuel-cell game — perhaps most notably Honda, whose 2017 Clarity should be on sale soon.
Such vehicles might be very attractive to commercial fleets and the buying public. The Mirai gets 312 miles of range and 67 "mpg," according to Toyota, and you can fill it up about as fast as you could with a gasoline-powered car. Toyota says an owner can fill an empty tank in 5 minutes — as opposed to at least a half-hour with tech like Tesla's high-speed Superchargers for fully electric cars.
So collision repairers outside of California should be aware of the technology too and what restrictions — and freedoms — Toyota and other OEMs are placing on the auto body industry.
More information:
"Toyota Announces 2017 Mirai Pricing"
Toyota, Sept. 20, 2016
Images:
Production of the Toyota Mirai, now on sale in the U.S. (Provided by Toyota)
The 2016 Toyota Mirai. (Provided by Toyota)
Share This: