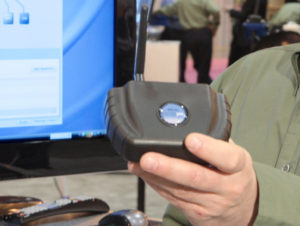 Asked about reports from two states of local adjusters disputing the need for pre- and post-repair scans, an Erie Insurance corporate spokeswoman clarified Monday that the company's stance is to follow OEM recommendations regarding the procedure.
"What I can tell you is that we do what is best for the customer and the vehicle and follow the manufacturers' recommendations on pre- and post-repair scans," Leah Knapp of Erie social media and corporate marketing wrote in an email Monday. "Basically, if the manufacturer requires it, we do it. As you probably know, we have begun asking manufacturers for additional clarification on the need for these scans when the repairs are unrelated to crash avoidance and other newer technology not found on older-model cars. Our goal for the customer is to get the claim settled and repair done as quickly and safely as possible so that he or she can get back to their lives."
Repairers in Maryland and another Eastern U.S. state had recently described Erie staff disputing the need for the procedures despite OEM statements.
Field-level confusion
In the Maryland case, we received a copy of an email chain (see redacted and condensed version here and below) which indicated a senior Maryland material damage supervisor was provided with the official FCA position statement via FCA's Mopar Repair Connection website and the OEM1Stop portal but apparently disregarded them. (One must sign up for a free FCA login to access it, a minor but certainly not restrictive barrier; the Mopar site is open to insurers too.)
Instead, the supervisor relied in favor of what he had been told by local Chrysler-affiliated body shops — and said he was still seeking an FCA opinion.
"Erie Insurance is looking into the contention of having to pay for pre and post scans on all collision losses involving Dodge Chrysler vehicles," the senior material damage supervisor wrote in late August. "We have talked with 2 Chrysler dealer affiliated body shops and both have indicated that a pre and post scan is not required.  We have requested the Dodge Chrysler regional reps information so we can get an official written opinion from Dodge Chrysler.  Based on the information we have been given by Dodge Chrysler body shops at this point indicates that pre and post scans are not required on 2011 Dodge trucks.  We are continuing to look into this and once we have the regional reps contact information will be requesting this information in writing."
---
Learn more about scanning at Repairer Driven Education
FCA and other automakers will examine when and why a body shop would scan a customer's car in Part I of the "Restoring Vehicle Functionality through Electronic Technology and Diagnostics" forum Nov. 3 at SEMA. Part II of the discussion examines how you'd scan the vehicle, with a panel made up of diagnostics tool manufacturers and I-CAR industry technical relations director Jason Bartanen. The scanning session is part of the 2016 OEM Collision Repair Technology Summit hosted by the Society of Collision Repair Specialists during the Repairer Driven Education Series Nov. 1-4. Register here.
---
FCA in June had emailed Allstate, Amica, Erie, Esurance, Farmers, GEICO, Kemper, Liberty Mutual, Metlife, Nationwide, Progressive, Safeco, Shelter, State Farm, Travelers and USAA representatives a copy of its position statement, based on correspondence provided to us then.
"Safety and security related systems, such as antilock brakes, supplemental restraint systems (SRS – air bags), occupant restraint controller (ORC), seat belts, active head restraints, forward facing camera and radar, blind spot monitoring, and other automated electronic driver assistance systems, MUST be tested for fault codes (DTCs) that could be active (current) or stored following a collision," FCA wrote in the position statement. (Emphasis FCA's)  "Use of the Mopar wiTECH vehicle diagnostic tester is necessary before and after collision repair."
A subordinate in Maryland appeared to have been even more confused about his company's stance prior to that supervisor's involvement, arguing "Erie Insurance does not do a scan on any vehicle without a warning light on," according to the email thread.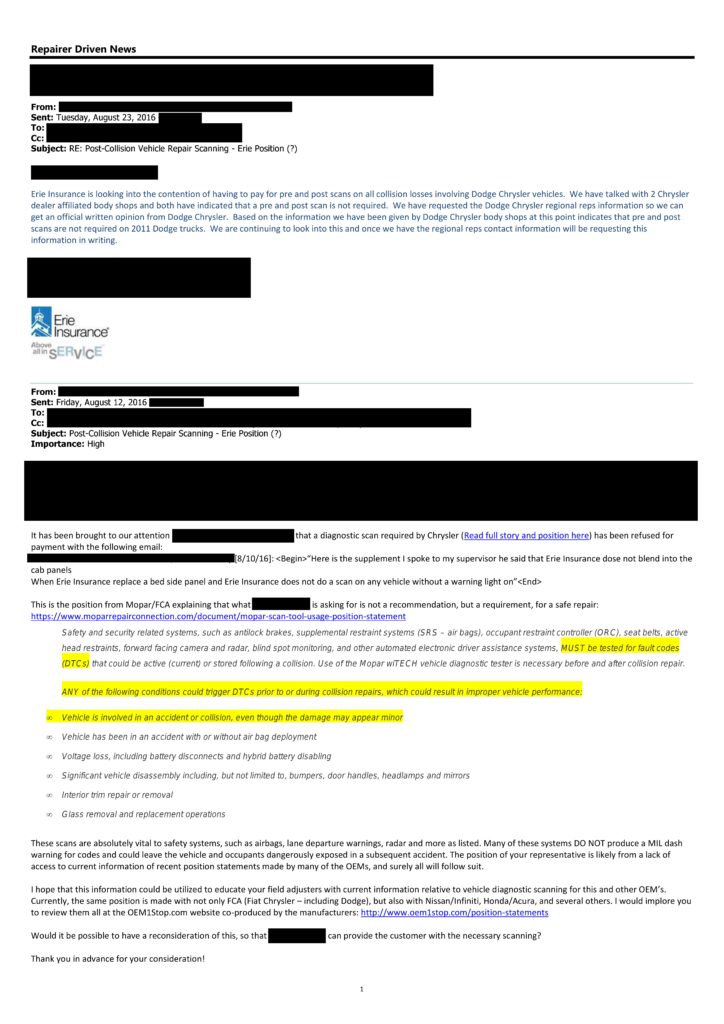 Not all diagnostic trouble codes are indicated by warning lights, other automakers said at an OEM-insurer panel this summer. (See full video below from Collision Hub.)
A shop in another Eastern U.S. state described an Erie representative refusing to pay for scans without manufacturer position statements — even if OEM repair procedures said the scan was necessary.
Based on Knapp's response, that local insurer also seems to have been mistaken on Erie policy. Some OEMs have indicated the need for diagnostics within individual model-year recommendations before reiterating it in a broader company position. This too was discussed at the NACE scanning panel.
Scans are a relatively new concept within the collision repair and auto insurance collision world, despite in hindsight probably having been necessary for years. So it's understandable that there'd be some confusion at the local level between insurers, repairers and even dealerships untrained in collision repair. Such local-corporate disconnects can and do occur on a variety of issues — in fact, this anecdote shows it occurring in both the collision repair (the FCA-affiliated shops versus FCA's position) and insurance (Erie staffers versus Erie corporate) industries.
And it's also understandable that Erie, fellow insurers and repairers are seeking clarity if all model years and all damage severities during the OBD and OBD-II eras (or earlier) would need scans. OEMs have promised to talk with insurers and elaborate on these questions of model years and severity. However, comments from automakers and other experts — as well as the experience of the mechanical repair industry — seem to indicate scanning will be likely more often than not.
Regardless of those discussions, it sounds like the best practice for shops and insurers in the field would be to "go to the videotape" — reference OEM repair procedures, position statements and insurer corporate stances. That ought to help cut down on these kind of disputes and inconsistencies and help the local shop, insurer, and their mutual customer understand exactly what everyone really has been directed to do from "on high" and all three parties' responsibilities during a repair.
More information:
OEM position statements on scanning
OEM1Stop.com
"Insurers And OEMs Discuss Vehicle Diagnostic Scans In Collision Repair"
Collision Hub via YouTube, Aug. 16, 2016
Images:
Chrysler dealer technical operations and global service director Al Motta displays the wiTECH in 2009. (Provided by FCA)
273 Dodge and Ram truck owners came together Aug. 25, 2012, in Ontario, Canada to  successfully break what was then the Guinness world record for the number of Dodge and Ram trucks in a parade. (Provided by FCA)
Share This: