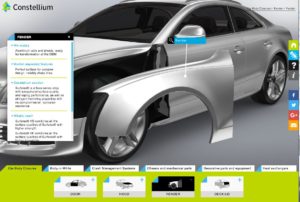 Shops and OEMs wondering about the potential for aluminum on upcoming model years might enjoy touring a new interactive showing how much of a vehicle body Constellium can make out of the metal.
The interactive graphic announced Sept. 29 allows users to rotate a digital sedan in three dimensions and "explode out" aluminum parts like a radiator support, fender and rails for greater visual and contextual detail.
Some of the aluminum components and their properties should feel familiar to shops which work on the aluminum F-150 or luxury vehicles, but other elements might be a surprise — and a hint of things to come.
For example, it's interesting to see that Constellium is promoting Ultralex B-pillars it says can achieve ultra-high-strength steel tensile strength of 1,500 megapascals. The aluminum version's gauge is thicker, but since aluminum isn't as dense as steel, the beam still ends up 17 percent lighter, according to Constellium.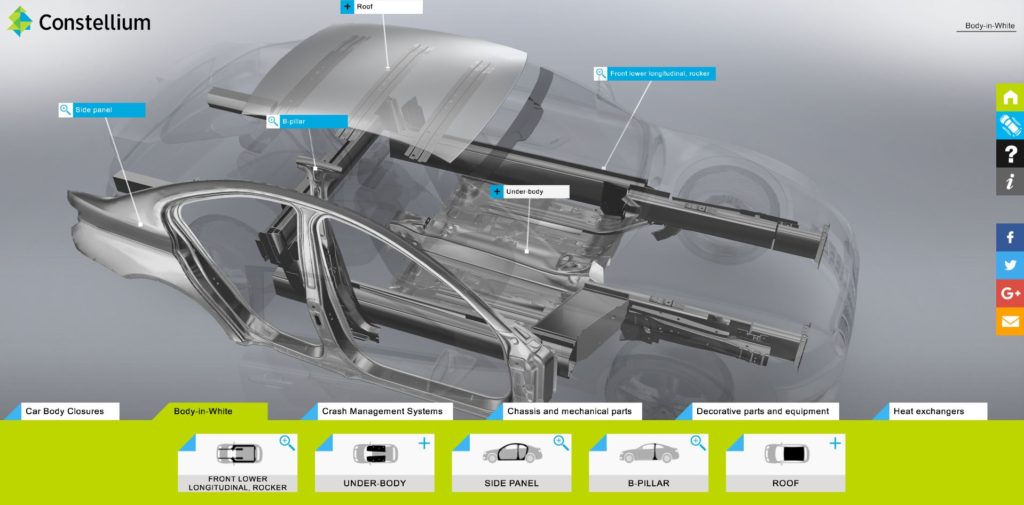 Such structural elements have remained steel on the new generations of models being rolled out over the past couple of years, even as other elements like hoods, doors and bumper beams have been switched to aluminum. So it's interesting to see Constellium's pitch for aluminum on some of these areas.
Other interesting aluminum parts from in the interactive:
A radiator support.
Rockers and lower longitudinals.
The engine cradle.
"Shotgun" front longitudinals made out of Securalex for energy absorption. It seems as though it might be an example of  the"crush grade" version of the metal — which in a crash folds up like an accordian in a predictable manner — discussed last year at SEMA.
Door beams made of an HSA6 alloy that "can be joined to a steel structure with common production processes," according to Constellium.
---
Learn more about aluminum, other substrates at Repairer Driven Education
Collision repairers seeking information on what new materials like aluminum, carbon fiber and higher-strength steel will mean for their shops should check out courses like "Structural Repair and Materials for 2016 and Beyond" with Ken Boylan of CHIEF Automotive, "Case Study of the Procedures for Steel Quarter Panel Replacement" with Larry Montanez of P&L Consultants and "Advanced Vehicle Materials, Construction and Repair Considerations" with Mark Voss of General Motors and Frank V. Billotto of Dow Automotive. Those sessions are part of the Society of Collision Repair Specialists' Repairer Driven Education Series from Nov. 1-4 during SEMA. Register here.

---
"It will now be easier for Constellium stakeholders to better understand, through vivid 3D visualizations, Constellium's aluminium offerings to the automotive industry: car body closures, body-in-white, Crash Management Systems, chassis and mechanical parts, decorative parts and equipment and heat exchangers," Constellium wrote in a news release.
Even luxury repairers and technicians familiar with aluminum might enjoy the interactive and learn something about what Constellium and the OEMs could place on an upcoming car. Take a look here or get Constellium's Apple Store/Google Play apps.
"This unique 3D module could not have been created without the contribution of Constellium's marketing and engineering teams," said Peter Basten, Constellium Executive Vice-President Strategy, Business Development, Research & Technology. "The 3D experience will allow market experts to explore various aspects of a car and discover our vast product offerings for the automotive industry, including innovations and solutions."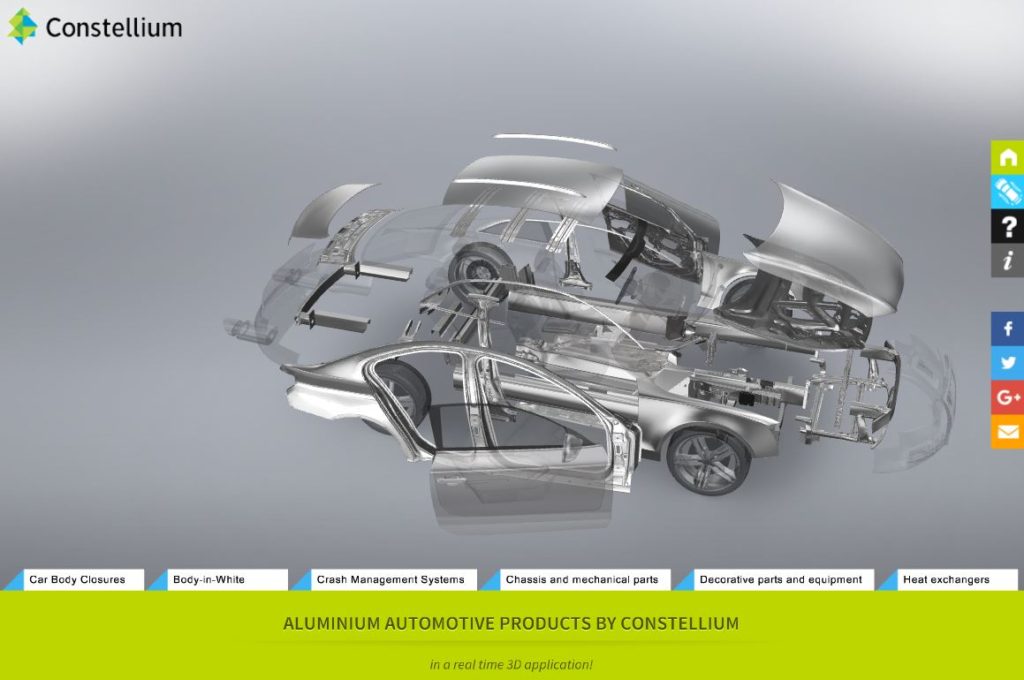 Two weeks prior, Constellium with business partner UACJ opened a $150 million, 225,000-square-foot automotive aluminum sheet plant in Kentucky.  The state houses Ford, General Motors, Toyota and Tier 1 supplier plants, and the Kentucky Automotive Industry Association boasts that Kentucky is No. 3 in passenger vehicle production.
More information:
"Constellium launches 3D module showcasing its innovative aluminium solutions for the automotive industry"
Constellium, Sept. 29, 2016
Constellium 3D automotive aluminum interactive
Featured image: Shops and OEMs wondering about the potential for aluminum on upcoming model years might enjoy touring a new interactive showing how much of a vehicle body Constellium can make out of the metal. (Screenshot from www.automotive.products.constellium.com)
Share This: