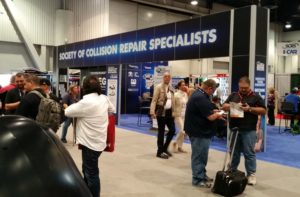 SCRS announced Tuesday that collision repairers can meet and learn from representatives from Audi, Jaguar Land Rover, Toyota and Porsche during "Meet the Trainer" at SEMA.
The forum, a follow-up to a hit Repairer Roundtable of OEM trainers in April, will round out the Society of Collision Repair Specialists' OEM Collision Repair Technology Summit from 3-5 p.m. on Nov. 3 in Las Vegas. It's all part of the Repairer Driven Education Series running Nov. 1-4.
The panel will include Shawn Hart, Audi collision repair training instructor and curriculum designer; Rick Miller, network consultant for Jaguar Land Rover; James Meyer, senior collision repair and refinish training instructor for Toyota, and Mike Kukavica, collision repair technology instructor for Porsche.
"The discussion will highlight the programs available to the industry, both at a technical level as well as an industry awareness level," SCRS  wrote in a news release Tuesday. "In-person trainers have a unique insight in the existing challenges our technical staff have as they enter the training room doors, and the skills they acquire after they leave. The conversation will address proficiency expectations, preparatory steps collision repair facilities can take in order to achieve better results with technicians, and In addition to exploring the technical staff training and testing processes, the discussion will also look at training targeted to raise awareness beyond the repair shop floor. The panel discussion will provide interactive opportunities for audience members to participate in the discussion."

Besides learning about the training, this is a great opportunity to ask all four OEM experts some real "in the trenches" questions about how technicians should handle their increasingly complex vehicles.
For Toyota, this might include its rollout of ultra-high-strength steels, the infamous passenger airbag occupant classification system requirement in CRIB 177 and scanning.
For Audi, don't miss the chance to talk scanning, aluminum, and OEM certification.
For JLR, besides the inevitable aluminum queries, consider asking about some of the cutting-edge tech they've been experimenting with.
For Porsche, consider asking about comments earlier this year to the Canadian Collision Industry Forum that race car materials trickle to luxury cars — and to the mainstream.
Scanning
The training session will be preceded by two other can't-miss OEM events.
First, John Hughes, responsible for collision repair at FCA; Chris Tobie, Honda collision business specialist; Justin Miller, certified collision planner at Nissan; Eric Mendoza, training assistant manager for Toyota Collision Repair and Refinish; and moderator John Ellis of Ellis and Associates, will examine when and why you'd scan a customer's car in "Restoring Vehicle Functionality through Electronic Technology and Diagnostics" from 9:30-11:30 a.m.
Part II of the discussion examines how you might scan a vehicle, with a panel made up of diagnostics tool manufacturers and I-CAR industry technical relations director Jason Bartanen. Bartanen and Ellis (again the moderator) will talk software and equipment with Chuck Olsen, operations executive director of AirPro; Bosch training manager Bob Pattengale; Collision Diagnostics Services CEO Doug Kelly; and Jason Gabrenas, national diagnostics trainer for Snap-On.
Materials and joining
That segment will be followed from 12:30-2:30 p.m. by "Advanced Vehicle Materials, Construction and Repair Considerations" with General Motors body structures advanced composites engineering group manager Mark Voss and Dow Automotive aftermarket business marketing manager Frank V. Billotto.
"The future of our collision repair industry is highly skilled professionals, working on highly sophisticated automobiles that require the industry to embrace the necessary investments in training and equipment; but also relies on informed business owners who understand how to define for themselves what a sustainable and successful business model to support that investment looks like," SCRS wrote.
If any of these events sound up your alley, act fast to snag early bird pricing for the OEM Technology Summit and the entire Repairer Driven Education series. SCRS also encourages OEM Summit attendees to register early; space is limited for those three sessions.
Register and see descriptions for all the SCRS courses here, or visit www.scrs.com/RDE. Learn more about SCRS with www.scrs.com, 1-877-841-0660 or info@scrs.com.
More information:
"SCRS Announces Panelists for OEM Collision Repair Technology Summit Session on Training Programs"
Society of Collision Repair Specialists, Oct. 11, 2016
SCRS SEMA Repairer Driven Education registration
SCRS via SEMA Show website
Featured image: The Society of Collision Repair Specialists has announced all three OEM Collision Repair Technology Summit panels for the 2016 Repairer Driven Education Series at the SEMA Shop. (Provided by SCRS)
Share This: