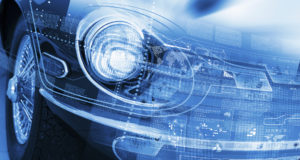 OEMs will increasingly control first notice of loss and the collision repair process as cars become more complex and more "connected" through telematics, an expert predicted last month.
"The workflow and power status of the industry will change forever," Sean Carey of SCG Management Consultants told the September VeriFacts Guild 21 call. (See slides.)
It's less about selling parts and more about brand loyalty and customer retention, Carey said.
New OEM parts sales are a drop in the bucket, a mere $140 million market per point of retention, Carey said. But every percentage point of the overall auto market an automaker controls is worth $5 billion, he said, and OEMs have realized that a bad repair or a total loss costs them some of that share — while they're releasing vehicles that are growing harder to repair.
"Frankly, there aren't very many shops capable of repairing the technology that's in the market today," Carey said.
---
Get referral, marketing insight at Repairer Driven Education
Collision repair professionals seeking advice on getting customers through referrals and marketing should check out "Selling and Marketing in an Increasingly Competitive Marketplace" with Steve Trapp of Axalta, "Marketing To Your Referral Sources: The Business of Acquiring Business Leads" with Frank LaViola, Collision Industry Marketing, "Competing with the Talking Car – Virtual Steering" with Steven Feltovich of Sherwin Williams and  "Today's Marketing Landscape: Reaching People, Not Demographics" with Frank Terlep of Summit eMarketing Sherpas. The sessions are part of the Society of Collision Repair Specialists' Repairer Driven Education Series from Nov. 1-4 during SEMA. Register here.

---
Carey said US News and World Report and BB&T data indicate that customers with a total loss switch brands 40 percent of the time — a $1 billion opportunity if OEMs can keep those owners loyal.
FCA has found that 60 percent of customers which received an incomplete or inadequate repair sold or traded that car within a year, according to Carey. About 63 percent of those dissatisfied customers switch brands.
OEMs simply cannot afford to put their brand at risk with bad repairs or upset customers — particularly in an age of viral complaints and news stories — Carey argued. They've got to exert more influence on a "somewhat dysfunctional" collision repair environment that sees insurers and MSOs dominating, independents adrift, and the consumer — the "lifeblood of an OEM — lost in the shuffle, according to Carey.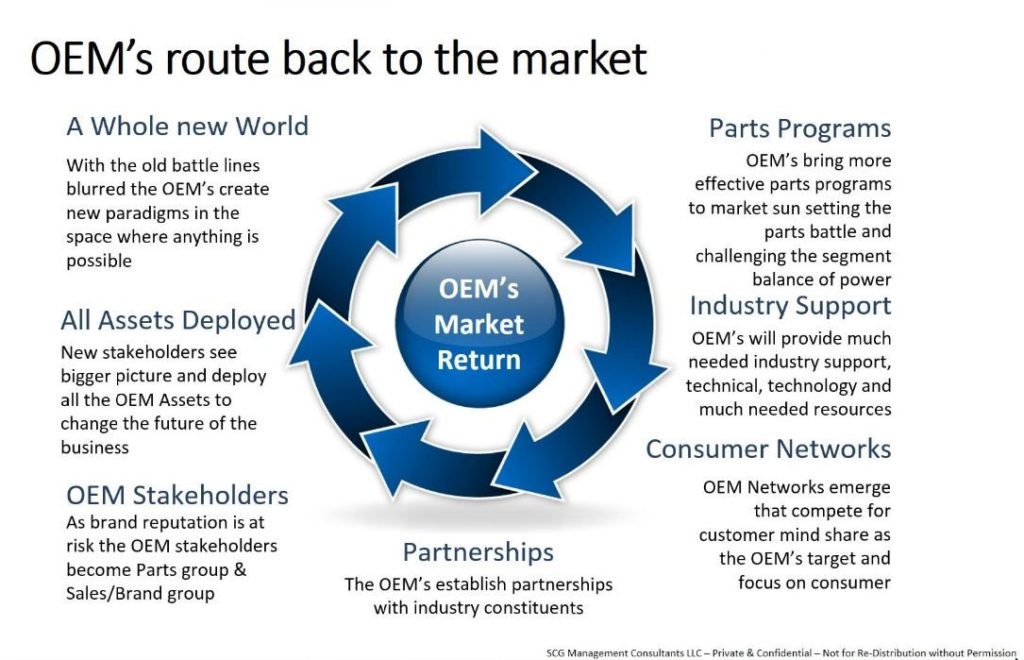 This entire landscape changes once OEMs take control of the process through telematics, which seamlessly merge information from the vehicle itself with external data — such as which shops in an area are qualified to perform the work and have availability — and communications, such as to customers or to insurers.
Not only does this capability — referred to by some observers as "virtual steering" — circumvent multiple steps of the current collision repair process, boosting efficiency and cutting cycle times, it also restores control to the consumer and makes them "much happier as a result," according to Carey.
It also helps tap into what Strategy Analytics has estimated is about $60 billion in unperformed aftermarket service and repair work floating around the market today, an opportunity for both body shops and dealerships receiving referrals, he said.
Here's how it works, according to Carey: The car realizes it has been in a collision, notifies an insurer and schedules the work with a collision repairer qualified to do the work to OEM procedures. The parts are ordered and the estimate is knocked out fairly quickly, as OEM repair procedures must be used and the car knows from data analytics and its own diagnostic information what parts it will need.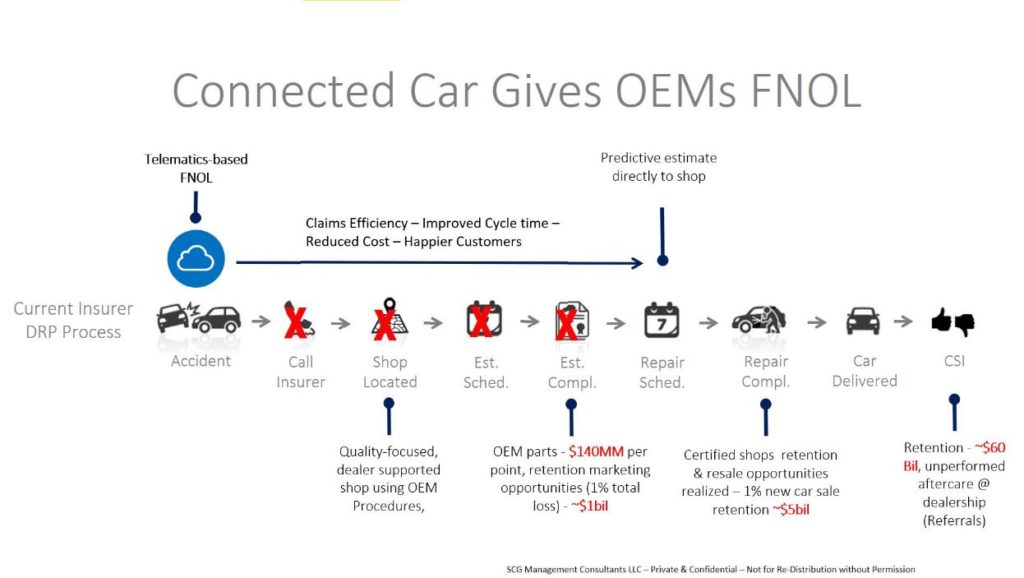 "There's no other consumer way forward, in my opinion," Carey said of OEM repair instructions. "… You're gonna have to use OEM procedures to repair these cars at some point down the line, because they're just becoming technical and technology nightmares."
As for parts, Carey predicted that the industry will "sunset the battle for parts," as advanced substrates and increasing parts complexity restore some market share back to OEM components.
Repairers, insurers and members of the collision supply chain say, "'Yeah, never gonna happen'" to this telematics FNOL scenario, Carey said.  But "16 floors below me, they are talking about these very things right now," he said, referring to the Connected Car Insurance conference drawing representatives from all of major insurers, most of the OEMs, and companies like CCC — which had just launched its own telematics system.
Insurers appear to be realizing the OEMs' concerns and their growing interest and influence in collision repair, Carey said, recalling a recent panel in which insurers were saying "'maybe it is time we give some more thought'" to which shops can correctly repair a car.
OEMs would even enter the actual insurance business, Carey predicted. He cited a June 2015 KPMG study which found 58 percent of insurance executives as high up as the C-level predicting OEMs would get into the insurance business. About 71 percent felt OEMs would own the data coming from connected vehicles.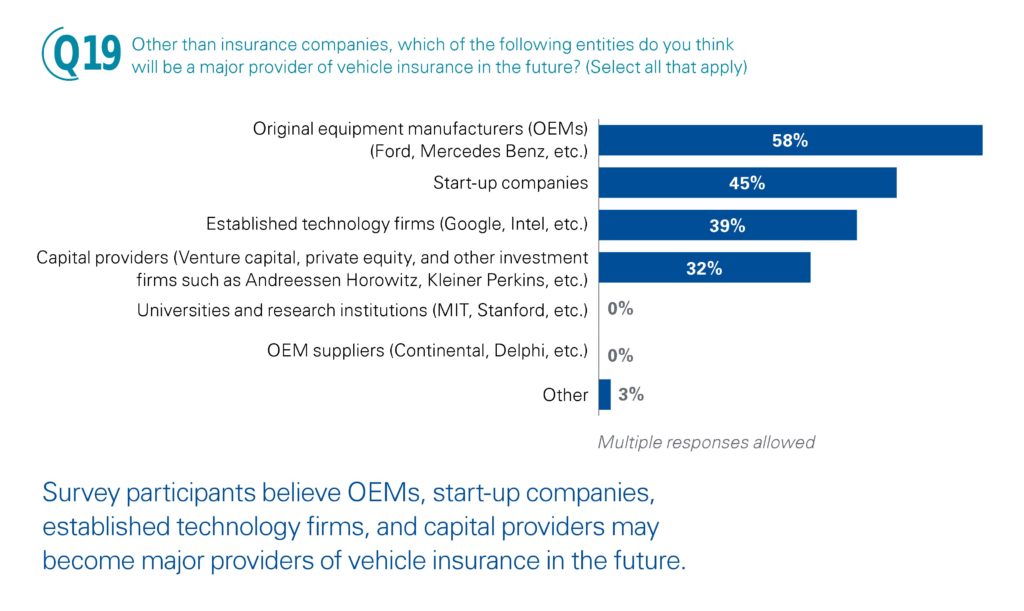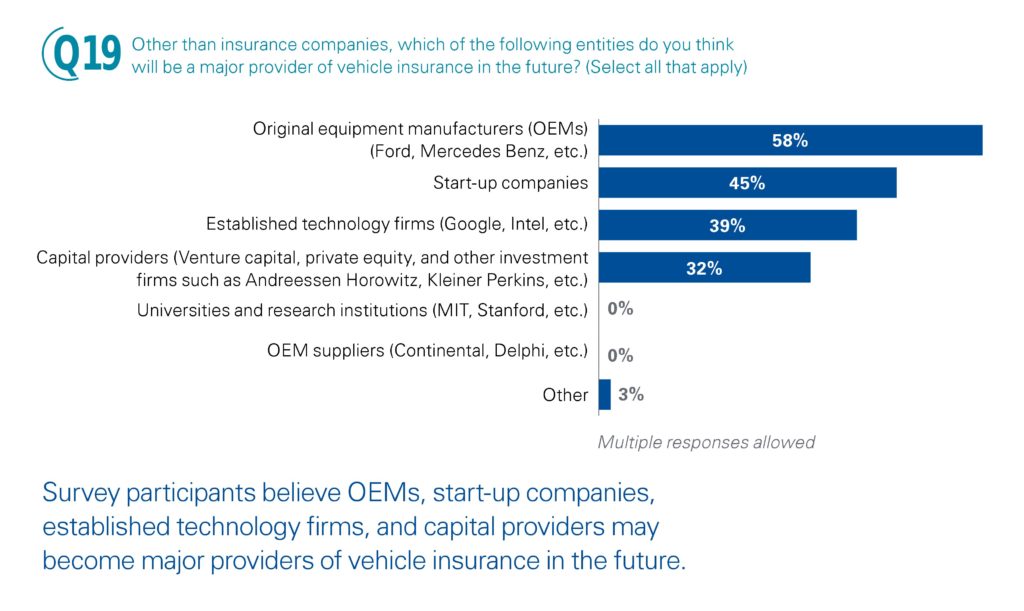 Last year, General Motors and Verisk announced an open data exchange, sharing the OEM's data with insurance users. Literally that day in September, it was announced OnStar would evaluate customer driving ability and refer customers to whichever insurer offers the lowest rate, according to Carey. Toyota in April announced it would create the telematics-focused Toyota Insurance Management Solutions USA, and Tesla has started to sell insurance abroad, Carey noted.
"Don't misunderstand me," Carey said. Insurers won't completely be marginalized under this OEM-dominated telematics claims process.
"It's not either/or, it's both," he said. Not all insurers will survive, but not all manufacturers will bother to take such an active role.
And at least for a while, there'll be the kind of "unholy convenient alliance" referenced above in which insurers work with OEMs, he said.
More information:
Guild21 SCG Management Consultants presentation slides
SCG Management Consultants, Sept. 8, 2016
"Automobile insurance in the era of autonomous vehicles"
KPMG, June 2015
Featured image: This is a connected car, as you can tell from the cool meaningless graphics emanating from it. (Sergey Nivens/iStock)
Share This: