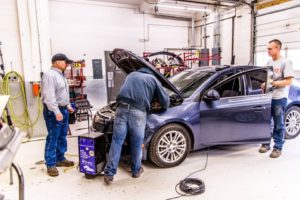 Though OEMs are required in many states — but not all — to reimburse dealerships for warranty work at the door rate, collision repairers aren't necessarily so protected for parts outside of the automaker supply chain.
This can create situations like the following:
A customer is required to use a recycled, refurbished, or aftermarket part unless the customer opts to go out-of-pocket. The part is protected by warranty, consumers are told. But if the part fails and the warranty exercised, a body shop must divert resources and cycle time to re-fix a component neither they nor the customer necessarily wanted to use in the first place and which was supposed to be "like kind and quality."
Inconvenient, but every manufacturing process has bugs; that's why warranties exist. But unlike the OEM warranty situation, some alternative parts suppliers like LKQ don't have to pay all of the shop's door rate — or even any labor at all. So it becomes downright frustrating when an insurer refuses to pay a repairer's labor rate to deal with the part the insurer itself demanded.
That's what Bruce Halcro, owner of Helena, Mont.-based Capital Collision Center, says Progressive did earlier this year on several flawed LKQ bumpers.
To the credit of insurers in the area, he'd typically been able to bill and receive 100 percent of the warranty labor from carriers when an aftermarket part had an issue. (Montana is one of the states requiring OEMs to pay warranty door rate.) The insurers then presumably divided up those costs with the part manufacturer or supplier, but that was their business, not Capital's.
"I'm not gonna stretch myself out," Halcro said. "… I bill the whole thing to the insurance company."
So all well and good. But Progressive suddenly balked at covering the difference between what LKQ typically reimbursed in terms of labor and paint and materials charges and his shop's actual rates to address warranty work, according to Halcro. In this case, LKQ was only paying for 55 percent of his labor rate and 43 percent of his paint and materials rate for the warranty work on its bumper covers with peeling primers, he said.
That resistance on what Halcro said were several bumpers came despite Progressive providing customers with a "lifetime guarantee" saying it'd cover such differences.
"The replacement parts written on the estimate are intended to return your vehicle to its pre-loss condition with proper installation," states a Progressive document Halcro provided. "After repair, if any sheet metal or plastic or body part included in the estimate fails to return your vehicle to its pre-loss condition (assuming proper installation), in terms of form, fit, finish, durability or functionality, Progressive will arrange and pay for the replacement of the part, to the extent not covered by a manufacturer's or other warranty. This service will be performed at no cost to you (including associated repair and rental car costs)."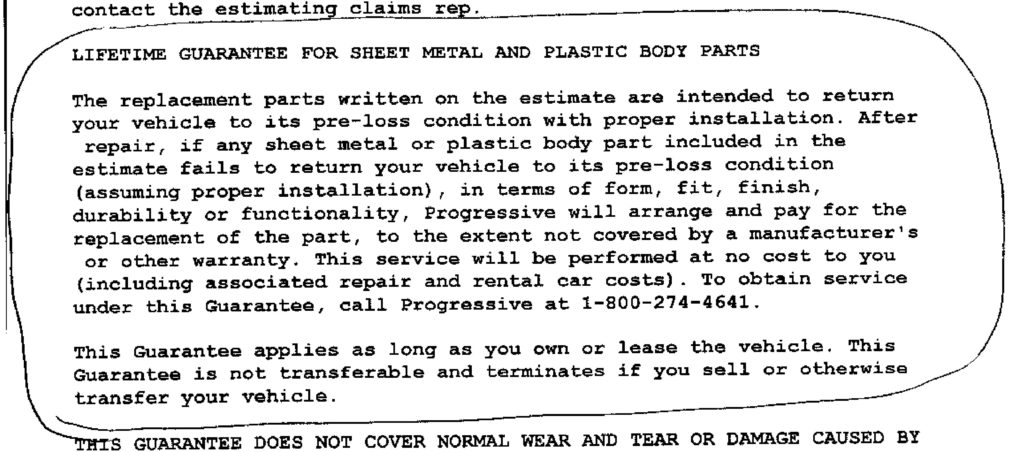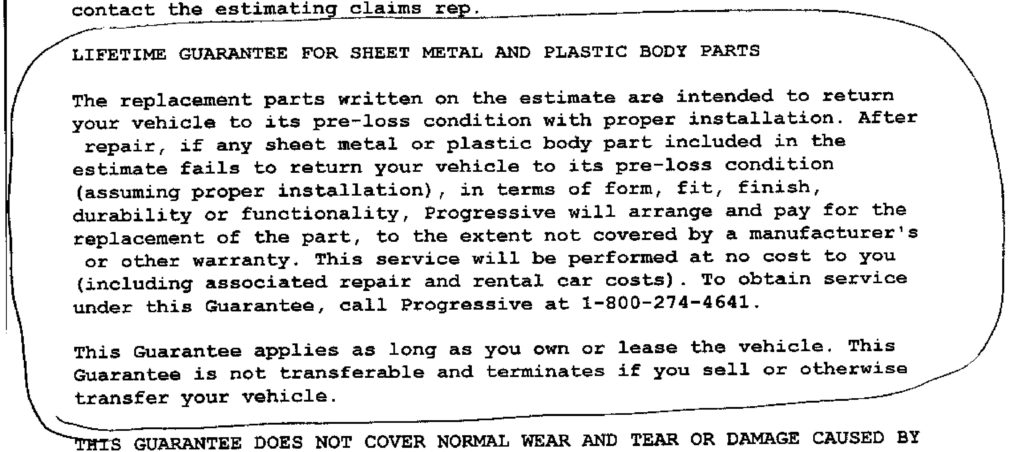 Reached about the issue, Jeff Sibel of Progressive corporate public relations wrote in an email Tuesday: "Our policy has not changed as the lifetime guarantee for sheet metal and plastic body parts is provided to all our customers."
So it looks like everything's good. What happened in Helena appears to be another disconnect between the local and national level of an insurer, an issue which can affect any big company. (Progressive's certainly not the only insurer to experience this; here's competitors Nationwide, Farmers, GEICO, Erie, and American Family.)
LKQ's warranty
But as the dispute above highlights, it's important to note that LKQ doesn't necessarily guarantee installation labor at all for defective aftermarket parts under warranty — just a replacement part or the cost of one. The decision to pay labor is up to LKQ and depends on the particular situation, according to the company.
Corporate accounts Vice President Terry Fortner called LKQ's warranties and indemnification "industry leading and greater than that of the car companies," pointing out that the company indemnifies shops should parts cause resulting damage or injury as stated under its industry leading Promise of Protection.
"Our complaints on fit, finish and performance continue to get less and are minimal," he said.
"In the event of a failure, LKQ or its subsidiaries will replace, repair or refund the purchase price at LKQ's option," the company's limited lifetime aftermarket warranty states. "To make a claim, you must provide proof of purchase to your place of purchase, or the business which installed the part, and a new part will be provided without charge. Reimbursement of installation labor, if incurred as a result of the failure of the Platinum Plus part, must be pre-approved by LKQ."
Fortner said "we consider the situation and shop claim on a case-by-case basis" with regard to what labor costs LKQ would reimburse. However, he said, "I'm unaware of a customer having to go out of pocket."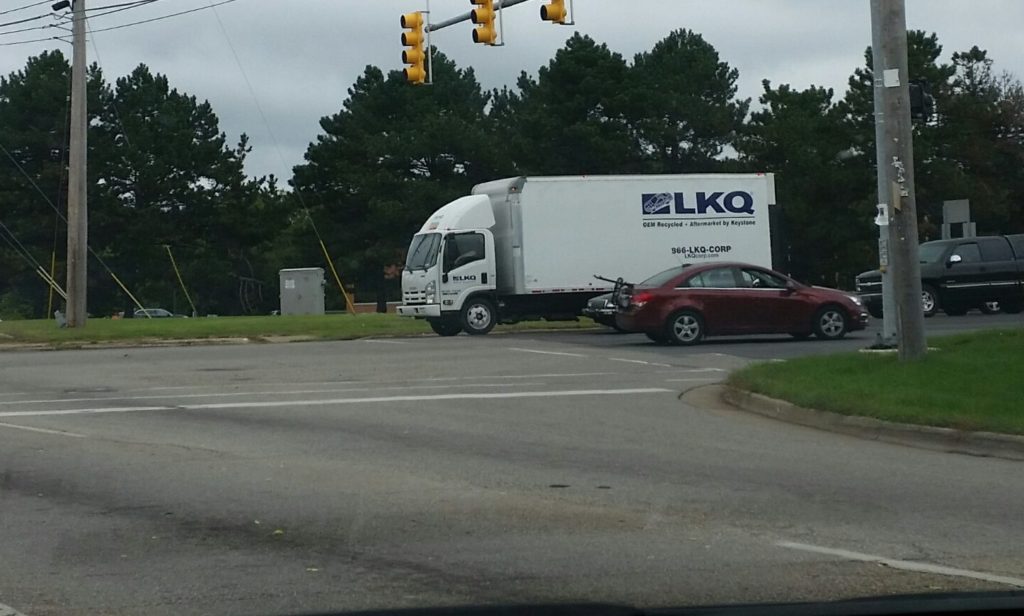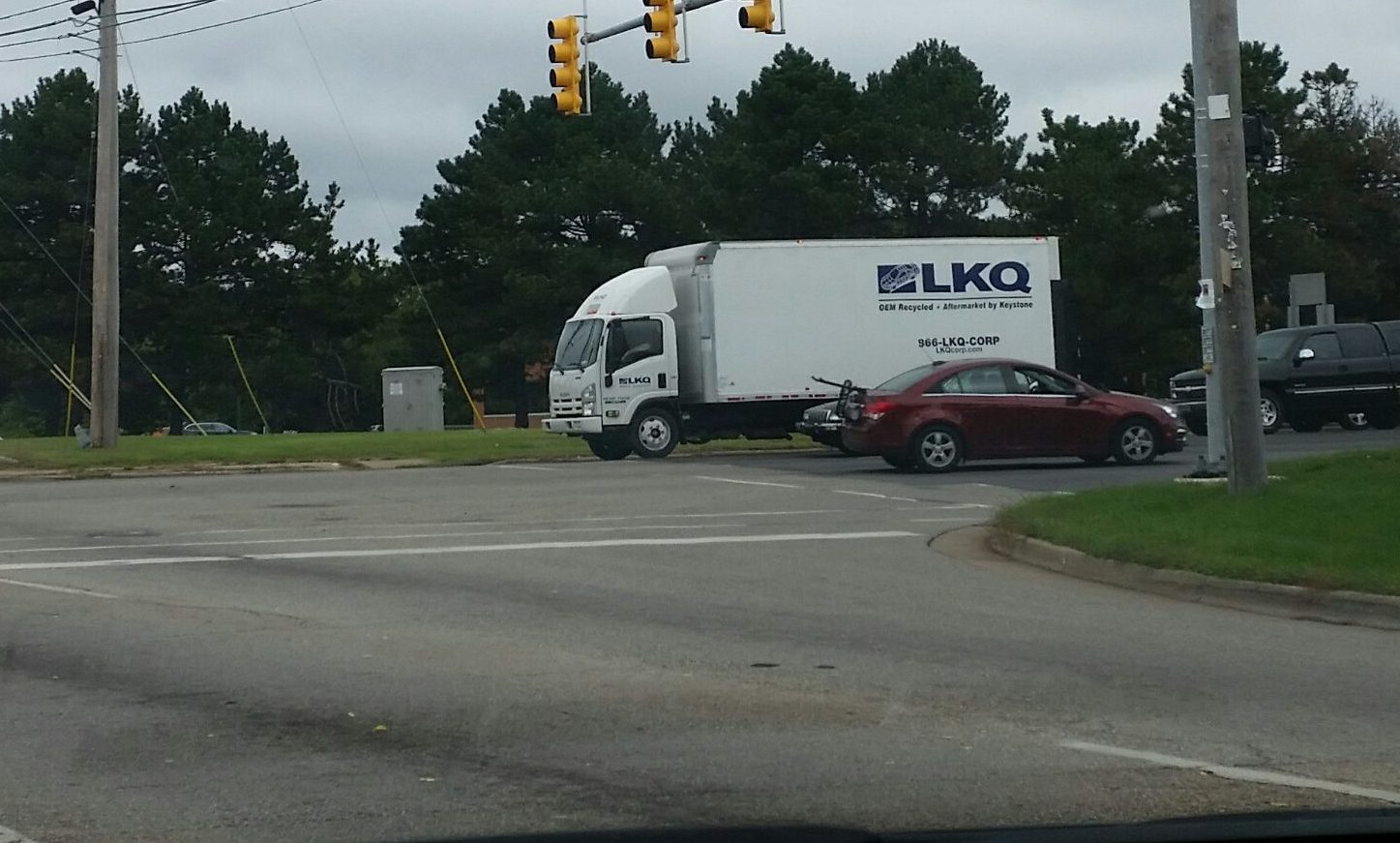 As major insurers like Progressive and No. 1 State Farm promise to cover labor on defective aftermarket or used parts, customers might have another hedge against going out-of-pocket anyway. But should a local misunderstanding like this arise or a carrier flat-out doesn't offer such a guarantee, things could be a little trickier.
Hopefully, this is an extreme and anomalous example; as Halcro noted, it hadn't been an issue with other insurers or with Progressive before. But let's follow it through all the way.
If the shop (through an assignment of benefits) or customer are unwilling to take the insurer or part manufacturer to court over the matter, there'd appear to be three options left: Either the shop covers it, the customer does, or there's a hole on the car where the part would have been reinstalled.
Reputable shops usually warranty their work (Halcro's does) — but not parts, which remain covered solely under the manufacturers' warranties.
In the case of aftermarket parts, some shops don't want to use the components in the first place (their quality is controversial, and they can be a hassle), which would make it all the more frustrating when an owner or manager has to choose between irritating a customer or eating the cost.
If the customer is left covering the difference and dealing with the hassle of having the vehicle repaired twice, the premium savings — about $19-$24 a year — from a policy allowing insurers to put aftermarket parts on a car might not look so wonderful.
Or perhaps it does — if the out-of-pocket costs aren't so great and one's crashes so infrequent that the customer still comes out ahead over the savings over the years without a crash.
These scenarios and the Progressive-Capital dispute highlight the importance of all parties –including the customer –involved in a collision repair reading the fine print and consider just what it means for one's business, car or wallet. Because, sometimes things just go south — as everyone making a living off collisions really ought to know — and it's important to know where you stand and what your responsibilities could be should that happen.
More information:
Progressive guarantee (redacted)
Progressive via Capital Collision Center
Images:
Owner Bruce Halcro, left, is seen in his Helena, Mont., body shop Capital Collision Center.  (Provided by Capital Collision Center)
A Progressive guarantee promises to make the customer whole on sheet metal or plastic body parts.  (Progressive document provided by Capital Collision Center)
An LKQ truck is seen fall 2016 in Michigan.  (John Huetter/Repairer Driven News)
Share This: