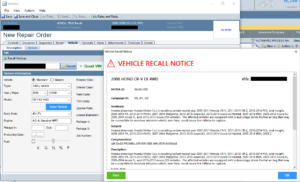 Continuing an aggressive campaign of enlisting auto body shops to protect customers, Honda has partnered with CCC to flag recalled vehicles in CCC ONE, the companies announced Wednesday.
Honda has shared open recall data with CCC TRUE Recall, which automatically tells auto body shops using CCC ONE Estimating "when the vehicle they're working on is part of a critical manufacturer recall," according to CCC.
The system works by VIN number. As CCC ONE is used by more than 22,000 collision repairers — including the DRP of the most popular auto insurer, State Farm — there's a chance to help a lot of owners. Insurers themselves might also be able to help match recalls to customers; CCC also notes that it "is a leading SaaS technology provider to the auto insurance industry."
When a collision repairer starts an estimate and enters a car's VIN number, CCC ONE searches for a "critical open recall." If it finds one, it activates a pop-up and lets the estimator print out a copy of Honda's recall notification to give the customer. Recalled Acura models are also included, CCC said.
"As vehicle technology has become more sophisticated and complex, the industry has seen the number of recalls increase," CCC parts service group Vice President Jim Kinsherf said in a statement. "Reaching affected consumers quickly is paramount to keeping our roadways safer. Through our CCC TRUE Recall offering, we're able to provide OEMs with an integrated solution that will broaden the reach of recall notifications and make the recall process more timely and efficient. American Honda is a great collaborator and the recall team has been extremely helpful in testing and validating the CCC TRUE Recall solution."
CCC said it can easily offer this option to other OEMs.
---
Learn more about Honda body repairs at Repairer Driven Education
Find out from Larry Montanez of P&L Consultants how to properly replace Honda Accord, Toyota Camry and Audi A5 steel quarter panels using OEM repair procedures with "Case Study of the Procedures for Steel Quarter Panel Replacement" The session is part of the Society of Collision Repair Specialists' Repairer Driven Education Series from Nov. 1-4 during SEMA. Register here.

---
"Yes, we're having conversations with other OEMs," CCC spokeswoman Michelle Hellyar wrote in an email. "CCC is ready to work with any OEM on this important safety initiative. The CCC TRUE Recall solution is customizable and can support OEM-specific messaging."
Hellyar wrote that the solution is "VIN/OEM-specific" when asked if it could be applied to decertified recycled or aftermarket parts or recalled aftermarket part. She gave the same answer when asked if it could be used to flag "Opt-OE" parts listed on estimates for vehicles whose OEMs don't have formal Opt-OE programs.
This convenient recall capability seems as though it'd carry a huge customer service benefit for insurers as well as shops. Granted, you're the bearer of bad or at least inconvenient news when you tell a customer about a recall, but you're also the person who cares about their vehicle and was knowledgeable about recalls. (Technically, CCC and Honda did all the legwork.)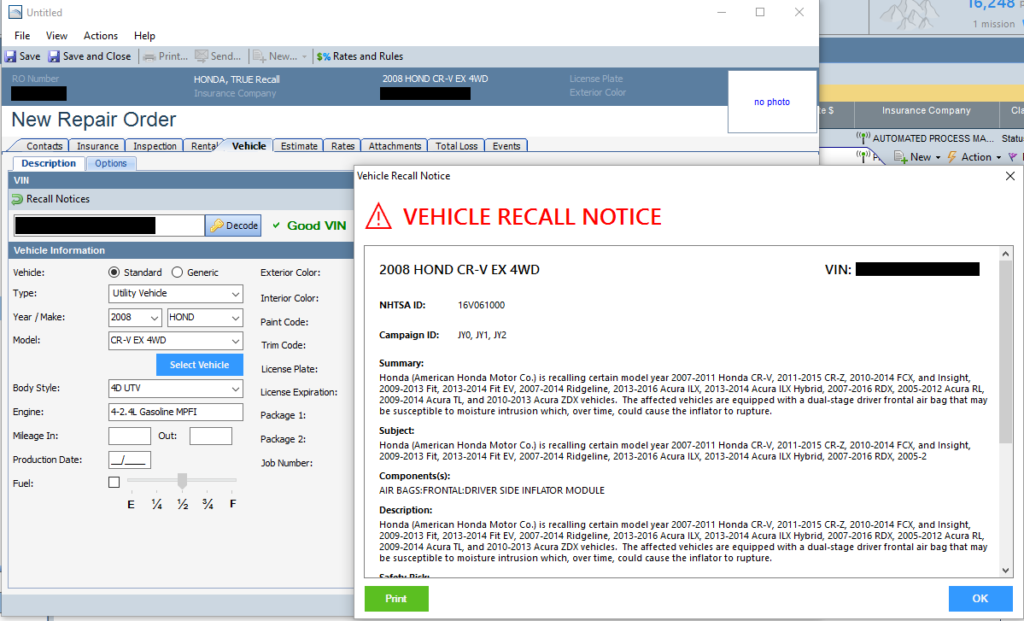 If you don't use CCC, then you still can be the repair shop or insurer or that cares enough and actually does check. It's actually pretty simple.
The NHTSA has an open recall VIN lookup here, and OEMs typically have them (here's Honda's). As you'll note from the NTHSA's description, getting it from the OEM might be more precise.
Though not useable to specific parts (see above), only VINs, the CCC-Honda system still has a derivative benefit of catching situations where a shop might purchase a recycled or refurbished part from a vendor who was unaware of the recall. The American Recycling Association has sought a better means of tracking recalled used parts, and while this isn't the per-part specificity that industry seeks, it might help fill in some of the gaps.
As noted above, Honda has been aggressive about seeking auto body shop help to notify customers of recalls related to the Takata airbag scandal. It issued two calls to action and provided quick-reference materials in November 2015 and August of this year. Download the more detailed August guide below: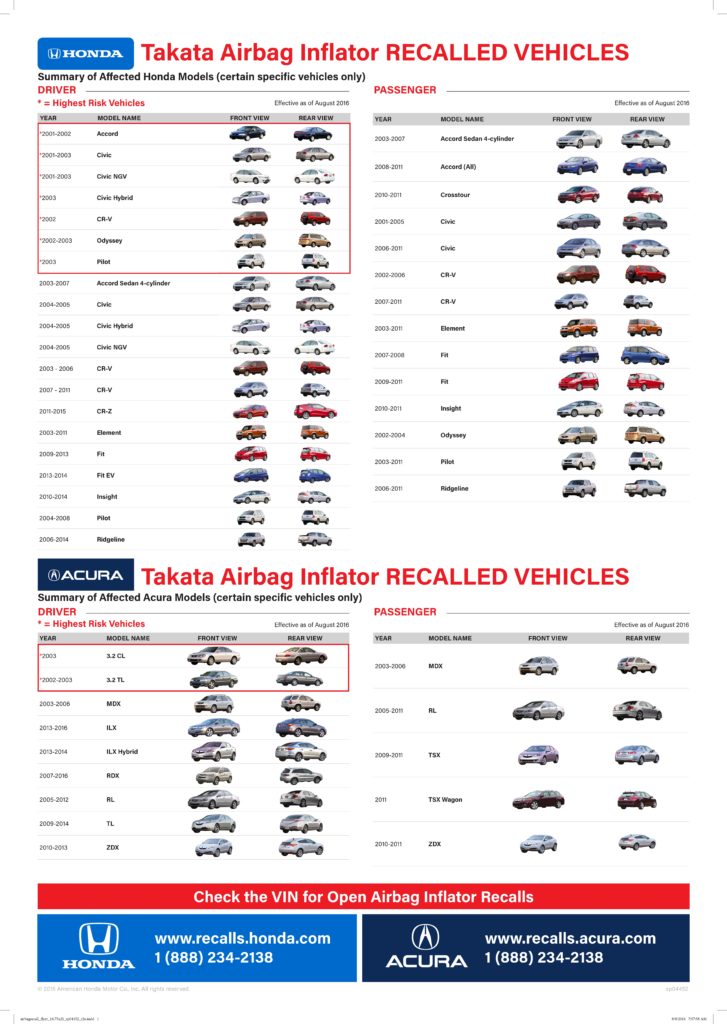 "Reaching consumers with any potential recall notification is critically important to American Honda," Honda national collision marketing manager Leigh Guarnieri said in a statement. "CCC's technology is in use by more collision repair facilities than anyone else in the industry, making them the ideal partner for us. CCC TRUE Recall will augment and extend our existing recall notification process, providing us with an additional touch point to help reach consumers with recalled yet unrepaired vehicles. Safety is everyone's responsibility. We're excited to work with CCC so we can pioneer this additional strategy."
"CCC Information Services and American Honda Motor Co., Inc. Work Together to Address Vehicle Safety"
CCC, Oct. 19, 2016
Images:
A CCC TRUE Recall notice a repairer would see in CCC ONE under a new CCC-Honda partnership. (Provided by CCC)
Citing the large number of vehicles still containing recalled Takata parts, Honda on Aug. 26, 2016, urged collision repairers to check VINs and "strongly encourage our mutual customer" to get a free replacement of the offending parts. It provided a copy of a new poster to help spread the word within automotive businesses. (Provided by Honda)
Share This: